Brendan Abban | December 17th, 2018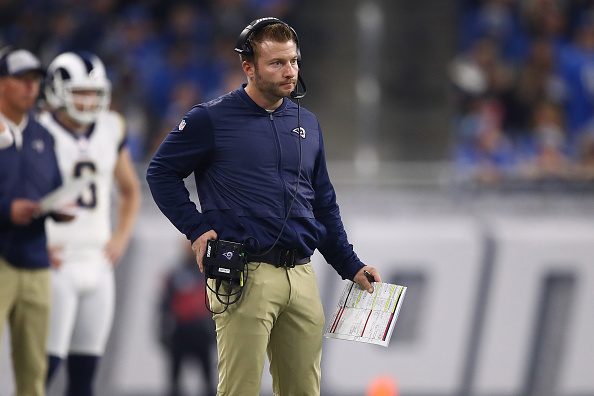 The Los Angeles Rams have lost two games in a row for the first time in the Sean McVay era. They lost 30-23 to the reigning Super Bowl champion Philadelphia Eagles in Los Angeles which drops them to 11-3 this season.
A Struggling Offense
It was a physical game from the start in which neither team took full control. It was evident the Eagles defense took some notes from the Rams loss to Chicago the previous week. Philadelphia took away the deep pass for most of the game which is a big part of the Rams offense. As a result, the Rams offense was not able to get off the ground as it has all year.
Los Angeles had to adjust to a more precise and conservative game. A scenario that was in favor of the Eagles since their pass rush had Rams quarterback Jared Goff uneasy all night. Goff is regularly one of the most accurate throwers in the NFL, but his precision dips considerably when he is uncomfortable.
Goff was 35 of 54 for 339 yards which is 6.3 yards per pass attempt. That is well below his season average of 8.6 yards per pass a game. His quarterback rating was a 25.5 and his passer rating a low 66.8. He did miss some big throws he normally makes also.
Most notably an overthrow of tight end Gerald Everett who was wide open in the corner of the end zone, as well as a pass behind running back Todd Gurley in the end zone. Their inability to convert forced them to settle for a field goal on the drive. They left four crucial points on the board that would have changed their late-game situation entirely.
The Rams offense did eventually get going but after it was already too late. Gurley had 12 carries for 48 yards and two touchdowns. He also had 10 receptions for 76 receiving yards as well. Gurley did tweak his knee midway through the game but did come back and produce.
The Defense and Overall Slump
The Rams defense had its share of struggles as well, unable to hold Philadelphia until late in the fourth. While the offense did put them in some precarious positions, the issues were still evident. Particularly those in the secondary.
The Rams defense did not sack Eagles quarterback Nick Foles once during the game. As a result, Foles was 24 of 31 for 270 yards with one interception. Additional attention paid to defensive tackle Aaron Donald has slowed the pass rush.
Both sides of the ball have yet to play great football since their bye week in Week 12. McVay alluded to this during his post-game presser:
"Your tape is your resume and we haven't played as good as a team. There's certainly a lot of things that go into that."
Despite their struggles, the Rams were within one shot of tying the game and possibly winning it in overtime. A reality that shows how good this team is even on an off night.
The loss drops the Rams just one game ahead of Chicago who is looking to claim the second spot in the NFC.
Questions and comments?
thescorecrowsports@gmail.com
Follow Us on Twitter @thescorecrow
Follow Us on Reddit at u/TheScorecrow
Follow Brendan Abban on Twitter @AbbanBrendan
Main Credit Image: [getty src="1067716124″ width="594″ height="396″ tld="com"]