Nickolas Loza| September 3rd, 2018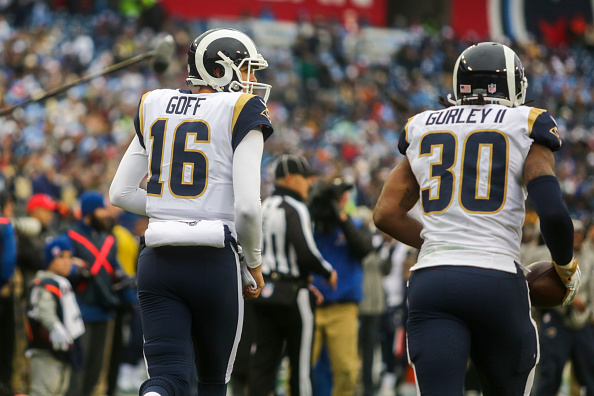 A disappointing loss to the Falcons in last year's playoffs derailed what still can be seen as a major step forward. The Rams seem to have gotten better over the offseason as well. We will take a look at why the Rams are the team to beat this year in the NFC.
Los Angeles Rams Season Preview
Recap of Last Season
Last year the Los Angeles Rams went 11-5 and won the division. They lost to Atlanta in the Wild Card round in an upset loss. They had the first ranked offense and 12th ranked defense. They were an extremely dynamic team, especially on offense. They had Pro Bowl QB Jared Goff who made a dramatic improvement, and Todd Gurley who could've been league MVP.
Strengths This Year
This team is one of the most stacked teams of all-time on both ends of the football. Their passing game was excellent last year and I see no reason why they should regress. Especially with the acquisition of WR Brandin Cooks from the Patriots. Their QB is one of their biggest strengths with Jared Goff going to the Pro Bowl last year. He will improve this year with less pressure on him for reasons we'll go over soon. Goff also has his All-Pro RB in Todd Gurley who is a multi-dimensional threat. He will break out big runs and can catch a lot of passes too. Gurley got 343 touches last year for 2093 scrimmage yards. That's incredible. Gurley won't be going anywhere either after he signed a 4-year contract extension. Finishing off their strengths on offense they have their All-Pro left tackle in Andrew Whitworth who has been a Pro Bowler and All-Pro a couple of times. Now for their strengths on defense. Their biggest strength will be their defensive line which is one of the best in recent memory, with top DT Aaron Donald coming back from his contract holdout. Their defensive line has two excellent and proven members on it, being DT Aaron Donald and Ndamukong Suh who are both multiple time All-Pros. The Rams have by far the best tandem of defensive tackles in the league. They also have possibly the best duo of cornerbacks in Aqib Talib and Marcus Peters, both of them being former All-Pros. This defense is stacked but an often looked over strength is free safety Lamarcus Joyner who is Pro Football Focus' second-ranked safety. This defense is by far the most stacked defense in recent memory when it comes to talent. This team is also good on special teams which holds the best kicking duo in the NFL in P Johnny Hekker and K Greg Zuerlein who both made got All-Pro honors last year. Another special team strength was Pharoh Cooper who made All-Pro as a KR/PR. They have a lot of strengths and the Rams could pose a big threat to the rest of the NFC.
Weaknesses This Year
Some weaknesses for this team this year could be the tight end position where Gerald Everett and Tyler Higbee combined to catch a measly 41 passes for 539 catches. That will be a big weakness especially in this era where teams like to stack the offensive line with six or more blockers. If the TE's can improve then the Rams could be unstoppable. The Rams also have a weakness at the backup QB position where they have an unproven backup in Sean Mannion. That could pose problems if Jared Goff misses a game during the season.
Additions/Improvements
There were a lot of offseason additions, and by a lot, I really do mean a lot. They signed to extensions: CB Sam Shields, DT Ndamukong Suh, FS Lamarcus Joyner, and RB Todd Gurley. They also acquired in trades: WR Brandin Cooks, they acquired CB Marcus Peters, and they also acquired CB Aqib Talib. Those acquisitions are all former Pro Bowlers. These additions will be important because: Sam Shields is a good CB, Ndamukong Suh provides an All-Pro DT and gives the DT position on the Rams an extremely dominating presence, Lamarcus Joyner provides an extremely good player at FS, and Todd Gurley is what he is. Then there's Marcus Peters and Aqib Talib who are CBs you feel comfortable isolating against elite receivers. I see no reason why this team shouldn't use these additions to become THE team of the next 2 years.
Subtractions/Regressions
They lost CB Kayvon Webster, LB Alec Ogletree, LB Robert Quinn, and RB Lance Dunbar. The only moves that are impactful are the losses of their two LBs. I see no moves that scream "Big Regression." They kept a lot of their free agents which is really good for their future.
Prediction
The Rams are tied for the fifth most difficult schedule. They start out their first four weeks with games that are modestly difficult, including a game against the Vikings. In this stretch, they will go 4-0. The next four weeks bring two away games against division rivals. In this stretch, they will go 2-2. They then have a game against the Saints on the road which will be their biggest regular season game. In those four weeks, they have games against the Seahawks and Chiefs at home. Their bye week is Week 12 and their record at the bye will be 8-3. They finish the last five weeks of the season against the Lions, Bears, Eagles, Cardinals, and 49ers. Their final record will be 12-4. With all the offseason moves they made there should be no reason why they shouldn't improve by AT LEAST one game from last year. They don't exactly have a difficult stretch in the final games of the season which may provide some rest time for starters especially if they've clinched a playoff bye or are locked into a playoff spot. The playoffs for the Rams should be good, but I'm not sure if they can quite handle teams like the Vikings or Eagles who improved in the offseason also.
Questions and comments?
thescorecrowsports@gmail.com
Follow Us on Twitter @thescorecrow
Follow Us on Reddit at u/TheScorecrow
Follow Nickolas Loza on Twitter @sp0rtstAlkNick
Main Credit Image: [getty src="898087288″ width="594″ height="396″ tld="com"]