Marcos Mendoza | March 22nd, 2019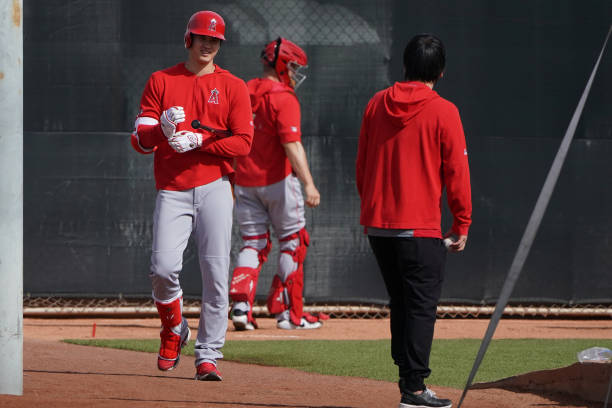 Recap: 80-82 (4th AL West)
The Los Angeles Angels had a disappointing season in 2018. They finished under .500 and they weren't really in contention in 2018. They made big acquisitions last offseason acquiring OF/SP Shohei Ohtani via FA, SS Zack Cozart via FA, and Justin Upton via Trade. The Angels dealt with major injuries in their pitching staff throughout the 2018 season and ultimately it led to their fall in 2018.
Key Additions:
Cahill signed a 1yr 9MIL deal to stay in the AL West with the Angels. He had a solid 2018 season with 110 IP, a 3.76 ERA, and a 3.56 FIP. Cahill was very dependable for the A's last season and was one of their best Starters which helped the A's reach the playoffs. SP was a big necessity for the Angels this offseason and they found a quality starter in Cahill and he will likely be the opening day starter in 2019.
The Angels made a gamble this offseason inking Harvey to a 1yr $11MIL deal. The former All-Star struggled early in the 2018 season with the New York Mets. In 27IP with the Mets, Harvey had a disastrous 7.00ERA and 5.68FIP which led him to be dealt to the Cincinnati Reds during the season. Harvey found himself again with the Reds, in which he had a 4.50ERA and a 4.33FIP. The Angels hope Harvey can stay healthy in 2019 and regain his All-Star form.
Longtime CP for the Cleveland Indians reached a deal with the Angels on a 1yr 8.5MIL deal. Allen had great success with the Indians throughout his career but he struggled mightily in 2018. His 2018 season was by far the worst year of his career. He had a 4.70ERA a career-worst 1.35 WHIP and a 4.4BB9. If Allen can regain his control again in 2019 he can return to being an Elite CP once again and will be big for the Angels in 2019.
Key Departures:
The 2009 Angels First Round Pick signed a 2yr 15.5MIL with the San Diego Padres. Richards had a solid 8yr career with the Angels. During his 8yrs with the Angels, Richards logged 744.2IP, 3.54ERA, 645SO, 3.62FIP, and a 1.28WHIP. He's dealt with injuries through his career having only 100IP in 3 of his 8 seasons with the Angels. Richards suffered another devasting injury last season and he will miss the entire 2019 season having Tommy John Surgery. Having to miss the 2019 season, Richards will have a season to prove he can stay healthy and return to form.
Strengths:
• Offense
The Angels have one of the best power hitting offenses in MLB. In 2018 the Angels finished 7th in HRS, 9th in ISO, 12th in SLG, 11 in wRC+ and 16th in OPS. In the offseason the Angels made more additions to their offense, acquiring power-hitting 1B Justin Bour and veteran C Jonathan Lucroy via free agency. The Angels should continue to be a top offense in 2019 with the acquisitions they made and having the best player in MLB in Mike Trout.
Weaknesses:
• Starting Pitching
While the Angels made solid acquisitions this offseason in signing Trevor Cahill and Matt Harvey they still lack Starters. The Angels have already suffered huge injuries to their staff before the season even started. They lost their ACE in Shohei Ohtani for the season due to Tommy John, Andrew Heaney is on the shelf with Elbow Inflammation and is likely to start the season on the DL, J.C. Ramirez is out till mid-season with Tommy John and Nick Tropeano will start the season on the DL with Shoulder Discomfort. The Angels don't have much depth to lose more SPs to injuries if they continue to have health problems in the pitching staff the season could be in jeopardy. If they can stay healthy when Heaney, Ramirez, and Torpeano return from injury I believe they can be a solid pitching staff.
Infield Projections:
C- Jonathan Lucroy
1B- Justin Bour
2B- David Fletcher
3B- Zack Cozart
Outfield Projections:
LF- Justin Upton
CF- Mike Trout
RF- Kole Calhoun
Rotation:
Trevor Cahill
Matt Harvey
Bullpen:
CP- Cody Allen
2019 Outlook:
I believe the Angels have a solid enough lineup to stay in contention during the season. The SPs are a bit shaky but if Cahill and Harvey can carry the load they will be in good shape to contend. Their division is tough but I believe they can finish in 2nd behind the Houston Astros. MLB fans badly want to see Mike Trout in the playoffs once again and I see them getting the 2nd WC and making the playoffs.
Check out our other Team Previews | Colorado Rockies | Toronto Blue Jays | Minnesota Twins | Atlanta Braves | Chicago Cubs | Tampa Bay Rays | Arizona Diamondbacks | Miami Marlins | Cincinnati Reds | Seattle Mariners | Texas Rangers |Los Angeles Dodgers | New York Yankees | Milwaukee Brewers | San Diego Padres | Detroit Tigers | Kansas City Royals | Cleveland Indians | Oakland A's | Philadelphia Phillies | Boston Red Sox | New York Mets | St. Louis Cardinals | Pittsburgh Pirates | Washington Nationals | Houston Astros | Baltimore Orioles
Questions and comments?
thescorecrowsports@gmail.com
Follow Us on Twitter @thescorecrow
Follow Us on Reddit at u/TheScorecrow
Follow Us on Facebook at The Scorecrow
Follow Us on Instagram at The Scorecrow
Follow Marcos Mendoza on Twitter @MendozaM_12
Main Credit Image:[getty src="1128482649″ width="594″ height="396″ tld="com"]