Brian DeWester | September 8th, 2018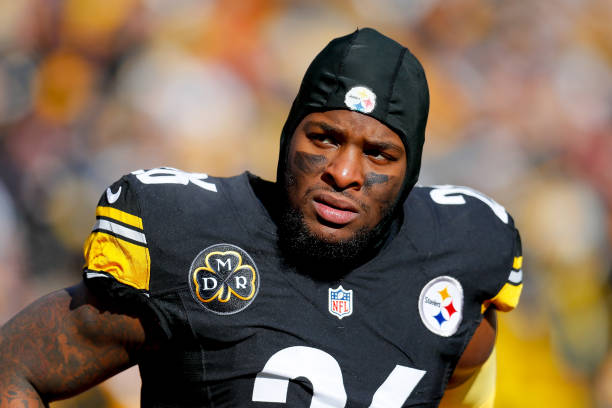 September 5th, 2018. A day that lives in infamy amongst those that drafted Le'Veon Bell. A day where "well, this sucks" (or something with far more expletives) was the prevailing thought. And a day where Bell's scorched-earth tactic changed the fantasy landscape. What was once a peaceful community filled with hope about the upcoming season is now a land of chaos and desperation due to the giant question mark that is Bell and his situation. And while Bell might be the only person to have a definitive answer regarding this predicament, there are still options for fantasy managers in week 1.
The fact is at this point Bell drafters are at a crossroads. They could trade him for less than full value; however, there is a chance that Bell could come back as soon as next week. In fact, Ian Rapoport reported that some people in the Pittsburgh Steelers building guess that Bell could report Saturday.
As the world waits for #Steelers RB Le'Veon Bell, there is no indication when he'll show up. A Saturday arrival would allow him to receive his game check, but there is no clear evidence that he's made plans to do that. pic.twitter.com/1ohfkRMgjJ

— Ian Rapoport (@RapSheet) September 6, 2018
If that happens, any early trade could certainly come back to bite fantasy managers. Or those same managers could choose to hold onto him, which seems to be the pragmatic approach at this point. However, there is a chance that Bell holds out until week 10, which would be, as the cool kids say, #notideal.
While the ambiguity of this less than ideal situation has put managers in a bind, there are still options out there on the waiver wire. Below are some of the best Week 1 options that are available in some fantasy leagues.
Conner's name makes the list in case your league is one of the few leagues out there that still has him on the wire. In short, roster him in all leagues. The Steelers track history is that they tend to give bell-cow duties to whoever is leading the backfield. And Conner will be leading it this weekend in conditions (rain and wind) that favor the running game.
48% owned (Yahoo)
Our Frank Dyevoich wrote about White in his waiver wire column this week. While White is more valuable in PPR formats, Rex Burkhead's health helps to raise White's floor in most formats this week. The fact that the New England Patriots game this week has the highest implied total is just another reason to like White. In other words, if this game turns into a shootout, the passing game back should see a fair amount of opportunity. Jeremy Hill, who could see goalline back duties, makes for an intriguing gamble in deeper leagues.
27% (ESPN) and 40% (Yahoo) owned
While the Detroit Lions game might not boast the implied total of the New England game, this matchup still has its advantages. First, the Lions are nearly seven-point favorites in a home game. A game that will feature a rookie quarterback making his first career start, which could create some positive game scripts for the Lions. Second, Blount dominated first-team carries in the third preseason game. While it's no secret that Kerryon Johnson is also in the backfield, the carry total indicates that Blount will receive a decent amount of early down work. And finally, Blount is the goalline back on a team that should see it's fair share of scoring opportunities. There are worse gambles than Blount in the opening week.
6% (ESPN) and 4% (Yahoo) owned
Obviously, you would prefer a high volume back over a guy like Gillislee. And while Gillislee is hardly one of those guaranteed volume guys, he does have a pathway to value this week. First, we have the offseason predictions that have painted Alvin Kamara as a 15 carries per game kind of guy. Don't get me wrong. That's still a fair amount of carries, but it still leaves some for a backup. Then we have the release of Boston Scott, which eliminated backup competition for Gillislee. And now the New Orleans Saints are predicted to not only have one of the highest implied totals but they also are week 1's biggest favorites. In other words, Gillislee, who has performed well as a goalline back in the past, will be suiting up for a team that is predicted to have two recipes for fantasy success: positive game scripts and scoring opportunities. Not too bad for a player on a lot of waiver wires out there.
Questions and comments?
thescorecrowsports@gmail.com
Follow Us on Twitter @thescorecrow
Follow Us on Reddit at u/TheScorecrow
Follow Brian DeWester on Twitter @BrIreland
Main Credit Image: [getty src="904949700″ width="594″ height="396″ tld="com"]