Kit Shepard | November 15th, 2018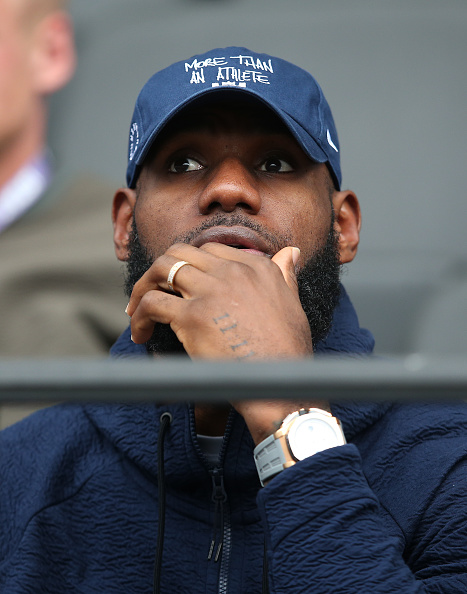 Every year since 2011, just before the NBA season gets underway, ESPN ranks the top 100 players in the league. Simply being included this exclusive list is a major achievement, cracking the top 50 is an indicator of exceptional talent, and making the top 10 is an honor most can only dream of.
LeBron James has been number one on this list every single year since it began. If it had existed in the last years of the 2000s, he probably would have been at the summit as well. In this period, the likes of Kevin Durant, Stephen Curry, and Russell Westbrook have put together phenomenal individual seasons, but they have been unable to dethrone the King. James has been the best player on the planet for roughly a decade.
But nothing, not even LeBron's longevity, lasts forever, and in the first month of this season, his title as the NBA's undisputed alpha has come under intense scrutiny. Sure, his averaging of 26.4 points, 7.1 assists, and 7.8 rebounds over his first 12 games as a Laker pretty much mirrors his numbers for his entire career, but there has been something missing from LeBron's play so far this campaign, something beyond the statistics.
LeBron has not been taking over games the way we have become accustomed to. Last season was probably the best example of this, as he dragged a mediocre, fragmented, soup-throwing Cavaliers team to the NBA Finals. It was a superhuman effort not just in the playoffs (where he averaged 34 points, hit clutch shots and often played the entire game) but in the regular season, where he won four out of the five Eastern Conference Player of the Month Awards. This season the Cavs, with largely the same roster that they had in the last year's postseason minus LeBron, sit bottom of the East with a 2-12 record. James got that team to the Finals by himself.
Things have been different since he arrived in LA. The objective is no longer Finals or bust like it was in Cleveland, but instead leans towards a long-term goal. As a result, we have often seen LeBron take a back seat in crucial moments of games, allowing the likes of Brandon Ingram, Kyle Kuzma and Lonzo Ball to gain experience of playing under the brightest of spotlights, something they are unfamiliar with at this point in their short careers. James has been happy to sit for key fourth-quarter minutes as the Lakers work out their best lineup combinations and who they can trust in the playoffs.
Throw in the Laker's distinctly average 7-6 start and LeBron's abysmal late-game free-throw shooting so far this season, and the murmurs that he was no longer the best player in the NBA began to be heard with more conviction. Some believe his prime is long gone. A few think he has one eye on Hollywood. Many say that the likes of Durant, Anthony Davis, and even Giannis Antetokounmpo have passed him. Last night, in the Laker's 14th game of the season at home to the Portland Trail Blazers, those voices quietened.
James was sensational, flirting with a triple-double (44 points, 10 rebounds, nine assists). He also answered his critics at the free-throw line (making 13/15), and from behind the arc (making 5/6 threes). For good measure, he completed a productive night's work by passing Wilt Chamberlain to move up to fifth all-time scoring, adding to his incredible legacy. LeBron's offensive firepower led the Lakers to a 126-117 victory, as the Purple and Gold continue to climb the standings out West after a rocky start.
This heat check just before halftime was a sign that it was going to be a special night:
LeBron James connects from WAY DOWNTOWN!#LakeShow 59#RipCity 55

WATCH on @ESPNNBA pic.twitter.com/cfjQT0JOMj

— NBA (@NBA) November 15, 2018
In the 36 minutes he played against the Blazers, we witnessed an increasingly rare occurrence; Cleveland-LeBron. Everything was running through him offensively and he was extremely efficient, shooting 68% from the field. It was a display that we have become used to from James over the years, but it remains a pleasure to watch him when he plays like this.
But can a single performance reaffirm Lebron's place as the number one player in the league? In this case, yes, because he was not even trying that hard. Watch the very last play of this Blazers' highlight reel:
Highlights from a tough one in LA 🎥 pic.twitter.com/IavHIAxHy1

— Trail Blazers (@trailblazers) November 15, 2018
The Lakers are up by 14 but, with five minutes to play, the game is far from won, especially when LA's tendency to blow fourth-quarter leads this season is considered. That's not what one would think if they watched LeBron on this play, as he allows Damian Lillard to get a step on him and shows absolutely no effort to recover. This example is even worse:
Yep, knee's good. pic.twitter.com/nZeGqUN7VC

— Trail Blazers (@trailblazers) November 15, 2018
After a turnover, only Ingram shows any real desire to get back on the play, but four of the five Lakers on the court managed to get back in the picture by the time the basket is eventually scored, a full five seconds after Kuzma coughed the ball up. Who is the one Laker still out of shot? LeBron James.
It is no secret that James does not put in the same effort on the defensive end as he does offensively; this is part of the reason he is able to remain so effective in his 16th NBA season. Regardless of whether his conserving of energy can be justified, the fact of the matter is that he was clearly not giving everything he had against Portland. Anyone would be hesitant to question Lebron's commitment (he still made a couple of excellent defensive plays at the rim last night), but he certainly picks and chooses the games to go all out, and a regular-season game in November is not one of them.
And yet, he still played like a man amongst boys. Even without putting in maximum effort, LeBron still has the ability to flick the switch and take control. He does not need to be fully dialed in to do this but, if he wants to dominate, he can do on his own terms. This is what separates him from anyone else in the league, no other player has more autonomy over when they will take over a game than The King.
Last night then, LeBron James reminded everyone why he continues to be the NBA's best player. He put together a superb stat-line with tremendous efficiency, while not really trying that hard. Giannis, Davis, Durant and the rest have probably out-performed expectations more than LeBron has so far this season, but that is because we place James on a pedestal by himself. It is natural to judge the greatest player in the game more harshly.
Lebron thus remains at the top of the league's hierarchy until further notice, with those below him being forced to wait a little longer before he inevitably hands over the title. However, there is no reason why LeBron James cannot stay put at number one of ESPN's annual ranking into the 2020s. Right now, the only person that seems capable of stopping him is himself.
Questions and comments?
thescorecrowsports@gmail.com
Follow Us on Twitter @thescorecrow
Follow Us on Reddit at u/TheScorecrow
Follow Kit Shepard on Twitter @KitShepard Main Credit Image:
[getty src="1026189080″ width="467″ height="594″ tld="co.uk"]