Baseball is all about rankings. Sometimes, it's how players fare in awards races, how many fans voted for them for the All-Star Game, or where each team ended up on the latest MLB Power Rankings.
The fact of the matter is, everyone wants to be considered great. Those who go the extra mile can become elite, but usually, if you round into the top 10, you've done something right.
After wrapping up the starters and reliever portions, it seems only fitting to go to the other half of the battery and focus on catchers, starting with No. 10 and working our way up to the game's best.
10. Buster Posey – San Francisco Giants
Buster Posey has seen his numbers tank offensively over the past few seasons (128 wRC+ in 2017, 107 in 2018, and just 85 last season), but the fact remains that he is still one of the best catchers in the league from a defensive standpoint.
Among catchers with at least 200 plate appearances, Posey finished sixth with 14.9 fielding runs above average (FRAA).
Also, you have to pay respect to someone as great as Buster Posey. Last year was certainly his worst season in the MLB on offense, but that could very well have just been a fluke.
9. Willson Contreras – Chicago Cubs
Contreras has made a name for himself as one of baseball's best offensive catchers in the league. In 2019, he ranked second among catchers (min. 200 PA) with a 127 wRC+ and a .368 wOBA.
However, there is a reason his fWAR was only 2.7 last season (seventh among catchers), and that is because his defensive ability has been lacking the previous two seasons. While he improved his FRAA from -15.4 to -7.7, that is still nowhere near where it should be to be one of the league's best catchers.
8. Austin Hedges – San Diego Padres
Hedges is literally only on this list for his defensive capabilities. He leaves a lot to be desired as a hitter, despite posting a .711 OPS in 2018.
In 2019, Hedges slashed .176/.252/.311 with a 47 wRC+, making him one of the worst hitters in the league. However, he is one of the best defensive catchers in baseball, posting 28.2 FRAA (first) and 21 defensive runs saved (second).
All Hedges has to do is be a mediocre offensive catcher and he can be one of the hottest commodities behind the plate.
7. Christian Vazquez – Boston Red Sox
Vazquez showed flashes of brilliance at the plate in a career year in 2019, posting career-highs in wRC+ (102), OPS (.798), home runs (23), wOBA (.331), and fWAR (3.5).
But, on top of his emerging prowess at the plate, Vazquez still is one of the better defensive catchers in the league as his 7.8 FRAA ranked 12th among catchers (min. 200 PA).
The jury is still out on if Vazquez can repeat his successes as a hitter, but he still deserves to crack this list given his defensive prowess, which is the most important aspect of being a catcher.
6. Roberto Perez – Cleveland Indians
Roberto Perez has never been known for his offensive prowess, but he did start to exhibit some of the power he has in 2019. While he wasn't fantastic by any stretch offensively, he still hit 24 home runs and slugged .452 a season ago.
But, that's neither here nor there, because he's arguably the best defensive backstop in the league, as he and Austin Hedges have been battling it out for a few years now.
Perez's 25.7 FRAA ranked second among catchers in MLB last season, and his 30 defensive runs saved ranked second among all position players in the league (only Matt Chapman of Oakland had more).
5. Mitch Garver – Minnesota Twins
Mitch Garver exploded in 2019, albeit just 93 games played. He ranked first among catchers with a 155 wRC+, a .404 wOBA, and a .995 OPS. He also ranked tied for 16th with 4.7 FRAA a season ago.
Volume usually has an impact on my decision, but with a grueling position like catching, it's fairer to give the benefit of the doubt.
Garver was simply too good offensively, as well as being more than serviceable defensively, and that is something I cannot ignore. That being said, he was only slightly above league average offensively in 2018, so time will tell if 2019 is more of an anomaly or the real thing.
4. Tyler Flowers – Atlanta Braves
Making his way into my top five is Tyler Flowers.
He is by no means a world-beater with the bat in his hands, but he certainly is a steadier option offensively than Roberto Perez and Austin Hedges before him on top of being a better defender than Christian Vazquez.
Flowers ranked ninth in baseball with 10.3 FRAA last season, tied for second in runs from extra strikes (min. 250 pitches called) with 13, as well as posting a fairly solid .733 OPS.
Flowers is one of the best pitch-framers and game-callers in the MLB, and he just doesn't get the necessary volume for the rest of the league to take notice.
3. Gary Sanchez – New York Yankees
Gary Sanchez makes his way into my top three for one reason and one reason only: the dude is an absolute force at the plate.
Say what you want about the strikeouts; there aren't many guys in the league that you should fear more than Gary Sanchez. His OPS settled at .841 (fifth among catchers with min. 200 plate appearances), he posted a 116 wRC+ (sixth), and his .346 wOBA also ranked sixth, largely due to a July where he just couldn't figure it out offensively.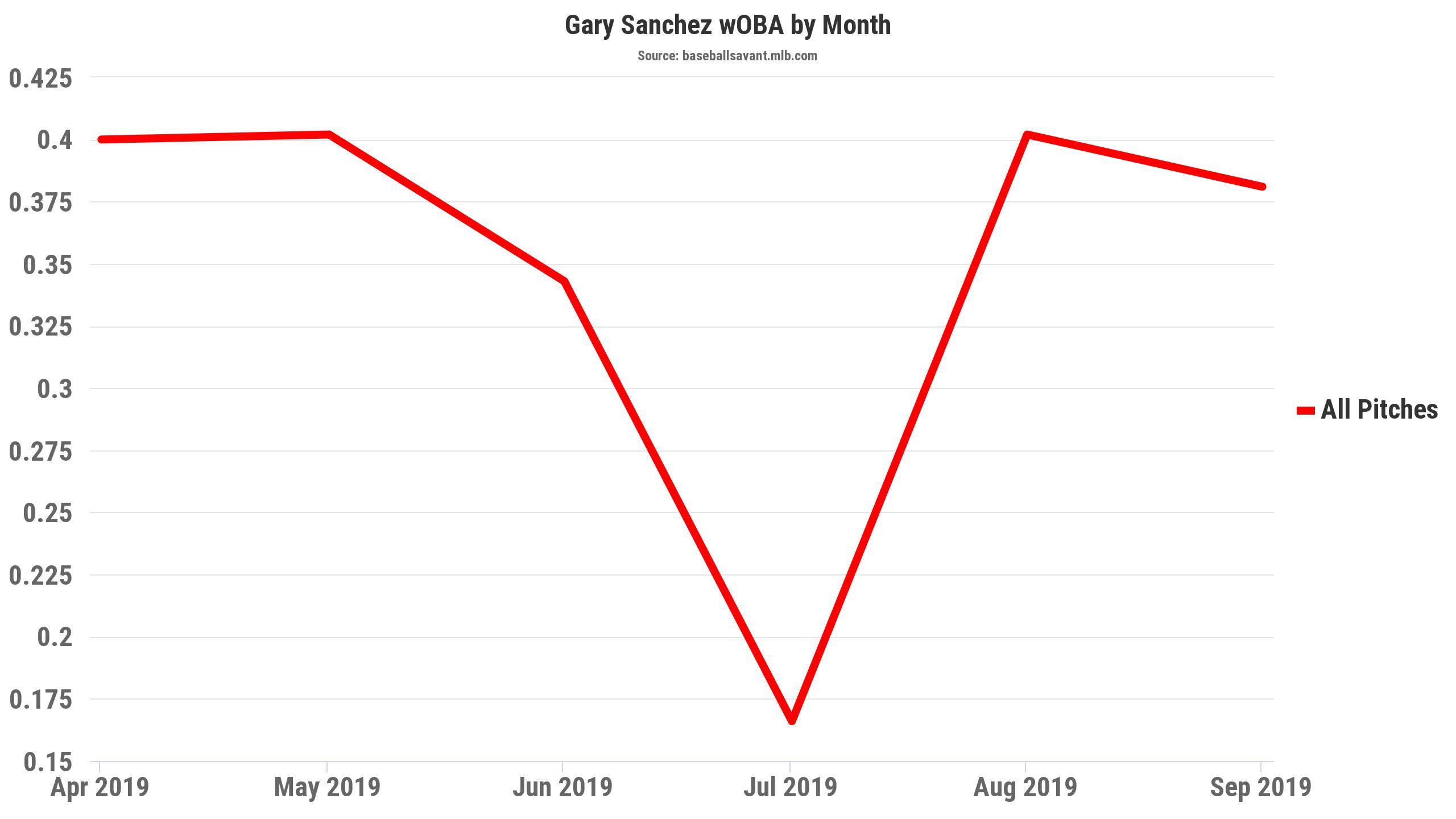 Sanchez needs to right himself defensively, but from an offensive standpoint, he is still a top-three catcher in the league ahead of the 2020 season.
2. J.T. Realmuto – Philadelphia Phillies
Realmuto has blossomed into one of the more marquee catchers in the league over the past few seasons. Many thought he'd regress with the transition to Philadelphia, but the production stayed pretty consistent with how he performed in 2016 and 2017 with the Marlins … plus more power.
Realmuto ranked first among catchers with 5.7 fWAR, was fourth in FRAA (19.5), and was top 10 in wOBA (.340), wRC+ (108), and OPS (.820).
He also was the highest-rated baserunning catcher in baseball a season ago, for what it's worth.
As far as being "all-around" is concerned, Realmuto is probably the best in that regard, so why is he ranked No. 2 on my list?
1. Yasmani Grandal – Chicago White Sox
Rounding out my top 10 is recently-acquired White Sox catcher, Yasmani Grandal. Grandal benefitted greatly from his one-year deal with Milwaukee last year, going off and having a career year.
In 2019, Grandal ranked first among catchers with a .380 OBP, second in fWAR (5.2), tied for second in runs extra strikes (13), third in FRAA (20.1), third in wOBA (.361), third in home runs (28), and fourth in wRC+ (121).
The White Sox are very lucky to have signed him this winter, and they'll be reaping the benefits of it for the next four years.