Back in 2017, Red Sox Nation dubbed their outfield with the nickname of "The Killer B's," referring to the trio of Mookie Betts, Jackie Bradley Jr., and Andrew Benintendi.
Betts was the star who could do no wrong, Bradley was the hot-and-cold hitter who played irreplaceable defense, and Benintendi was the rising star with good speed, decent power, and one of the prettiest left-handed swings in the game.
Fast forward three years later. Bradley still plays great defense, albeit slightly worse than in the past, Betts very well could be traded any minute, but the one player we don't know too well is that rising star who is entering his age-25 season. He came up in 2016 to provide a spark to a Red Sox team desperate for stability in an injury-riddled left field position. He followed that up with a relatively disappointing rookie campaign (.776 OPS, 102 wRC+) despite finishing second to Aaron Judge in Rookie of the Year voting. He then became a vital piece to a World Series-winning roster by posting a career-high 122 wRC+ and improving his left-field defense from 88th out 90 in outs above average (-10) in 2017, to 55th out of 87 (negative one) in 2018.
Following his 2018 season, people entered last season with high expectations for the former seventh overall pick out of Arkansas. He would be switching lineup positions with Mookie Betts, becoming the team's leadoff hitter, and more importantly, would be entering his final season of pre-arbitration –– meaning he was due for a significant raise in salary, and it could be even greater with another great season.
That simply did not happen for Benintendi. Last season, the 24-year-old saw his numbers go down across the board. His on-base percentage dropped 23 points (.366-.343), his slugging dropped 34 points (.465-.431), his wOBA dropped 27 points (.357-.330), his wRC+ dropped 22 points (122-100), and his outs above average dropped from just below average (negative one), back down to -10 (ranked tied for 85th out of 92 qualifiers). Many Red Sox regressed in 2019, so Benintendi was not alone in that regard, but the fact of the matter is there's been a trend in his performance from year to year.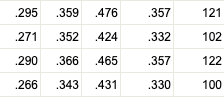 Benintendi has alternated from season to season in his offensive production, essentially looking like two versions of the same hitter. Which, if history repeats itself, means Benintendi should be due for a very good season. And boy does he need one.
Benintendi is 25 years old and will be entering the prime of his career when he hits free agency after the 2022 season. Through three-plus seasons, he has shown a lot of promise but has also left a lot to be desired at the plate. Thus further stressing the importance of a big 2020 campaign.
He's on the verge of essentially just a "he is who he is" player, as much of his league-wide value has dropped thanks in large part to inconsistencies at the plate in his 2017 and 2019 seasons.
Benintendi doesn't have to set the world on fire this season, but saying he has to eclipse the five-win plateau in FanGraphs WAR shouldn't be an unfair demand. The 2020 season is big for him in showcasing whether or not he's worth being a part of the Red Sox long term plans, especially if Mookie Betts is out of the picture.
He is running out of time to prove himself, it's make-or-break time for Andrew Benintendi.