Levon Satamian | January 11th, 2019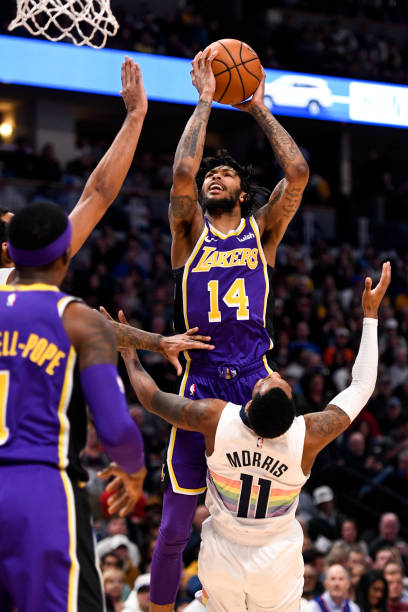 The Los Angeles Lakers have had a couple of second overall picks in the draft over the years. They also have had a few steals in the draft too. Now these players are showing what they are made of, and some of these players are making other teams regret not taking them in the draft before the Lakers did.
Duke forward Brandon Ingram was drafted in 2016 by the Lakers with high hopes that he will be the star of the franchise. Ingram has shown signs of being the next big thing, but hasn't shown it for a full season yet. This season, alongside LeBron James, he could shine and be the next big thing the Lakers have been waiting for. I have faith in Ingram, I still think he's the second best player on that team behind LeBron, and hopefully, he takes his game to another level alongside LeBron. This season, Ingram is averaging 16.3 ppg, 4.7 rpg, 2.6 apg, 0.6 spg, 0.7 bpg, 2.5 turnovers per game, and he's shooting .462% from the field, and .633% from the free-throw line, with an eFG% of .481. It should be interesting to see how Ingram plays going forward, now that he is healthy and won't miss games because of suspension.
UCLA guard Lonzo Ball was drafted in the 2017 draft by the Lakers. He was also brought in with high expectations to be the next great PG in Laker history. To bring Showtime back to LA. But last season wasn't Lonzo's best. He did have a decent rookie season averaging 10.2 ppg, 6.9 rpg, 7.2 apg, 1.7 spg, 0.8 bpg, on .360% FG, and .451 FT%. If Lonzo gets his shots to fall, he could be one of the top point guards in the league because of his well-rounded play style and defensive ability. His numbers have dropped this season as his usage rate has dropped due to the array of ball handlers the Lakers have in LeBron James, Rajon Rondo, Lance Stephenson, and Brandon Ingram. However, with LeBron and Rondo out, Lonzo has averaged 13 ppg, 6.2 apg, 5.6 rpg, 2.3 three-pointers made per game, and 1.2 spg. Nonetheless, Lonzo's future is bright; if his offense isn't there on some nights, his defense will be.
https://youtu.be/9eGOUqIm4_g
Utah University forward Kyle Kuzma was drafted in the 2017 draft as the 27th pick by the Lakers. He turned out to be the steal of the draft. Going into the 2017 season, everyone had their eyes on Lonzo Ball, and no one paid attention to Kyle Kuzma. After the first summer league game, Kuzma made sure to have the attention of LakerNation. Last season, Kuzma averaged 16.1 ppg, 6.3 rpg, 1.8 apg, 0.6 spg, and 0.4 bpg, on .450 FG% and .707 FT%. This season, he has improved alongside LeBron, averaging 18.8 ppg, 5.7 rpg, 2.4 apg, 0.6 spg, 0.5 bpg, on .471 FG% from the field, .306% from three, eFG% is .532%, and .768 FT%. Kuzma just had 41 points against the Pistons in 29 minutes of play. He will continue to improve more as this team forms stronger chemistry.
Villanova guard Josh Hart was drafted 30th overall in the 2017 NBA draft. Hart was a sleeper in the draft. He's a good defender who can shoot the three-ball. That's what the Lakers need. The two things they could improve on, defense and shooting the three-ball. He is averaging 9.4 ppg, 3.9 rpg, 1.4 apg, 1.2 spg, 0.6 bpg, shooting .417% from the field, .357% from three, .689% from the free-throw line, and eFG% is .522%. Hart is a consistent player who won't put up big numbers, but he will play with 100% effort night in and night out.
https://youtu.be/6sZFTtGPHMo
All of these players have a lot of potential in their unique ways. It's just the matter of when. I think this year, and if not this year, definitely next year, they will evolve to the players we have been waiting to see them be. The one thing they must work on is free throw shooting. This season could be another learning season with LeBron and Rondo mentoring the young guys, however, next season, they will have to show what they are made of even more than what they have shown us this season.
Questions and comments?
thescorecrowsports@gmail.com
Follow Us on Twitter @thescorecrow
Follow Us on Reddit at u/TheScorecrow
Follow Levon Satamian on Twitter @TheSportsNotes
Main Credit Image:[getty src="1065998392″ width="396″ height="594″ tld="com"]
Advertisement