Josh Elias | November 29th, 2018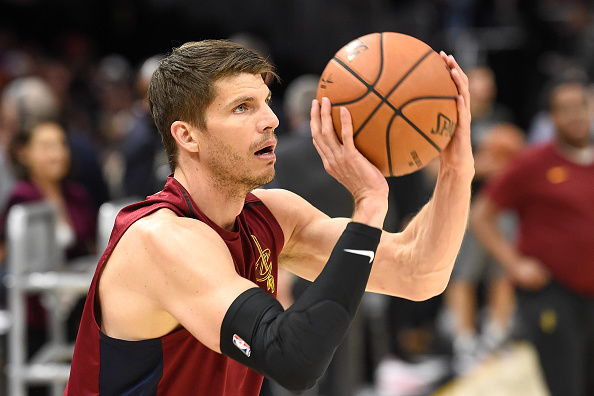 After a couple months of incessant trade rumors surrounding Cleveland Cavaliers role players such as George Hill, J.R. Smith and Kyle Korver, they have finally made their first move, sending Korver to the Utah Jazz for what will be his second stint with the franchise. In return, Cleveland will reportedly be receiving eighth-year wing Alec Burks and a pair of second-round draft picks.
The Jazz Perspective
Korver will, as always, be relied on in Utah for one thing and one thing only: shooting. Having shot over 40% from behind the arc in nine of the last 10 years, a feat that only Steve Nash and Stephen Curry have proven to be able to match, Korver has rightfully earned his status near the top of the NBA's all-time three-point shooting totem pole.
The Jazz badly needed to add someone like him, considering how their season has gone so far. Utah has to be the early frontrunner for the most underwhelming team of the year, as they sit 14th in the Western Conference a quarter of the way through the season.
A big part of why they've been struggling is their lack of shooting. As teams have begun to key in on Donovan Mitchell and targeted him with their best wing defenders, his efficiency, particularly from behind the arc, has dipped.
With their two main offensive options being a wing who shoots under 30% on three-pointers and Rudy Gobert, a defensive-minded center who has only attempted shots from outside of 10 feet twice this year, there are very limited ways for them to succeed as an offensive unit.
The most optimal solution is to surround those two almost exclusively with shooters. That is not how this season has gone at all, with the only 40%+ three-point shooter on their team this year being Georges Niang, who is barely in the rotation. Korver will change that, at least to some extent, and his shot will give the 37-year-old a significant role, likely as the first wing option off the bench for the Jazz.
It's incredible to think that Korver, a pastor's child from Iowa who played for a mid-major school and was selected with the 51st pick in the draft, is still playing a key role for teams that are attempting to contend. On the night he was drafted, back in 2003, Korver was selected late in the second round by the then-New Jersey-based Nets, who had just been to two back-to-back Finals. You don't remember him ever being a Net though, do you?
That's because he was immediately traded to the Philadelphia 76ers for the $125,000 fee that it cost to participate in the Summer League and a copy machine. By the next season, he joint-led the league in three-pointers, and he has not slowed down since. The last time he played for the Jazz, his final season saw him shoot 53.6% on threes. That's the all-time record. Utah is sure hoping he will do that again.
The Cavs Perspective
Meanwhile, Cleveland is heading back to rebuilding mode just like the last time LeBron James left them. They now have no LeBron, no Kyrie Irving, and the injured Kevin Love looks set to soon follow them out the door.
Their best player this year so far is probably Tristan Thompson, and they've completely fallen apart at the seams already. Currently sitting at 4-16, the worst record in the league, the Cavaliers are trying to rid themselves of veterans because they know that, barring a miracle, they are years away from their next playoff run.
Alec Burks has been one of the few Jazz players who actually has shown a somewhat competent outside game this year, though he's done so at a rate that's been so inconsistent that it's almost impressive.
Burks has appeared in 17 games this year, shooting between 35% and 49.9% only once and scoring either in double figures or five points or less in all but two of his appearances. After a long, injury-riddled tenure in Salt Lake City, it's probably time for a change of scenery.
In the last five years, he's been on the injured reserve list for a total of 288 days (32% of the combined NBA seasons) with major injuries to his left shoulder, left fibula, right leg, and left ankle,  which have seen him fall severely down the pecking order for the Jazz during that time.
The Cavs will be a good situation for him. There is no pressure on him to perform, obviously, on one hand. But there's also the fact that their primary scorers right now are loose cannons Jordan Clarkson and Collin Sexton.
The skill that got Burks into the league in the first place is his scoring and, as long as he can stay healthy, this is the best opportunity in the NBA that he could have to show off that ability again. This trade, as long as Burks stays healthy, should be a win-win situation, but Cleveland gets slightly more of a win once you consider the fact that they also received two second-round picks.
Questions and comments?
thescorecrowsports@gmail.com
Follow Us on Twitter @thescorecrow
Follow Us on Reddit at u/TheScorecrow
Follow Josh Elias on Twitter @_SunsofThunder_ Main Credit Image: [getty src="970039406″ width="594″ height="396″ tld="co.uk"]