Kit Shepard | July 20th, 2018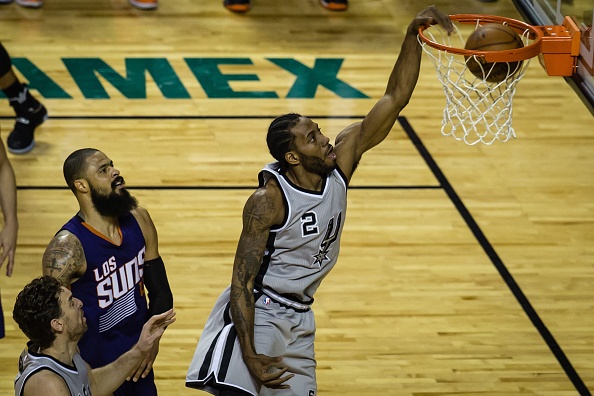 A little over a year ago, Kawhi Leonard had it all. Entering the 2017 playoffs, the San Antonio Spurs forward was considered the best two-way player in basketball and seemed destined assume the mantle as the leader of the most successful franchise in the NBA since the turn of the century. When he averaged 27.8 points per game on 52% shooting through the opening two rounds of the postseason, everything was going according to plan.
It was in game 1 of the Western Conference Finals, however, that Leonard's now infamous decline began. In the third quarter, he landed on Golden State Warriors center Zaza Pachulia's foot, aggravating an ankle injury that would rule him out of the remainder of the playoffs. Since then, his situation in San Antonio has gone from bad to atrocious. After a year involving disputes with the Spurs' medical staff, criticism from teammates and his refusal to play for the franchise, Kawhi was traded to the Toronto Raptors in a deal that ends one ordeal but could trigger another.
Here's how the Leonard-DeRozan trade affects both sides.
The Full Details
Raptors receive:  
Kawhi Leonard (one year / $20,099,188)
Danny Green (one year / $10,000,000)
Spurs receive: 
Demar DeRozan (three years / $83,219,925)
Jakob Poeltl (three years / $8,476,920)
Toronto's 2019 first round pick protected for selections 1-20 (if the pick falls in the protected range, the Spurs will receive two second-round picks after one year)
Still Disgruntled Kawhi Leonard
Leonard has not hidden his desire to play in his native Los Angeles, and so the decision by the Spurs to trade him to a team over 2000 miles from his hometown, as well as being in a different country, would not have pleased him, to say the least. Living up to his reputation as a player determined to get what he wants at all costs, Kawhi's camp has not ruled out the possibility of him sitting out the coming season, the last before he becomes a free agent.
On the one hand, Leonard's frustration and anger are understandable; the freezing temperatures, increased tax, and obsession with hockey make Toronto a world away from San Antonio, let alone Los Angeles. Nevertheless, if Kawhi wants to turn his LA dream into reality, he has no option but to pull on that Raptors jersey and play harder than ever before.
Ever since it became clear that Kawhi wanted to play in Los Angeles, a move to the Lakers seemed inevitable. As the most recognizable franchise in the league, it seemed the perfect place for him to establish himself as a superstar on the court, and introduce himself as one of them. Yet despite the Lakers landing LeBron James in free agency, and having the necessary assets and cap flexibility to trade for Leonard, the Spurs' reluctance to give him away to a conference rival and the objective of receiving equal value in return meant an agreement was not reached.
Both LA Teams Could Be In Next Year
The failure to make this deal forces the Lakers to rely on their young core to play the King's supporting cast, but this may be a blessing in disguise, as they are teeming with promising talent. Brandon Ingram and Kyle Kuzma, in their second and rookie seasons respectively, both averaged over 16 points per game in the most recent campaign. Likewise, Lonzo Ball divided opinion with his unusual shooting form and the off-field antics of his family but, among rookies, he was second only to Ben Simmons in assists per game (7.2) and steals (1.7), and had the highest assist/turnover ratio (2.76). Throw in Josh Hart and Svi Mykhailiuk, who both impressed at this year's Summer League, and the Lakers have plenty of youthful quality to match anyone in the NBA.
If Kawhi does sit out the year in Toronto, his methodology is clear. He wants to leave the Raptors with no option but to trade him before the February deadline, in order to avoid him walking for nothing in the summer. However, when the Lakers' youthful talent is considered, would they be willing to make this trade? If the aforementioned players continue to impress, it is unlikely that they will want to give up any of it for Leonard. Kawhi featured in just nine games for the Spurs last season, and so Magic Johnson would be risking his franchise's future for a player who, regardless of whether he was truly injured or simply attempting to force a way out of San Antonio, will not have experienced the full intensity of an NBA season for almost two years.
The same goes for the Los Angeles Clippers. Granted, without a superstar and the same depth of young promise, their future is not as bright as the Lakers, but the franchise is not dependent on signing Kawhi. In Shai Gilgeous-Alexander, the Clippers looked to have unearthed a rookie with supreme potential, as the 6'6" point guard caught the eye of many at Summer League, displaying his ability as a scorer, playmaker, and defender. If the opportunity to trade for Leonard does arise in the coming months, the Clippers do not necessarily have to go all in for him, especially if Leonard is not playing and Gilgeous-Alexander is living up to the hype.
What's Next For Kawhi Leonard
Even if he must wait until next summer to leave the Raptors, the necessity for Leonard to perform well in Toronto is the same. The 2019 free agency class is sensationally strong, and Kawhi will not be the only option for teams looking to sign a big name, including the two in LA. Minnesota Timberwolves all-star Jimmy Butler is unlikely to resign with his current team, so will be on the market in twelve months' time. Klay Thompson, another Los Angeles native, could also be up for grabs should he decide he wants a greater role than being the third option in Golden State. Elsewhere, the likes of Karl-Anthony Towns, Kemba Walker, and even Kevin Durant could be available next summer. Unless Kawhi can rediscover his form before this saga, the Lakers and the Clippers will have better free agents to choose from.
Although the decline of Leonard has been sudden and dramatic, and his disappointment at the Toronto trade is somewhat justified, he cannot afford to approach his time in Canada half-heartedly. Kawhi finds himself in a situation as far away from ideal as it is from Los Angeles but, if he can lead his new team and reach the level that he has shown he can, then the Clippers and the Lakers will be gushing for him. Equally, should he refuse to play for the Raptors, then he may never return home. The only option is for Leonard to play the hand he has been dealt.
Questions and comments?
thescorecrowsports@gmail.com
Follow Us on Twitter @thescorecrow
Follow Us on Reddit at u/TheScorecrow
Follow Kit Shepard on Twitter @KitShepard
Main Credit Image: [getty src="631709230″ width="594″ height="396″ tld="com"]