Joey Ricotta | March 3rd, 2019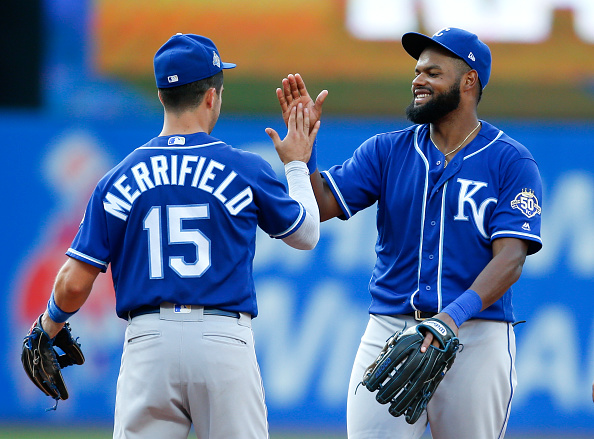 In what looks to be a rebuild, although Royals GM Dayton Moore doesn't want to call it a rebuild, the Royals have signed a bunch of guys to one-year deals. Is it in hopes of trading them in July or can the Royals compete this year? Let's take a closer look at the 2019 Kansas City Royals.
Last Season: 58-104 5th in AL Central
The 4th lowest on-base percentage translated into the 3rd fewest runs per game in the AL. The pitching staff had the 2nd fewest amount of strikeouts coupled with the 2nd highest team earned run average. They finished dead last in a weak division. Not much more needs to be said. It was a brutal year.
Key Additions
OF Terrance Gore, OF Billy Hamilton, UT Chris Owings, RHP Brad Boxberger, LHP Jake Diekman, RHP Drew Storen
Key Departures
SS Alcides Escobar, RHP Jason Hammel, RHP Brandon Maurer, RHP Nate Karns
Catcher Projections
On March 1, the Royals announced that catcher Salvador Perez had suffered an elbow injury. An MRI revealed damage to his ulnar collateral ligament. The former World Series MVP will be traveling to Los Angeles early next week for a second opinion. He likely will need Tommy John surgery and be out for the entirety of the 2019 season.
Perez has been an All-Star in each of the last six seasons and has averaged over 137 games a year during that span. He's a five-time gold glover that has a cannon for an arm and had an amazing caught stealing percentage a year ago (48.1%). He's a great clubhouse leader, and has been consistently hitting 20 plus home runs (27 each of the last two years) and doubles each season. So, how do the Royals replace a player of his magnitude?
Not easily is the correct answer, but the Royals happen to have a good amount of young catchers at the minor league level, that project to do big things in the majors. Cam Gallagher was in line to be the backup for Perez, filling in here and there, but with the injury, he most likely jumps to the front of the line and takes over the starting job. So far in his young career, Gallagher has done a nice job framing pitches and throwing out runners. He won't add a ton regarding the bat, but the Royals organization feels he has more raw power than the stats show.
Prior to the Perez injury, Meibrys Viloria was probably ticketed to start the year in the minors, with a call-up during the season being likely. Depending on how the Royals' organization feels about him playing a full season at the big league level, he could be the backup. Expect him to get significant playing time if he is on the roster. They feel like he has more potential than Gallagher, and want him to be playing closer to every day at whatever level that is. The Royals called Viloria up last season in September and he got 10 games under his belt, batting 259. They feel that he is close, but the call up came from High-A Wilmington. Meaning, if he were to start on the big league roster, last year wasn't just a preview and he would be completely skipping the AA and AAA levels. We'll see how aggressive the Royals want to be with his development. There's a lot to like with Viloria's glove. He blocks and frames well, and has drawn comparisons to Willson Contreras.
Another option could be Xavier Fernandez, who slashed .328/382/504 last year in AA. He's a good defender and might be more big league ready than Viloria. Otherwise, I could see the Royals looking at veteran outside options. Martin Maldonado is a name that comes to mind. He would work well with the pitching staff and was the only catcher to have a higher caught stealing percentage last season than Salvador Perez.
MJ Melendez is another young budding star to look out for in future years. (Check out Royals Top 5 Prospects article)
Infield Projections
Manning first base will be Ryan O'Hearn with maybe a mixture of Hunter Dozier against lefties. O'Hearn was a bit of a surprise last season, after making his debut at the end of July. The left-handed hitter showed good pop. He jacked out 12 home runs and slashed .262/353/597 (950 OPS). All of that came in only 44 games and 149 at-bats. If you average that out to 130 games with around 450 at-bats, that's a 30-plus homer guy in the making. Playing time might result in a platoon, because O'Hearn was only 4 for 37 against lefties, with a .209 wOBA.
Just a few weeks ago, the Royals gave second baseman Whit Merrifield a 4-year extension for $16.25 million, including a club option for 2023. This extension has to be looked at as a steal for the Royals. Speaking of steals, he fits in perfectly with what the Royals love to do, steal bases. Merrifield, led the American League last year in hits and has led in steals each of the last two seasons. He had a 2018 slash line of .304/367/438, which solidified him as one of the best second basemen in the league. Expect that trend to continue this season.
Merrifield is only the beginning as far as Royals' speedsters go. Another very speedy athletic player is youngster Adalberto Mondesi. Mondesi, showed off some of his ridiculously special tools last year. Playing in only 75 games, Mondesi had 32 stolen bases. Uh, that's kind of a lot. Add another 75 games played over the course of a full season, that number would be 64 steals. Which, would be good enough to tie or beat the league leader in steals in each of the last eight seasons. Now obviously, we can't assume that he will get on-base enough to even get the number of attempts it would take to get 64 steals. But it's definitely within his capabilities. The last person to steal 64 bags in a season, Dee Gordon back in 2014. Gordon has never hit more than four home runs in a single season and has only a career total of 15. To go with Mondesi's steals, he bopped out 14 dongs, last year. Just to give you an idea of how rare and special his power/speed combo is, Rickey Henderson, the all-time leader in steals, only hit 24 or more home runs three times in his career. No one is comparing him to Rickey Henderson, just saying he's a player with an incredibly high ceiling. He sported great range and an above average glove at shortstop as well. The one area he needs to improve is patience. He had a good .276 BA, but only a .306 OBP. Simply put, he chased too much. His 26.5% strikeout rate and 3.8% walk rate was further proof.
Hunter Dozier is an interesting specimen. The 2013 first round pick, will likely get the majority of the playing time at third base, in what could be a last ditch effort to solidify a major league starting role. He's struggled with injuries and has been inconsistent when given the chance to play. Dozier, hit .229 with 11 home runs and 34 runs batted in, last year. He did have his best month of the season in August, right after Mike Moustakas was traded. He slashed .280/321/467 and hit 3 home runs in the month. Now, that could mean something or it could mean nothing. Maybe, he felt like the pressure was gone when Moustakas left. Maybe this adds more pressure, knowing that he's the guy going into the season. Who knows? Either way, he's going to get plenty of opportunities. He'll need to produce with Minor Leaguer, Kelvin Gutierrez coming for his job soon. Gutierrez is probably still a year away, but he has a good glove and is making good progress with the stick.
Barring injury, the Royals will most likely keep one backup infielder. That's because Chris Owings can play just about anywhere on the diamond. Owings was signed to a one-year deal, following a career-worst year. He hit .206 in 106 games with the Dbacks, a year ago. Don't count out Owings getting a more regular role either, especially against left-handed pitching. Last year, Owings hit .269 versus lefties. Compared to .152 versus right-handed pitchers.
Non-Roster Invitee:
SS/2B Nicky Lopez – Unlikely to make the opening day roster. But he's been tearing it up in the minors and could make his debut at some point during the season.
OF/DH Projections
Longtime Royals outfielder, Alex Gordon is a lock to play left field and hit in the middle of the batting order this season. Gordon is entering the final season of a 4-year $72 million deal. He's seen a drop off in production as a far as his batting average goes. Since the 2015 World Series championship season, Gordon has hit .220, 208, and 245, from 2016-2018. While he's struggled at times with the bat, his defense and baserunning haven't faltered. He won his 6th gold glove award last year and stole 12 bases. We'll have to wait and see what Gordon decides at the end of the season, but at 35-years old, this could very well be his last on a big league diamond.
Newly acquired outfielder, Billy Hamilton was signed to a one-year $5.25 million deal. Hamilton is another incredibly fast player that should have no problems adjusting to the spacious Kauffman Stadium outfield. The more room that he has, the more fun it might be, watching him track down balls in center field. Don't expect him to do much with the bat. Hamilton has a career .245/298/333 slash line and struck out at the highest rate of his career, last season 23.7%. But he's another of the many Royals that could contend for a stolen base title. If he gets on, have fun watching him go.
The right field position is the biggest question heading into the season. Who will be playing right field? Well, that's a question that I can't answer for sure, but I'll attempt to give you all of the options. The first player, and maybe the most likely one to make the roster is Brian Goodwin. Goodwin is a left-handed hitter that was acquired in a trade with the Nationals last year. He started out hitting fine until a groin injury sidelined him for the month of August. He wound up finishing the year, hitting .239 with a .708 OPS between the two clubs. Goodwin is out of options, which makes him an even stronger candidate to make the roster. Brett Phillips is the next option. Phillips came over in the Moustakas deal with the Brewers. He certainly falls into the speed and defense narrative that the Royals love. He's a good defender with a strong arm, albeit some offensive doubts. Still young, only 24-years old, Phillips holds a good raw toolset of power and speed. But he has yet to prove it at the big league level, slashing only .187/252/306 last season. Phillips still has minor league options, which could be a deciding factor. If Phillips makes the roster, he's likely starting over Goodwin in right. Another option for the right field job is Jorge Bonifacio. Following an 80-game suspension to start the season, Bonifacio failed to ever get going last year. He finished the season, with a .225/312/360 slash line. He's not the greatest of fielders, struggled at times last year. Like Phillips, Bonifacio has options. Two things working in his favor, he hits from the right side of the plate and hit 17 bombs in 2017. If the Royals want to keep one lefty, one righty, Bonifacio will make the roster. It is entirely possible that the Royals only keep one of these three outfielders. With the versatility of Owings, being able to play outfield as well. That would open the door for another reliever to make the roster.
Jorge Soler is expected to handle the lion's share of the DH duties, as well as right field. A lot of the potential success of the Royals this season hinges on Soler. He's been off and on hurt his entire time with the club. Many scouts feel, he has 30-plus homer upside. But because of the injuries, he has played in only 96 games total the last two seasons. In 61 games played in, prior to getting hurt last year, Soler slashed .265/354/466 with 9 home runs.
Terrance Gore was signed in the off-season to a one-year deal. He has blazing speed and can play outfield. He will mainly be used as a designated pinch-runner. Although he doesn't see himself as only a pinch-runner, he isn't the greatest of hitters and the outfield is rather full. Expect him to enter a lot of games late, to swipe a bag or play defense.
Non-Roster Invitee: OF Bubba Starling – 26 years old. A lot of people were expecting big things from him. But he's dealt with injuries and had his fair share of struggles to figure it out in the minors. He's tearing it up so far in the spring and could be on the up and up. At this point, still, a long shot to make the opening day roster.
Starting Pitching Projections
The top three pitchers in the rotation are pretty set. Although Danny Duffy is experiencing some shoulder tightness, he is expected to get his third straight opening day call. Manager Ned Yost has yet to name an opening day starter, but that might depend on how Duffy feels. Brad Keller came on strong last year, after being a rule 5 pick. He finished with a 3.08 earned run average, holding opponents in check by inducing a lot of ground balls. His strikeout numbers improved as the season went on as well. In August and September, he had a 12.5% strikeout to walk rate and a 2.66 earned run average. Jakob Junis should be serviceable. He needs to cut down on the home run ball and improve on getting ahead in the count. Ned Yost recently talked about Ian Kennedy being moved to the bullpen. It's not a guarantee and Kennedy is still the favorite to be in the rotation. But if that were to happen, it would open the door for both Lopez and Fillmyer to get rotation spots. Right now, Lopez seems to be leading the way for the fifth spot ahead of Fillmyer. If Fillmyer doesn't get a rotation spot, he'll most likely find his way into the bullpen.
Non-Roster Invitee:
RHP Homer Bailey – Veteran pitcher trying to latch on somewhere. He's hoping he can win the 5th starter spot or impress another club.
Bullpen Projections
Dayton Moore has brought in some names that could really help this pen. Left-hander Jake Diekman recently signed a 1-year deal. Diekman could really help in the setup role, he's a high strikeout, high walk pitcher. But he lines up well against both right-handed and left-handed hitters. It sounds like Wily Peralta will be getting the first crack at the closer job. He saved 14 out of 14 games last year for the Royals. Management will have some interesting decisions to make when it comes to filling out the rest of the bullpen. Drew Storen was recently signed to a minor league deal and invited to spring training. Sam McWilliams, Chris Ellis, and Kyle Zimmer are all fighting for spots. Along with a number of others. Zimmer was a first-round pick in 2012 and has dealt with a ton of injuries and surgeries. He appears to be fully healthy and it would be a great story if he made the team. McWilliams and Ellis are both rule 5 guys. If the Royals are going to keep them, they need to make the big league squad. Track the bullpen situation closely. As we get deeper into the spring, the decision might become more clear. Richard Lovelady and Josh Staumont are others that could create waves later on and make their debuts.
Non-Roster Invitee: RHP Drew Storen – Signed to a Minor League deal with hopes of making the opening day roster. He's had success in the past and could provide solid innings out of the pen. Low risk, high reward type of signing.
Strengths
Speed. This team is littered with it throughout their lineup. The Kansas City fan base has grown accustomed to seeing a small ball style of play over the years and this could be a quintessential representation of that. They have three players projected to be in the everyday lineup that could easily contend for the stolen base crown. Not to mention, multiple others who will provide some steals. Strangely enough, they will be doing it in an era that seems to be getting away from the running game and gravitating more towards the power game.
Weaknesses
Pitching. Starting pitching, relief uncertainty, it's just all of the pitching really. Danny Duffy is projected to be the number one starter. The Ian Kennedy contract has looked like a bust so far. Everyone else is either very unproven or mediocre at best. Peralta saved 14 out of 14 games a year ago, but some of those outings were rather rocky. Maybe newly signed Brad Boxberger wins the job at some point. Then the question becomes, who is getting him the ball? Not much they can rely on as far as setup men. Although, some pieces have been added and they have potential. But it'll most likely be some kind of revolving door, with many players getting called up and sent down to the Minors.
Prediction
65-97 4th in the AL Central
If Mondesi plays up to potential and O'Hearn continues on the path he was heading towards the end of last year, this team could be fun to watch. Getting Soler back from injury helps. The future is brighter than most realize. They have some really promising young arms in the minors, like Brady Singer, Jackson Kowar, and Daniel Lynch. Some good young catchers as previously mentioned. As well as some other pieces, like Khalil Lee, Nick Pratto, and Seuly Matias. But with the current starting pitching staff they have, don't expect them to make a real run this season. The last I saw, Vegas had the over/under for Royals' total wins set at 69. I think they can do better than that if it all comes together, but I'm not putting my money on it. If this team is going to steal some wins, they most likely will do it by stealing some bags. The excitement element will make them an interesting team to watch.
Check out our other Team Previews | Colorado Rockies | Toronto Blue Jays | Minnesota Twins | Atlanta Braves | Chicago Cubs | Tampa Bay Rays | Arizona Diamondbacks | Miami Marlins | Cincinnati Reds | Seattle Mariners | Texas Rangers |Los Angeles Dodgers | New York Yankees | Milwaukee Brewers | San Diego Padres | Detroit Tigers
Questions and comments?
thescorecrowsports@gmail.com
Follow Us on Twitter @thescorecrow
Follow Us on Reddit at u/TheScorecrow
Follow Us on Facebook at The Scorecrow
Follow Us on Instagram at The Scorecrow
Follow Joey Ricotta on Twitter @theriot326
Main Credit Image: [getty src="1026547482″ width="594″ height="439″ tld="com"]