Pranav Ramasubramanian | September 21st, 2018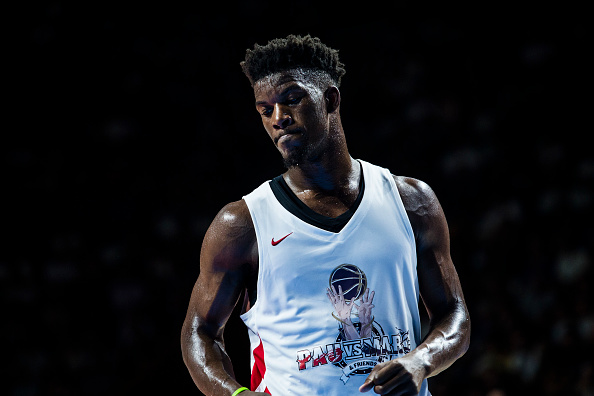 The Minnesota Timberwolves were a mess organizationally especially with team chemistry last year and it has caused Jimmy Butler to officially declare he wants out of Minnesota. The Timberwolves only have money left for one big payday, which was being debated on being given to Butler or Karl-Anthony Towns.
Jimmy Butler has requested a trade from the Minnesota Timberwolves, league sources tell me and @JonKrawczynski. Butler has given Minnesota a list of one-to-three teams with whom he's open to signing extension, in anticipation of trade.

— Shams Charania (@ShamsCharania) September 19, 2018
Jimmy Butler is expecting a 5-year $190 million dollar contract extension and wants to be the man, which will be hard on Minnesota with all the young guns and more priority given to them as they were eyeing to give Karl-Anthony Towns the huge extension anyway. Jimmy Butler would be open to going to any big market team that would sign him long-term and according to Adrian Wojnarowski of ESPN he has three teams listed.
Minnesota's Jimmy Butler has three preferred destinations for a trade, league sources tell ESPN: The Brooklyn Nets, Los Angeles Clippers and New York Knicks. Those three teams have max cap space to sign Butler as a free agent in July.

— Adrian Wojnarowski (@wojespn) September 19, 2018
The latest report also suggests that he wants to push to be on the other Los Angeles team, the Los Angeles Clippers.
Minnesota's Jimmy Butler is most determined to find a way to the Los Angeles Clippers, league sources tell ESPN. The appeal of partnering with a second star – the Clippers have two max contract slots available in summer free agency – is an intriguing scenario for him.

— Adrian Wojnarowski (@wojespn) September 20, 2018
The Los Angeles Lakers have shown their mastery in creating cap space by getting rid of unneeded huge contracts when they traded away Timofey Mozgov and D'Angelo Russell to the Brooklyn Nets and also when they traded away Jordan Clarkson and Larry Nance Jr. to create space for a second max contract slot. The Los Angeles Lakers will have to pull out all the stops to go after a superstar and Jimmy Butler might be the guy they need.
Why It Will Happen
Jimmy Butler is so frustrated with his young teammates being so nonchalant especially with Karl-Anthony Towns will to win and Andrew Wiggins overall effort in his game that Butler has refused to sign a 4-year extension worth $110 million. He would rather go into free agency and explore his options. Jimmy Butler has a desire to win big as his teams always suffer heartbreak in the NBA Playoffs. Butler may want to join LeBron James to help James in his quest to dethrone the Golden State Warriors and try to bring a championship to the Los Angeles Lakers. The Boston Celtics showed what they can do without Kyrie Irving and Gordon Hayward. With the duo returning to the Boston Celtics, they are an NBA Finals team with mastermind head coach Brad Stevens and Kyrie Irving may look to stay because Irving may realize that staying on the Boston Celtics will be his best chance at another championship rather than teaming up with Jimmy Butler. Klay Thompson has said in several interviews that he wants to stay with the Golden State Warriors because it allows him to have fun and win championships while being a part of a great dynasty. The Golden State Warriors are ready to meet any demands to keep the Splash Brothers together while their other free agent target Kawhi Leonard could fall in love with Toronto as it is a great city with a good front office and very passionate fans. No NBA team will want to gut their roster for Jimmy Butler even though he is a perennial All-Star. The Minnesota Timberwolves want to keep him so the demands will be very high and teams could get relaxed knowing Jimmy Butler would hit free agency anyway and not pull the trigger on a crazy trade to ruin the core of their teams. Magic Johnson and Rob Pelinka have worked wonders in the Los Angeles Lakers front office making all of the moves to bring the Los Angeles Lakers more money. They have cleared $38 million in cap space with the latest waive and stretch provision on Luol Deng freeing up space, making the Los Angeles Lakers a great free agency destination yet again so Jimmy Butler does have the Lakers on the radar.
Why It Won't Happen
The Los Angeles Lakers will be going all in for Kawhi Leonard as Leonard has expressed interest in joining the Lakers in the upcoming season when he hits free agency. If Kawhi signs with Los Angeles, the Lakers won't have enough space to sign Jimmy Butler as both will be looking for huge max contract paydays. The latest reports also suggest the Lakers will be going all in for Klay Thompson, who can get hot from anywhere on the floor with his consistent jumper while also playing stellar defense on the opposing team's best player. The main problem would be that Klay Thompson plays the same position as a shooting guard and will ask for a ton of money so Jimmy Butler wouldn't be able to team up with Klay Thompson either. The Minnesota Timberwolves will look to get rid of Jimmy Butler as soon as possible after his trade request and if the Lakers do end up trading for Jimmy Butler it could mean losing young talents like Brandon Ingram, Kyle Kuzma, and Lonzo Ball. Magic Johnson and Rob Pelinka have shown patience and won't budge on a trade for a superstar because they know it will gut their roster shown in their approaches with Paul George and Kawhi Leonard. If Jimmy Butler does land with a different NBA franchise then prying him away will be tough as Butler is very loyal and may like his new destination. The pressure of playing with LeBron James might deter Jimmy Butler away from the Lakers as it comes with taking a backseat and a lot of media scrutiny, I mean just ask Kyrie Irving.
Jimmy Butler doesn't want to play for the Lakers because they signed LeBron James https://t.co/P0OTgnpXvI pic.twitter.com/Z9va1ULjRK

— Silver Screen and Roll (@LakersSBN) September 19, 2018
This leads into the biggest reason why Jimmy Butler won't go the Los Angeles Lakers and it's because he wants to team up with U.S. National teammate Kyrie Irving. With the Los Angeles Lakers clearly not having the cap space for both, and Irving not wanting to play with LeBron, it rules out the Lakers as a destination. Kyrie Irving and Jimmy Butler may look to teams with more ample cap space like the New York Knicks or Brooklyn Nets come 2019 free agency.
Final Verdict
If the Los Angeles Lakers can't land Kawhi Leonard or Klay Thompson then Jimmy Butler will be an option unless he wants to team up with Kyrie Irving, but also if the Los Angeles Lakers land Kawhi Leonard or Klay Thompson then the Los Angeles Lakers won't go for Jimmy Butler, who seems to be on his way to teaming up with another superstar on another big market team anyway.
Questions and comments?
thescorecrowsports@gmail.com
Follow Us on Twitter @thescorecrow
Follow Us on Reddit at u/TheScorecrow
Follow Pranav on Twitter @PranavRama1
Main Credit Image: [getty src="994373236″ width="594″ height="396″ tld="com"]