Nickolas Loza | March 1st, 2019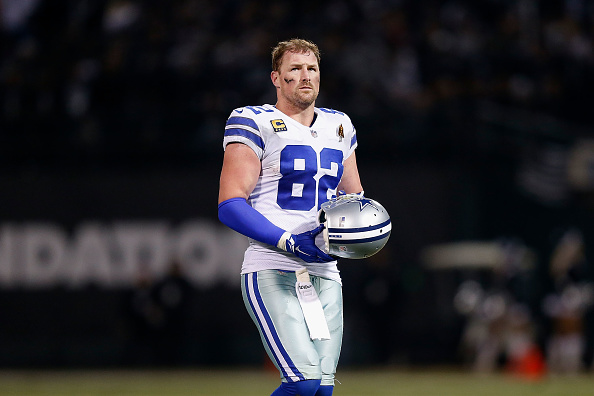 The Cowboys Legend and future Pro Football HOF'er has decided to hang up his broadcasting mic for football cleats. The Cowboys all-time leader in Receiving Yards and Receptions will return for a 16th season with the Cowboys.
He signed a one year $3.5M deal with Big D to become a leader in the locker room that the Cowboys missed last year. It's a perfect fit in my eyes because the Cowboys get a locker room leader and a player who can be an example to the Cowboys young core. He will also get an opportunity to get a Super Bowl ring with the Cowboys Super Bowl hopeful efforts. This move also eliminates the need for the Cowboys to draft a Tight End, temporarily. The Cowboys can focus on drafting to their needs now instead of drafting to patch a glaring weakness. It's essential that the Cowboys win now because they have Dak Prescott under a rookie contract so they don't have to pay him any big money yet. This team has a big potential to win the Super Bowl this season so this is a big move.
This will, however, postpone Jason Witten's induction into Canton, assuming he's a first ballot HOF'er and this is his gone for good last year, his year of induction would be 2025.
Witten's workload will be reduced, he should expect to see only 20-25 snaps a game and will be a coach of sorts, as mentioned earlier. He will definitely provide a training camp storyline for Americas Team which is welcomed by Jerry Jones because any attention he gets raises his pockets bit by bit. Some people are saying that Witten may not be able to handle football anymore after being in the booth for a year, to me this is preposterous. A football player doesn't lose his ability to play in one year if anything being in the booth has benefited him because he has gotten insight into how defenses work and how certain defensive alignments work that he wouldn't have seen without interviewing coaches.
In conclusion, Jason Witten will be a great addition to the Super Bowl hopeful Cowboys and he will be a great leader for the young locker room of America's Team. Hope you all enjoyed!
Questions and comments?
thescorecrowsports@gmail.com
Follow Us on Twitter @thescorecrow
Follow Us on Reddit at u/TheScorecrow
Follow Us on Facebook at The Scorecrow
Follow Us on Instagram at The Scorecrow
Main Credit Image: [getty src="897277064″ width="594″ height="396″ tld="com"]