Dale Money | February 14th, 2019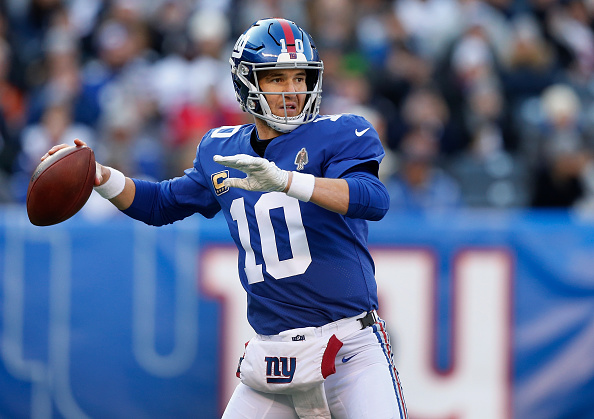 Missing the playoffs for the sixth time in seven years, the New York Giants offense was simply never able to gel into the well-oiled machine that was expected of them with the dynamic playmakers on its roster including Odell Beckham and Saquon Barkley.
They now have some difficult decisions to make, specifically figuring out what to do with longtime quarterback Eli Manning. Eli will be 38 years young come next September. Can he still lead the offense, and give them a chance to win games? He did show flashes that gave fans a bit of a window of hope that he can still compete in this league, passing for 4,299 yards, 21 touchdowns, and 11 interceptions. Counting $23.2 million against the Giants' 2019 salary cap, they would be able to shave off $17 million in cap space by releasing him this off-season. If he is let go, then look for them to pick up a more affordable free agent to fill that hole for a season, while they draft a quarterback, and allow that player time to get himself better situated.
Someone such as Teddy Bridgewater comes to mind, Bridgewater is still young and has enough talent that he could be a solid name to look at as an option to hold down the fort for a season. Many mock drafts have Dwayne Haskins as being the man who will be Eli's successor when the club rolls on into the future. Having just played one year as a Buckeye, Haskins is a natural pocket-passer with poise and solid vision, and he gets rid of the football quickly and with accuracy. While he isn't a true dual-threat quarterback, he has serviceable mobility. Most notable is the arm strength, the ceiling will be based on whether or not he can show improvement on his long ball accuracy. If Haskins can improve that part of his game, the sky's the limit.
Another name that has gained a lot of traction recently is Sooners Kyler Murray. He officially declared for the NFL Draft, for a while we weren't sure where his true commitment lied, having gotten drafted 9th overall by the Oakland Athletics in last June's amateur draft. He is not a classic NFL quarterback at just 5-foot-10 and 195 pounds, but his skills make him an intriguing option, having amassed a total 54 touchdowns and over 5,000 yards last season for the Sooners.
Saquon Barkley was a true bright spot for a Giants team that again battled through key injuries and struggled early on due in part to a poor offensive line. He finished first in the NFL with 2,028 yards from scrimmage, rushing for 1,307 yards and 11 touchdowns on 261 carries. Barkley's scrimmage yards total was the third most from a rookie in NFL history, trailing only Eric Dickerson and Edgerrin James. He managed to edge out another standout in Baker Mayfield, for Offensive Rookie of the year, collecting 26.5 of the votes.
Decisions on the defensive side of the ball also need to be made this offseason. Linebacker Olivier Vernon, safety Landon Collins, and cornerback Janoris Jenkins need to all be taken care of during the offseason. Jenkins is no doubt the most likely to be back after the Giants gave him a roster bonus before the season that added $1.5 million more to his 2019 cap number. It doesn't seem likely that Vernon is going to be back, however. Coming into opening week injured, he wasn't able to return until week 6, it may not make a lot of financial sense to hang onto him, given the amount of money he'll be receiving and lack of production.
If the Giants let Vernon go, they'll have a bit more capital to work with under the salary cap, they could save $11.5 million by releasing him but would receive an $8 million cap hit. As for Collins, he is going to become an unrestricted free agent this March, hitting the market as one of the most sought after players. Having topped the Giants in tackles four years in a row, they do need to try everything in their power to hang onto him, as he is arguably their best defensive player.
With the potential loss of Landon Collins, the Giants will be looking to fill that gaping hole at safety. As we look into the draft, one player that comes to mind as someone that could be a nice replacement is Nasir Adderley from Delaware. A relative of the very successful Herb Adderley, who he himself played corner under the legend Vince Lombardi. Nasir has a lot of great tools, including competitive toughness, range, and physicality. He also has great energy and with the versatility he possesses, is a prospect that could be a great new addition to add to the Giants secondary.
The Giants have finished 24th or worse in total defense, four of the last five years. In what could be a step in the right direction, they took actions to hopefully fix some of the holes. Hiring Mike Dawson as outside linebackers coach, replacing Rob Leonard. Henry Baker was also brought into to be assistant defensive backs coach, filling the vacancy left by DeShea Townsend. Clemson defensive end Clelin Ferrell, Michigan defensive end Rashan Gary, Alabama defensive lineman Quinnen Williams, and Michigan linebacker Devin Bush could all be on the board when the Giants pick at six. Each of those players can make an immediate impact this upcoming season.
Check out our other Team Reviews: Atlanta Falcons | Minnesota Vikings | Washington Redskins | Miami Dolphins | Cincinnati Bengals | San Francisco 49ers | New York Jets | Denver Broncos | Indianapolis Colts | Oakland Raiders | Baltimore Ravens | Green Bay Packers | Tampa Bay Buccaneers | Detroit Lions
Questions and comments?
thescorecrowsports@gmail.com
Follow Us on Twitter @thescorecrow
Follow Us on Reddit at u/TheScorecrow
Follow Dale Money on Twitter @packerd_00
Main Credit Image: [getty src="1127650131″ width="594″ height="419″ tld="com"]
Advertisement