John Lepore | July 18th, 2018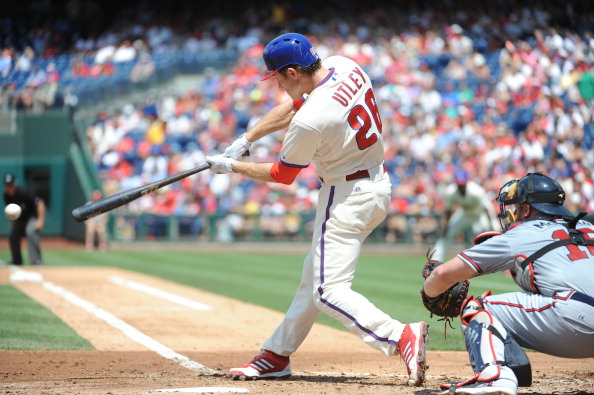 Chase Utley announced he would retire at the end of this season. Whenever a player is at the end of his career, we look back and appreciate the moments he gave us, discuss his legacy, and inevitably, for someone who has been a very good player, we ask the question: Is he a Hall of Famer?
Chase Utley was actually drafted by the Los Angeles Dodgers in the second round of the 1997 draft. He did not sign and went to the University of California. He was eventually drafted in the first round (15th overall) by the Philadelphia Phillies in 2000. While he didn't become the regular second baseman for the Phillies until 2005, he immediately made his mark and established himself as arguably the best second basemen in baseball.
His Career
In his first full season as the Phillies' second baseman, Utley put up some good numbers. He slashed .291/.376/.540 to go along with 28 HRs and 16 SBs. That season started a string of 5 consecutive years where he would have at least a .900 OPS, 93 runs scored, 93 RBI, and 22 HRs. Over the course of those 5 years, he was one of only two second basemen to have over 100 HRs  (Utley had 146 and Dan Uggla had 121). His fWAR was 38.4 which dwarfed the next closest in Brian Roberts at 22.9. Utley has had productive seasons ever since. Maybe not on the level of his peak from 2005-2009 but he has never had a negative fWAR season.
The Argument for the HOF
His peak was great. JAWS has him at a score of 57.4 compared to the average HOF second baseman at 57.0. Let's compare him now to other players at his position who are already in the hall:
Craig Biggio: 65.8 fWAR, .281/.363/.433
Roberto Alomar: 63.6 fWAR, .300/.371/.443
Chase Utley: 63.3 fWAR, .276/.359/.466
Ryne Sandberg: 60.9 fWAR, .285/.344/.452
It would seem that he fits in this group. He is still a beloved figure in Philadelphia and was part of the Championship team in 2008. He also has over 250 HRs and 150 SBs in his career to go with over 1,000 runs scored and 1,000 RBI.
The Argument Against the HOF
He doesn't have many of the counting stats and accolades that come with being a HOFer. He doesn't even have 2,000 hits. He never won a Gold Glove. He never finished in the top 5 in MVP voting even while his teammates won MVP awards. While his overall ratio stats may be good enough, his peak was great and may not be enough to discount the somewhat average past eight seasons of his career. While previously mentioned players are in, guys like Jeff Kent and Lou Whitaker aren't and they have fWARs of 56.1 and 68.1 respectively. So while there is a precedent for Utley to get in, it may not be so easy.
The Bottom Line
While Utley is certainly a deserving candidate for the HOF, he will most likely at least have to wait. Alomar was in on his second ballot, and Biggio and Sandberg waited until their third. Utley may wait longer as his peak was great but he didn't have the accolades or the total counting stats like Biggio. He should get in eventually and a lot will depend on how deep the ballot is. Many players have suffered because of a packed ballot of guys more deserving. If Utley can be seriously looked at without the ballot conflict and with discerning eyes then he should make it in before his time is up.
Questions and comments?
thescorecrowsports@gmail.com
Follow Us on Twitter @thescorecrow
Follow Us on Reddit at u/TheScorecrow
Follow John Lepore on Twitter @jball0202
Main Credit Image: [getty src="173227664″ width="594″ height="395″ tld="com"]