Pranav Ramasubramanian | August 31st, 2018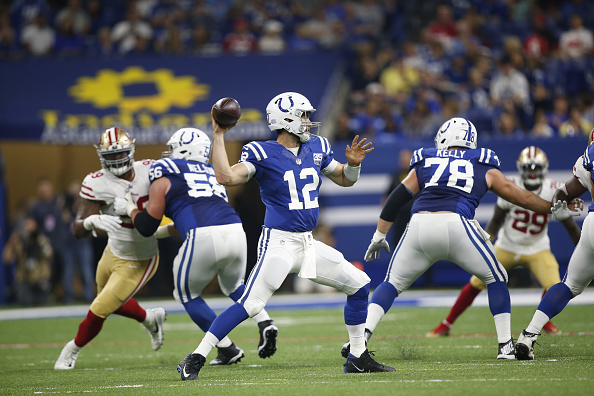 The Indianapolis Colts have been hyped every year, but will they be able to live up to expectations now that Andrew Luck is healthy?
Indianapolis Colts Season Preview
Recap of Last Season
Last year seemed like a lost year for everybody involved in the Indianapolis Colts franchise. The Indianapolis Colts started off the season in the worst fashion ever showing why they would be so bad without Andrew Luck. Jacoby Brissett kept the Indianapolis Colts in many close games, but it was his first year as a full-time quarterback so he couldn't close out many games with a taxing schedule only managing to win four. The Indianapolis Colts went from a playoff team to the bottom very fast showing the importance of a quarterback in today's game. The terrible season brought new changes as Chuck Pagano, who was the head coach of the team, was fired and Ryan Grigson, who was the GM of the team, was fired as well.
Strengths This Year
The Indianapolis Colts have a franchise quarterback in Andrew Luck as the heir apparent to Peyton Manning and Andrew Luck has taken the Indianapolis Colts to as far as the AFC Championship Game at full strength even helping them go 11-5 in three straight seasons with a TD/INT ratio of  86/43. The Philadelphia Eagles won the Super Bowl last year with huge help from offensive coordinator Frank Reich, who helped usher in Carson Wentz and turn him into an MVP candidate while also adjusting to Nick Foles on the fly to help the Philadelphia Eagles win it all.
The Indianapolis Colts also knew that they needed big time defensive help so, in the 2017 NFL Draft, they went ahead and decided to select safety Malik Hooker out of Ohio State to stop the run and pass coverage, but Malik Hooker only played seven games due to a torn ACL and MCL, but he tallied an impressive 22 combined tackles with 16 of them being solo, four pass deflections, and three interceptions showing off his potential in his limited time. Adam Vinatieri is 45 years old, but is still kicking with tons of success in this league and doesn't seem to have aged at all even though it seems he has been kicking for an eternity. The wide receivers have been largely inconsistent for Andrew Luck throughout his career as an Indianapolis Colt, but his No.1 receiver, T.Y. Hilton, is very reliable since he was drafted, putting up big numbers when given the opportunity.
Weaknesses This Year
Andrew Luck's health is the biggest question mark for this team as he suffered many injuries since coming into the NFL like his shoulder problems that started in 2015, lacerated kidney plus muscle pulls in the abdomen knocking him out of the 2015 season after seven games, frayed labrum in preseason of 2016 even though it didn't affect his season that much, and his latest shoulder surgery knocking him out all of last season. The Indianapolis Colts have never had a solid running game to support Andrew Luck and the trend will probably continue this year as Christine Micheal's numbers aren't too impressive based on previous stints with other organizations and Marlon Mack is currently banged up.  The defensive side for the Indianapolis Colts has been absolute garbage for Andrew Luck and fired GM Ryan Grigson did nothing to try and save it. The cornerbacks consist of young guys, who are still trying to figure out their way in this league.
Additions/Improvements
The biggest addition made for the Indianapolis Colts, who traded down with the New York Jets for the No.6 pick and gave them the No.3 pick so they could draft some pocket protection for Andrew Luck, is Quenton Nelson, who was a top offensive guard from Notre Dame. The Indianapolis Colts added six offensive players from the draft with two wide receivers in Deon Cain, who proved to be a reliable target for Clemson putting up impressive stats leading them to a national title. Daurice Fountain from Northern Iowa turned up his game turning into a great No.1 option for the Panthers catching 66 passes for 943 yards and 12 touchdowns while being 6'1" and impressing at the NFL combine with his speed at 4.46 in the 40-yard dash. They also drafted two running backs and one more offensive guard in Braden Smith, who while at Auburn earned second-team All-SEC and should help buy Luck some extra time while the two running backs, Nyheim Hines and Jordan Wilkins, look to provide some freshness to a backfield that has been dry for so many years. The Indianapolis Colts also managed to draft a lot of defensive pieces in hopes of restoring a horrid defense by drafting two defensive ends in Kemoko Turay, who was a defensive end out of Rutgers whose best season came as a redshirt freshmen with 24 tackles, 8 for loss, and 7.5 sacks even though he was starting to show how raw of a talent he was and Tyquan Lewis, who was a defensive end out of Ohio State leading the team in sacks becoming the team captain and leader winning accolades like Big Ten Conference Defensive Linemen of the Year and 2016 first-team All-Big Ten Conference. The Indianapolis Colts made a lot of moves in the draft, but had only four signings in 2018 free agency, three of them were offensive in Eric Ebron, a tight end from the Detriot Lions, who hasn't lived up to draft potential, but given he has no more mental lapses, he could be a good target in the offense. Ryan Grant, a wide receiver from the Washington Redskins, who can make timely receptions and help stretch out the field for Luck giving him more options, and Matt Slauson, an offensive lineman from the Los Angeles Chargers who needs to recover from injury to really be able to tap into his potential. The one defensive signing they had was Denico Autry, a defensive end from the Oakland Raiders, who looks to make an impact getting tackles and had an impressive 36 tackles last year adding depth in case of injury.
Subtractions/Regressions
The big loss that the offseason provided wasn't any player, but a coaching commitment that the Indianapolis Colts got from Josh McDaniels with the official hiring almost done The Indianapolis Colts were shocked to learn that Josh McDaniels would remain with the New England Patriots as an offensive coordinator after convinced by Tom Brady and Robert Kraft to stay, he officially resigned, which at the time was a big blow for Andrew Luck. Vontae Davis was a solid cornerback for the Indianapolis Colts putting up good all-around numbers in tackles, pass deflections, and interceptions. Deon Cain, the new big new target from Clemson won't be able to be on the field this season as he suffered a torn ACL while running a vertical route in the Indianapolis Colts preseason opener against the Seattle Seahawks.
Prediction
Andrew Luck will have a fantastic year even though because he has had a year full of rest and will have fresh legs. The defense is still a huge hole and some positions like offensive tackle still remain a question mark. The Indianapolis Colts have good depth, but they have to pull it all together and play some amazing football to even get their record past eight wins this season. They will go 8-8 overall as their schedule demands too much seeing losses to the NFL's elite like the Philadelphia Eagles and New England Patriots while also losing to teams they should beat due to lack of experience. The No.3 pick may have helped them, but still won't get them to a playoff berth. The Indianapolis Colts are fool's gold yet again so don't fall for their tricks even if they start fast.
Questions and comments?
thescorecrowsports@gmail.com
Follow Us on Twitter @thescorecrow
Follow Us on Reddit at u/TheScorecrow
Follow Pranav on Twitter @PranavRama1
Main Credit Image: [getty src="1027048642″ width="594″ height="396″ tld="com"]