Josh Elias | January 14th, 2019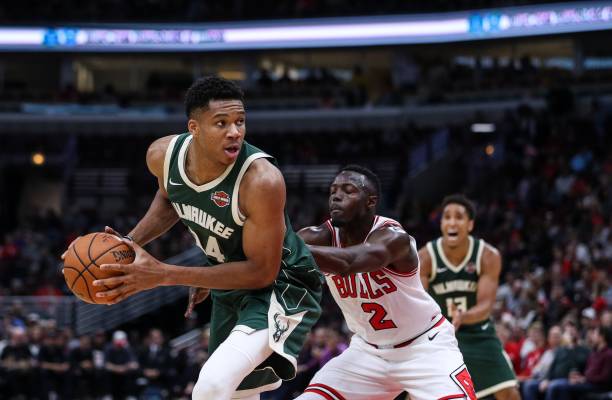 With Russell Westbrook's prime and players like Ben Simmons and Giannis Antetokounmpo entering into NBA stardom with the ability to do just about everything – score, pass, rebound, and defend – better than the vast majority of players in the league, it's no wonder we've entered the era of the triple-double to the extent that we have.
It's an incredible stat to achieve still, but it's nowhere near as shocking as it used to be unless someone who's just a role player is the one who picks up the triple-double.
In fact, for Westbrook, it's almost more surprising when he doesn't get a triple-double at this point. After all, he's on track to average it over the course of the whole year for his third straight season now.
That's a feat that only Oscar Robertson had ever achieved before him, and now he's done it three times in a row. That should be hard to even comprehend, but it's been so normalized that it's just expected from him at this point, and even sometimes ridiculed.
The new craze is the quadruple-double. No one's pulled one of those off in quite a while. Officially, it's been 25 years since the last time someone did it actually. Unofficially, Tim Duncan did it in the Finals against the Nets.
Either way, it's one of the rarest sports feats possible, and exclusively showcases some of the most elite all-around players in the history of the league, even if, so far, it leaves out every single player from this generation.
I'm not here to talk about things that are rare, though. I'm here to talk about the impossible.
I'm here to talk about the quintuple-double.
The Attempts
You could make the point that a player achieving a quintuple-double in an NBA game is such a pipe dream that it's hard to even contemplate as a concept, and you'd be right.
Ten steals and ten blocks? In the same game? That's got to be impossible!
There have only been 66 games where a player's managed even five steals and five blocks in the same game, and Hakeem Olajuwon's responsible for a third of them!
Hakeem Olajuwon (March 10, 1987)
Along those lines, this wouldn't be a proper list of this sort without Hakeem featuring in it. He recorded the league's third quadruple-double in 1990.
In fact, he recorded the league's third quadruple-double twice. In the same month. (The first one was initially recorded as a quadruple-double but it had actually been counted incorrectly, so an assist was rescinded after the game and he ended with a 29-18-9-5-11 stat line.)
In terms of the quintuple-double though, the closest he ever got was a few years before that.
People always say that Olajuwon had no help when he won his first championship, but in the 1986-87 season, Olajuwon had no help, even compared to that. Ralph Sampson missed half the season as he was beginning to have his serious injury troubles, and both Lewis Lloyd and Mitchell Wiggins were banned from the league mid-season for substance abuse.
This game was in March, with 19 games left to play, against a Seattle team that was just half a game ahead of them in the standings.
Houston would actually go on to lose in overtime – the combined 77 points from Tom Chambers and Dale Ellis was simply too much for them to handle – but Olajuwon had a ludicrous 38 points, 17 rebounds, six assists, seven steals, and 12 blocks over the course of the 53 minutes he was on the floor.
Jamaal Tinsley (November 16, 2001)
The Mid-2000s Indiana Pacers easily could have been a title-winning team, but instead, thanks to the Malice at the Palace, they are a what-if story of broken dreams and broken faces.
A key but oft-forgotten part of that team was point guard Jamaal Tinsley. The injury-prone floor general was one of the only players on the floor not to earn a suspension that day.
While he was certainly important to the Pacers' success, it can't be denied that Jamaal Tinsley was a role player. But I have to say, a typical role player doesn't have a historically impressive performance like he did in their 11th game in the NBA.
In a double-overtime effort against Minnesota, Tinsley would score 12 points, assist 15 times, grab nine rebounds, and somehow managed to get six steals and a mindboggling five blocks.
The only other point guards in league history to manage five blocks in a game are John Wall, Baron Davis, and Terrell Brandon. Those three all made multiple all-star games.
Funny enough, Terrell Brandon even was the opposing point guard; the player Tinsley was defending on the night.
Much less impressive parts of that game for him include a 3/16 shooting night, fouling out, and, of course, losing.
Six days later, he would record a 19-23-11 triple-double against Washington, and then he would never have a week as good as that again.
Imagine if he'd been able to keep that level of production up.
Andrei Kirilenko (January 03, 2006)
Finally, a time where a player comes vaguely close to this ridiculous feat and also wins at the same time!
It was against a Lakers team that was without a suspended Kobe Bryant, who had recently elbowed Mike Miller in the throat – meaning Lamar Odom was the only player on the Lakers to even score in double-digits that day, but still.
Also in Andrei Kirilenko's defense here, his own starting lineup included Keith McLeod, Gordan Giricek, and Jarron Collins.
How these two teams both ended up at or above .500 records baffles me.
One thing that makes this performance by AK-47 particularly impressive is that he came the closest anyone ever has to having recorded a quintuple-double while failing to even end up with a double-double. His stat line: 14 points (on seven shots), eight rebounds, nine assists, six steals, and seven blocks.
Draymond Green (February 10, 2017)
The most recent time that anyone came anywhere near a quintuple-double was just a couple years ago when Draymond Green became the first player ever to record a triple-double without scoring 10+ points.
The existence of this Warriors team has opened up opportunities for so many absurd game-to-game situations from just about every individual on their roster, but the ability for Green to legitimately be able to rack up more rebounds, assists, blocks, and steals than points in a game is one that impresses me more than just about any.
That night against Memphis, he ended up with four points, 11 rebounds (all of them on the defensive end), ten assists, ten steals, and five blocks.
2×5 and Other Technicalities
Who says getting a quintuple-double requires reaching double-digits in all of the five digits?
Well, everyone that knows what it is, I suppose.
But what about if a player manages to get exactly two in all of them. Obviously not nearly as impressive, but if you twist logic in just the right way…
The 2×5 stat line has happened six times throughout NBA history. Oddly enough, each of the first four happened almost exactly five years apart from each other. Charles 'Gadget' Jones in early November 1985 for the Bullets was the first, followed by Herb Williams in early November of 1990, Antonio Harvey in early November of 1995, and then Kenyon Martin in early November of 2000.
Most recently, it was Marcin Gortat and Harrison Barnes who ended up with two points, two rebounds, two assists, two steals, and two blocks – both during the second half of the 2014-15 season.
And what about negative-impact quintuple-doubles? 10+points, 10+ rebounds, and 10+ assists, but at the same time picking up 10+ turnovers and missing at least ten shots.
Three players have done that, and, frankly, two of them are quite obvious – James Harden (twice) and Russell Westbrook (four times). The other was a then-22-year-old Clyde Drexler, who delivered that much of a mixed bag of a game against a young Hawks team as he faced off against Dominique Wilkins.
But obviously, that's not the type of quintuple double we're looking for.
The Candidates
Draymond Green
A noticeable offensive drop-off from last year, unexpected struggles from the Warriors this year, and Green's general unlikability have combined to make his legitimacy as a star up for debate among many NBA circles, but that shouldn't change the fact that he is arguably the most versatile player in the entire league.
As one of only three active NBA players who has racked up multiple games with both five steals and five blocks, combined with his consistent triple-double threat, he has to be on the shortlist for this, even if he's probably closer to the end of his prime than the beginning.
Giannis Antetokounmpo
As a lengthy, uber-athletic 24-year-old point forward who is setting himself up to be the heir to LeBron James' throne atop the NBA, Giannis Antetokounmpo certainly has all the physical tools necessary to make him the ideal candidate for such an achievement.
While I honestly would be the least shocked to see him be the player to get the league's first quintuple-double, it's likely a pipe dream at best. After all, it's his sixth year in the league, and he's never even come close to ten steals or ten blocks, let alone both at the same time.
Anthony Davis
While a quintuple-double may be asking too much of Anthony Davis, it's also asking too much of the other 4,228 players who have set foot on the court in an NBA game.
But I can all but guarantee he'll be the next player to get a quadruple-double. After almost managing ten assists for the first time of his career last month (nine, against Dallas), it seems like, if he ever ends up in a situation with good enough teammates to contend, that it would almost be more likely than unlikely.
If he can do that and luck into a few more steals than he deserves at the same time, don't count him out of the quintuple-double race.
DeMarcus Cousins
If he can ever fully recover from his Achilles tear and retain the monster defensive output that he showed throughout stretches of his time in New Orleans, DeMarcus Cousins could be a darkhorse candidate for this. He doesn't get nearly enough credit for how great of a playmaker he is from the center position.
Wilt Chamberlain
Wait, what? Isn't he dead?
Yeah. What of it? Dead people can't break basketball records?
Is it really that surprising though that Wilt Chamberlain's the one person to have done this? He's responsible for so much of the league's record book that it's absurd.
Most points in a game? 100. Check. Most rebounds? 55. Check. Highest field goal percentage for a year? Check. His still holds 72 official NBA league records. He averaged over 50 points per game once and over 25 rebounds per game three years in a row, he's the only center ever to have led the league in assists, he's scored 60 points more times than Michael Jordan scored 50, he's the reason why dunking from the free throw line is banned in-game, he once blocked fellow Hall of Famer Walt Bellamy's first 11 shots in a game, he once dunked so hard it broke Red Kerr's toe, and he somehow never fouled out, in the NBA, college, or even high school.
And those aren't even close to the craziest stories, but even most of these sound too impressive to possibly be real.
So is it even really a surprise that he also somehow managed to pull this off?
*It shouldn't be, aside from one small thing: the NBA didn't record steals or blocks until after Wilt retired.
So how do we know about this?
Pollack was a reporter and statistician who worked for the NBA for an incredible 69 years, from the advent of the league until his death in 2015.
He is the reason we track many of the statistics that we do, thanks to his yearly publication of Harvey Pollack's NBA Statistical Yearbook.
As a Philadelphia reporter, he also kept box scores that included things such as shot distance, blocks, and steals for the Philadelphia Warriors and, later, the 76ers.
The good news is that, while he eventually threw away all of those reports, he included those full stats in his articles about 112 of the games that took place during Chamberlain's career, and someone compiled all of them together. This includes the revelation that, from this sample size, Wilt had a career average of 8.8 blocks per game. No, that is not a typo. 8.8. And in fact, during his Warriors years, it was as high as 10.9 per game. That is absolutely absurd.
The bad news, though, is that this specific game is not one of the ones that are still accessible. So there is no known remaining physical proof for the steals and blocks counts.
But here's what Pollack said Wilt had. 53 points. 32 rebounds. 14 assists. 11 steals. And 24 blocks.
Do you think it's possible it's true? Should the league recognize it as the first quintuple-double?
Will anything like it ever happen (again)?
Questions and comments?
thescorecrowsports@gmail.com
Follow Us on Twitter @thescorecrow
Follow Us on Reddit at u/TheScorecrow
Follow Josh Elias on Twitter @_SunsofThunder_
Main Credit Image:[getty src="858528858″ width="594″ height="388″ tld="com"]