Nickolas Loza | October 19th, 2018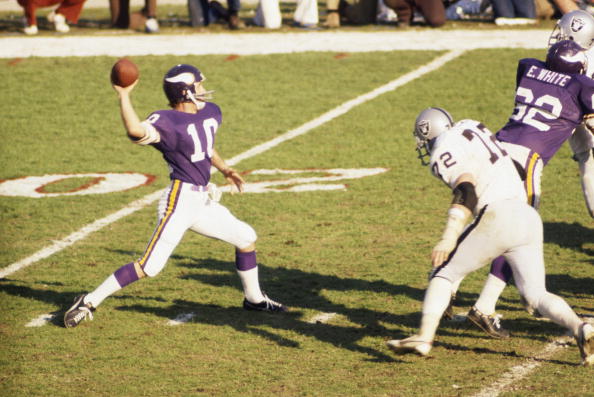 Previously in this multi-article chain, I went over the quarterbacks from the '40's to '65. The QB position changed in that quarter century from a man who hands the ball off to a man who throws the football down the field. However, the QB position would change even more in this eleven-year span than it did in the previous 25-year span.
4,000 Yards and the Guy in the Navy
The first QB that made an impact in this time period is Joe Namath. In '67 he became the first QB to pass for 4,000 yards and he was AFL Player of the Year twice before the greatest QB accomplishment possibly ever occurred in 1969 when Namath's Jets went up against Johnny Unitas' Colts. He passed for 206 yards and 0 TDs in that game but the Jets overcame long odds to beat the Colts. The Colts' defense was devastated by Namath's aerial assault and Namath was awarded Super Bowl MVP. He changed the position in the fact that he threw the ball against one of the most feared defenses of all time. He went on to finish his career with 27,663 passing yards, 173 passing TDs, and 220 INTs. The next QB we will go over is Roger Staubach who changed the Cowboys as a franchise and made them winners for the first time. Due to his commitments to the Navy, he couldn't play extensively in the NFL for the first two years of his career but in 71′ he had an excellent season. Although he passed for less than 2000 yards, he was a Pro Bowler and the Cowboys were Super Bowl champions. He was masterful in the Super Bowl, passing for 119 yards and 2 TDs. He ended up in his career putting up 22,700 passing yards, 153 TDs, and 109 INTs. He was without a doubt one of the most talented QBs of this time period.
The First Dual-Threat QB
As you can see the QB position truly changed over this span. The pure philosophy of football also changed from conservatively running the ball to passing the ball for big plays. But what if there was a QB who could do both of those things to a very high level? This QB's name was Fran Tarkenton. He was Michael Vick before he even existed, insane passing ability and the speed of a cheetah. His mobility by itself created problems for opposing defenses, he was the first QB where keeping inside of the passing pocket was more ideal then letting him role out and exploit bad coverages that he wouldn't have previously seen in the pocket. Defensive Coordinators had trouble sleeping because his legs and his arm being equally threatening. He never won a Super Bowl, which doesn't necessarily matter when it comes to how much stats he accumulated, which were unlike any other QB who ever played before him. 47003 Passing Yards, 342 passing TDs, and 266 INTs. His passing stats even today are impressive. His rushing stats were 3674 yards and 32 TDs. Truly one of the greatest QBs of all-time. He by himself changed the QB position to become a more multi-dimensional position player. In conclusion, the QB position changed, although defenses did quash the ability to pass because of defenses like the Steel Curtain and the Orange Crush defense.
Honorable Mentions
Some other mentionable QBs during this era were Terry Bradshaw, who didn't have his best season until '78 so he didn't quite qualify for this article, Ken Stabler, who used his legs like Tarkenton, but his arm wasn't nearly as effective, Ken Anderson, who played on mediocre Bengal teams, Jim Hart, who played on terrible Cardinal teams, and Bert Jones who won MVP in '76. The true darkening of the sky's with football came in the next era…..
Hope you all enjoyed!
Questions and comments?
thescorecrowsports@gmail.com
Follow Us on Twitter @thescorecrow
Follow Us on Reddit at u/TheScorecrow
Follow Nickolas Loza on Twitter @sp0rtstAlkNick
Main Credit Image: [getty src="52590819″ width="594″ height="397″ tld="com"]