Nickolas Loza | November 8th, 2018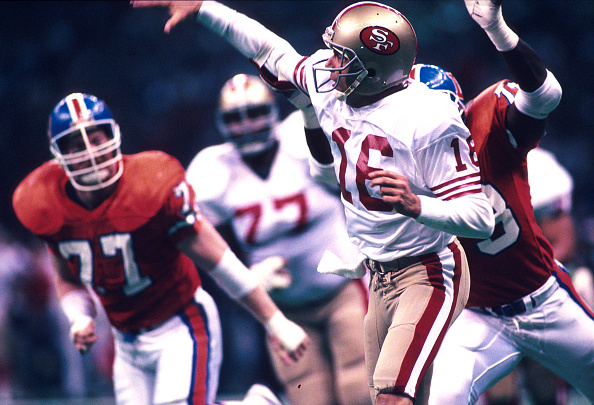 In the last article, I went over how the position changed from the years 1966 to 1977, in this one I will be going over how the position changed from 1978 to 1989. Boy did it ever. With a few players in just 12 seasons, NFL passing was changed forever.
Changing the Rules
We'll start in 1978, where a revolutionary rule change took place. The Pass Interference Rule was created, making it illegal to contact receivers after the pass catcher is five yards down the field. It also changed the way offensive holding was called. Offensive lineman used to not be able to extend their hands on passing plays, this was changed to manage conservative play calling and it opened up the skies for passes to be thrown. With just two rule changes the NFL was changed forever. Basically, these rules were changed to make the NFL more watchable. This had an immediate effect. Terry Bradshaw was the leagues Most Valuable Player in 1978, passing for nearly 3,000 yards, and 28 TDs in a Superbowl-winning campaign. The league had six teams go over 3,000 passing yards that season. Some of the greatest QB's to ever play the game played in this period. We'll go over some of them, the first of them being Dan Fouts, who played under the revolutionary Air Coryell offense. He was twice an All-Pro, six times a Pro Bowler, and led the league in passing yards four times in this span. He was as consistent of a passer as you would find in this era and was inducted into the Hall of Fame in 1993 with 43,040 passing yards, 254 TDs, and 242 INTs. He was an excellent passer and probably the best of his era.
There was another, more unnoticed passer that is, in my opinion, the most underrated player in NFL History, his name is Ken Anderson. Ken Anderson played for the Bengals his entire career, and in 1981 he was named NFL MVP with 29 TDs and only 10 INTs. The lack of interceptions was especially impressive for an era where passing was just becoming a popular thing, after the 70's Dark Era where the Steel Curtain defense ruled and other defenses like the Broncos' Orange Crush existed. This season alone was enough for me to mention him because it was a remarkable year for a player who played in a relatively oppressive era for passing.
Some of the Greatest Ever
Another great passer in this timeframe was Dan Marino. He played more in the next timeframe, but in this timeframe, he put up impressive stats to boot. He made the Pro Bowl five times and was All-Pro three times. This was the prime of his career. In this span, he passed for 27,853 yards, 220 TDs, and a passer's rating of 89.3. These stats were gaudy and were unseen throughout NFL History up to that point. He was statistically one of the best QBs ever in a chosen seven-year span in NFL History. Those numbers would still be impressive today. He was one of the top five QBs in this era, and he got past having a conservative coach in Don Shula who didn't like to throw the ball. So this era even made conservative coaches open up to a passing game.
Joe Montana was one of the most impressive QBs accolade-wise during this time period, racking up three All-Pro selections, eight Pro Bowl Selections, two MVPs, and four Super Bowls. He ended up at the end of his career passing for 40,551 yards, 273 TDs, and 139 INTs with a passer rating of 92.3. Montana executed the West Coast Offense to perfection and never threw a pick in the Superbowl. He is considered by many to be the greatest of all time.
Some other notable QBs who played in this time period were Phil Simms, John Elway, who made four Probowls in this span but didn't have success till the late 90s, and Boomer Esiason, who won MVP honors in 1988. This era truly changed the way QBs worked, offenses opened up and were scoring at astronomically high numbers, but this was just the beginning of the end for defenses. The rule changes in 1978 changed everything completely, and they had their desired effect; to stop the conservative play and open up the pass.
Hope you enjoyed!
Questions and comments?
thescorecrowsports@gmail.com
Follow Us on Twitter @thescorecrow
Follow Us on Reddit at u/TheScorecrow
Follow Nickolas Loza on Twitter @sp0rtstAlkNick
Main Credit Image: [getty src="628261030″ width="594″ height="405″ tld="com"]