Nickolas Loza | January 22nd, 2018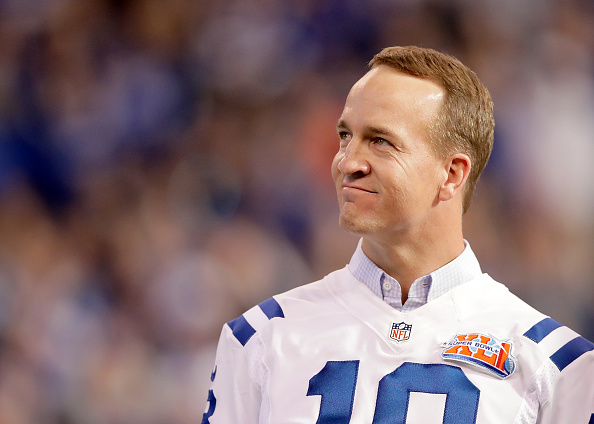 Now we're getting to the juicy bits, all the prolific passers of this era have really changed things for the future of the NFL. Teams are now passing more than ever and running less than ever, like in 2011 when teams that year on average passed 105 more times than they ran the ball, and in 2012, when teams passed on average 120 more times than they ran the ball. The times had changed very noticeably.
The most prolific passer of this era no doubt was Peyton Manning, although he is retired now, he owns a lot of major passing records, which Drew Brees and Tom Brady are chasing, which tells you a lot about the pass-happy era that we're currently in. Peyton Manning in this time frame won an unprecedented five MVPs in ten seasons, and passed for 55,522 Passing Yards, 428 Passing TDs, and threw 170 INTs. He's far and away the best pure passer ever, but some people remembered him for being a playoff choker, losing six playoff games and only winning three before 2006. In 2006 he won the Super Bowl but had a negative TD-INT ratio of 3/7. He later won another Super Bowl in Denver and finished his career there. His final game was Super Bowl 50 where he threw the final pass of his career to Bennie Fowler, it was a two-point conversion to put the Broncos up for good. He finished his amazing career with a Super Bowl title and rode off into the sunset having been the best statistical Quarterback to ever play, owning nearly every single major passing record when he retired. He's widely recognized among experts as the best statistical QB of all-time.
Drew Brees
Some people, however, believe the greatest statistical QB of all-time is Drew Brees. He's the most accurate QB in NFL History, he's the all-time leader in completions and completion percentage, and passing yards, he took those records away from Peyton Manning in the 2018 season. He has amassed 74,437 passing yards in his career, to go along with 520 TDs and a passer rating of 97.7. It's a shame that he had the honor of playing with the best pure passer ever in Peyton Manning while he has played, or he'd be the greatest pure passer of this time frame no doubt. He was a Charger at the beginning of his career, but after a season-ending shoulder injury, he was a free agent. Teams were reluctant to sign him because they didn't know if he could throw as good anymore due to his shoulder injury, but the Saints took a chance on him and it paid off. He's won a Super Bowl with them and taken them to the playoffs seven times. He's one of the best passers ever no doubt and will be a first ballot Hall of Famer when he retires. Brees is also the most accurate passer of all time, with a career completion percentage of 67.3 and owns the most accurate passing season of all-time with a completion percentage of 74.4.
This generation has been filled with great passers, but in some people's opinions, the greatest is Aaron Rodgers. He is a physical specimen, mainly because he has what is widely considered the best arm strength ever, and he can fit a football into a fraction of separation between his intended receiver and the defensive back. He's also a mobile QB, but he has what no mobile QB has ever had in their primes, the arm strength and ability to throw on run along with scrambling for first downs. He's one of the greatest QBs of all-time and is widely considered one of the top 10 QBs ever just because he has the physical abilities of a perfect pure passing QB. He has also won a Super Bowl and is a two-time league MVP along with a 7x Probowler. Some people even consider him better than Tom Brady all-time as a QB, which is an interesting argument to make. The thing that's holding Rodgers back in the all-time QB debate is he's not a winning QB, with only one Super Bowl championship under his belt, in some circles he wouldn't even be considered a top 10 QB.
Tom Brady
What can be said that hasn't already been said about Tom Brady, he's currently fourth all-time in career passing yards, third all-time in career Passing TDs, fourth all-time in career passer rating, second all-time in career fourth-quarter comebacks and he has 52 career game-winning drives. He's widely considered among most people as the greatest Quarterback of all-time because he has the stats and rings, he has won five Super Bowls in his career thus far and could win a six before the end of this postseason. He has the stats to go along with the rings, which makes his argument for him being the greatest QB of all time nearly unarguable. He has the accolades too, he's a three-time league MVP and 14x Probowler.
The Infamous 2011 NFL Season
The 2011 season was something that stands out among all other passing seasons in NFL History, this is because there was five QB's who had outstanding and historical seasons. Drew Brees, who passed for nearly 5,500 yards, and 46 TDs, Tom Brady, who passed for nearly 5,300 yards and 39 TDs, Matthew Stafford. who threw for 5,000 Yards and 41 TDs, Eli Manning, who threw for 4,936 yards and 29 TDs, and Aaron Rodgers, who was the leagues MVP that year, threw for nearly 4,700 yards, and 45 TDs, but the most impressive part is the fact that he threw for only six interceptions, and he had a passer rating of 122.5. Four of the NFL's top sixteen highest passing yards all time came from the year 2011, so it was a truly historical and marvelous year for the long bomb.
Other QB's who are worth a mention
Some other QBs who have been good in this timeframe that are worth a mention are Brett Favre, who broke Dan Marino's passing records in the late 2000s and had his best season statistically speaking in 2009, Eli Manning, who is a two time Super Bowl Champion, Ben Roethlisberger, who is also a two time Super Bowl Champion and six-time Probowler, Matt Ryan, who was the 2016 NFL MVP and is a four-time Pro Bowler, Matthew Stafford, who has one of the eleven 5,000 yard passing seasons in NFL History, Kurt Warner, who took the lowly Cardinals to the Super Bowl in 2008, Donovan McNabb, who took the Eagles to four NFC Championship games in this timeframe and was a six-time Probowler, and finally Tony Romo, who was a four-time Probowler and is now a CBS broadcaster.
Final Statements
This generation is full of talented QBs, and passing in the 2018 regular season teams passed on average 140 times more than they ran, so this generation is clearly tilted towards passing, and even tough teams like the Seahawks this past season who ran the ball 107 more times than they passed, most teams are passing more than ever before, and with rising stars like Baker Mayfield and Patrick Mahomes who are up and coming players, we should see a lot more passing.
Hope you enjoyed!
Questions and comments?
thescorecrowsports@gmail.com
Follow Us on Twitter @thescorecrow
Follow Us on Reddit at u/TheScorecrow
Main Credit Image: [getty src="624649346″ width="594″ height="424″ tld="com"]