Richard Benites | August 1st, 2018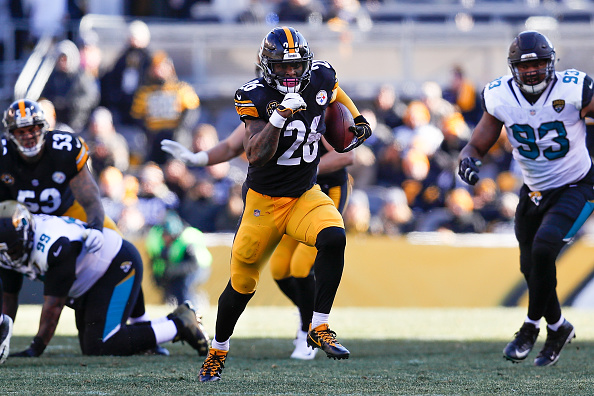 Let me set the scene really quickly: the year is 2017, it's a warm summer night, and your fantasy league is excited to start drafting their teams for the upcoming football season. You have the coveted No. 1 overall pick, you can't possibly mess this up, right? You go with Le'Veon Bell, and in all honesty, you can relax because that was a great selection.
However, you may have not been as relaxed after Bell averaged less than 10 fantasy ppg through his first 3 matches; meanwhile, someone won the lottery and picked up Todd Gurley in the second round, who would go on to average a…*gulp*, staggering 24 fantasy PPG. There's a simple answer to Bell's slow start and every year it happens to several other stars of the utmost fantasy importance. At the end of the day, trust the process and don't panic too early! Here's a list of players that fall under that category, and their holdout storylines to keep in mind while drafting.
Le'Veon Bell, RB, Pittsburgh Steelers
Name a bigger NFL rivalry than Bell vs. the franchise tag. For the past three seasons, Bell's agent has seemingly just not been able to come to terms on a contract deal with the Steelers, who are keeping him in Pittsburgh with back to back franchise tag years. What does this mean for Bell, as a future Hall of Famer, who 200% deserves to be paid the max amount? It's likely that he'll, once again, completely sit out of training camp. What does this mean for Bell, as an athlete? It'll probably take him a little longer, than other settled stars, to find his form once the regular season begins.
At first, you could've blamed his underproduction based off how little looks he got; in Week 1 against the Browns, Bell, the touted workhorse, only earned 4.7 fantasy points off of ten handoffs and six targets. If that wasn't noteworthy enough to realize that these holdouts do effect fantasy production, Bell's chances almost doubled to 31 touches in Week 2 versus the Vikings; he'd go on to finish that one with a fantasy point total of 9.1, still not performing at the regular level of a player like his caliber.
Nevertheless, practice patience as Bell will surely find his form as the season rolls on. Trust him as your RB1 because he is arguably the best back in the entire league.
Bye Week: 7
ADP: 2
Rob Gronkowski, TE, New England Patriots
The chaos that is the Patriots saga continues. This time, tight end Rob Gronkowski is the center of unrest in New England. Rumors circled that he was considering retirement following his team's most recent Super Bowl 52 loss until that soon became debunked. Talks of reworking his contract also revved up beginning as early as last offseason. Still, as the league's best player at his position, Gronkowski deserves the pay that more reflects his total offensive contribution.
Most recently, Gronkowski elected to skip offseason workouts and OTAs. Good news is, he has reported to training camp and all signs point to no player holdout for now; giving you that extra bit of confidence when choosing him in your draft. Last season, Gronkowski finished as fantasy football's TE1 after averaging 12 fantasy PPG through 13 starts.
Last season was a testament to just how much damage Gronkowski can do to opposing defenses, when healthy. The draft round in which he will be chosen depends on league size and his overall demand, but consider him a high-priority steal if he falls as far as the 4th round.
Bye Week: 11
ADP: 24
David Johnson, RB, Arizona Cardinals
Just this week it was reported that David Johnson's holdout was finally over. Last month, the elite Arizona running back decided not to attend June minicamp and rumors began to arise that he was planning a holdout that would last into training camp. Thankfully, Johnson was present and looking as good as ever; contract talks have begun to surface as well.
Johnson was cleared for all activities, this past April, after being sidelined for essentially all of 2017 due to a serious Week 1 wrist injury against the Lions.
He will definitely be in the conversation for a top 5 RB finish and don't be surprised if he wins comeback player of the year.
Bye Week: 9
ADP: 4
Odell Beckham Jr., WR, New York Giants
Another situation with plenty of rumors, everyone figured an Odell Beckham Jr. holdout was imminent this season and a franchise tag was on the horizon next season. OBJ, however, is present at training camp and will have a lot on the line this season as he hopes to cash in big. Keep in mind, this one of a kind talent wasn't even in the top 60 highest paid wide receivers…yes, really.
These added stakes will truly motivate OBJ to the max. Keep him very high on your list, because he just might give Antonio Brown some competition as the overall WR1.
Bye Week: 9
ADP: 12
Julio Jones, WR, Atlanta Falcons
In case you didn't hear the news earlier this week, Julio Jones and the Falcons came to terms on adjusting his salary during the 2018 season. Therefore, his original holdout has subsided and he has returned to his regularly scheduled programming of wowing anyone who watched him play.
Jones finished last season as the overall WR6, barely falling out of the top 50 fantasy performers. His ADP of No. 14 overall in this year's drafts honestly seems like a fair consensus.
Bye Week: 8
ADP: 14
Questions and comments?
thescorecrowsports@gmail.com
Follow Us on Twitter @thescorecrow
Follow Us on Reddit at u/TheScorecrow
Follow Richard Benites on Twitter @RichardIBenites
Main Credit Image: [getty src="904893776″ width="594″ height="396″ tld="com"]