Nickolas Loza | November 17th, 2018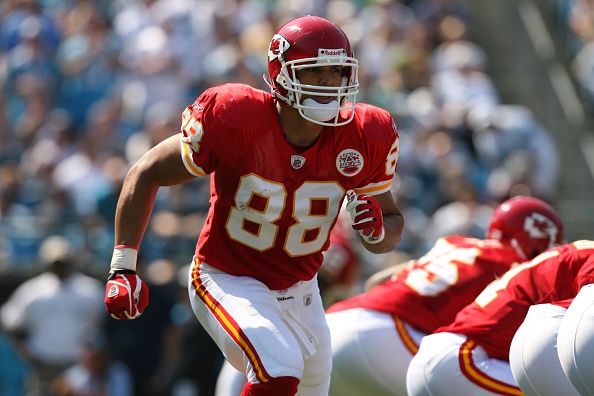 Tony Gonzalez has earned the right to be a candidate for the Pro Football HOF class of 2019. Today we will be going over why he should get in, some background info on him, and some of his accolades during his career.
Pre-NFL Life
Tony Gonzalez went to high school at Huntington Beach in California where he was a highly recruited basketball and football player and was both a linebacker and a tight end. He was recruited to the University of California, where he majored in communications and was a football and basketball player. He declared for the NFL Draft in 1997.
Going Through his NFL Career and Accolades
Gonzalez was taken in the first round with the 13th pick by the Kansas City Chiefs. The Chiefs had to trade up with the Oilers from the 18th pick to pick 13th. It proved to be one of the best moves in franchise history. In Gonzalez' first NFL season, he was named first team all rookie, with 33 receptions and two touchdowns. In 1999 he was named First Team All-Pro, with 76 receptions, 849 yards, and 11 TDs. He was the best TE in the league and age 23. If we skip ahead a few years to the 2003 season, by that time he had five Pro Bowl honors and four All-Pro honors, and he racked up 468 receptions, 5,647 yards, and 47 TDs. Arguably his best season came in 2004, where he lead the league in receptions (102), caught seven TDs, and had 1,258 yards, but missed out on All-Pro honors and was named to the Pro Bowl. Tony Gonzalez up until this point was already recognized as one of the greatest to ever play at his position, mainly because his numbers were crazy. By 2008 he had made the Pro Bowl ten times, All-Pro four times and was considered a top five TE ever. But in the offseason between the 08-09′ season, Kansas City traded Gonzalez for a 2010 second round pick to Atlanta. This would turn out to be a terrible decision. In his first season in Atlanta, he missed the Pro Bowl for the first time since 1998. By the end of his stint in Atlanta, he had made the Pro Bowl four times, and All-Pro once. He retired in 2013 after making the Pro Bowl. His final career numbers are extremely impressive, 15,127 receiving yards, 1,325 receptions, and 111 TDs. He's widely considered the best TE ever.
Chances of Getting into Canton
His chances should go without saying, 100%. Tony Gonzalez was simply the best tight end to ever play the game. When you are considered the GOAT at your position then you are looked at as one of those players on the HOF ballot every year that you can say "There's no way he won't be inducted this year." I guarantee he will get in.
Hope you all enjoyed!
Questions and comments?
thescorecrowsports@gmail.com
Follow Us on Twitter @thescorecrow
Follow Us on Reddit at u/TheScorecrow
Follow Nickolas Loza on Twitter @LazierStathead
Main Credit Image: [getty src="456328288″ width="594″ height="396″ tld="com"]