Sean Tafoya | November 16th, 2018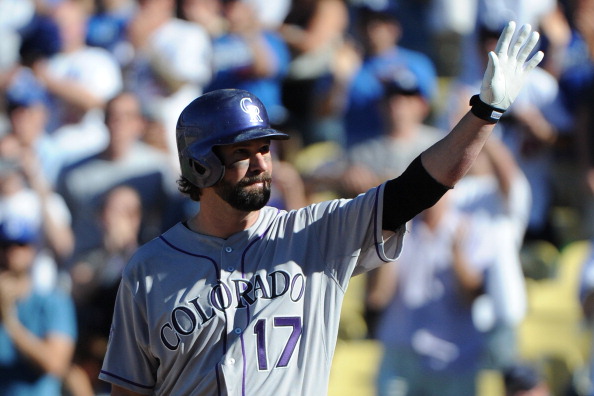 In a crowded field of 1st-timers on the ballot that includes Mariano Rivera and Roy Halladay, can Todd Helton become the first Rockie enshrined in Cooperstown? Or is the Coors Effect too much to overcome?
History
Todd Helton was a 1st round draft pick of the Colorado Rockies in 1995 and was selected 8th overall in the same draft class that produced players such as Juan Pierre, Kerry Wood, and Carlos Beltran. It was also the same draft that saw the Montreal Expos use an 18th round pick on a player by the name of Tom Brady. Helton would crack the Rockies Major League roster in 1997 where he appeared in 35 games and popped 5 dingers with a .280 batting average. The rest will live in baseball and Rockies history forever.
The Case For Helton
Todd Helton from a stats perspective had one of the best careers in MLB history and had, without a doubt, the best career in Colorado Rockies history. For a team founded in 1993, Todd Helton was the first true lifetime superstar for one of baseball's newer franchises. He remains to this day, the only Rockie to have his number retired by Colorado. He poetically played 17 years in the bigs and played all 17 with the team that he was drafted by. He had a string from 2000-2003 where he won 4 straight Silver Sluggers and from 2001 to 2004 he won 3 of 4 NL Gold Gloves at 1st Base. A 5-time All-Star he finished his career with an impressive .316 batting average .414 on-base percentage and a .953 OPS. Helton played in two postseasons in his career and one world series in 2007. He finished with a .211 batting average and a .303 on-base percentage in his short postseason career and will forever be immortalized celebrating at first base after recording the final out of the NLCS, which remains the Rockies only pennant. With a career .300 batting average, 2,500 plus hits, and 300 plus home runs, he is the 8th player in MLB history to reach those milestones. All other players to reach that achievement have been enshrined in Cooperstown.
The Mile High Elephant in the Room
It's no secret that Coors Field has and will continue to be a hitter's paradise. It is consistently one of, if not the most, hitter-friendly parks in the MLB. Coors Field has hosted the most cycles in Major League Baseball History surpassing Fenway Park and Wrigley Field in the last 2 years. For reference Coors was built in 1995, Fenway and Wrigley were built in 1912 and 1914 respectively. The Rockies implemented the use of a humidor in 2002 to combat the effects of the dry climate and thin air. Helton won Silver Sluggers in 2002 and 2003 but his Gold Glove he won in 2004 was the last major trophy he won. His power numbers dropped dramatically after 2004 as he never hit 30 home runs again. Helton finished with a Home stat line of a .345 batting average, .441 on base percentage, 1,394 hits, and 227 home runs. His away stat line consists of a .287 batting average, .386 on base percentage, 1,125 hits, and 142 home runs. A fairly lopsided split that will sway voters away from electing Helton to Cooperstown.
Verdict
Helton's old teammate, Larry Walker has been sitting on the ballot for 9 years now and is fighting the same battle Todd Helton is, Coors. Even with the splits though, I feel as though Todd Helton's overall body of work is Cooperstown worthy. Not only the stats, but the impact that he made on the franchise cannot be overlooked. He was and still remains to this day the Rockies' lone career superstar. He will not be elected this year, but I think he gets the 5% needed to stay on the ballot and one day makes it to Cooperstown.
Questions and comments?
thescorecrowsports@gmail.com
Follow Us on Twitter @thescorecrow
Follow Us on Reddit at u/TheScorecrow
Follow Sean Tafoya on Twitter @sean_athan
Main Credit Image: [getty src="184771963″ width="594″ height="396″ tld="com"]