Dale Money | December 1st, 2018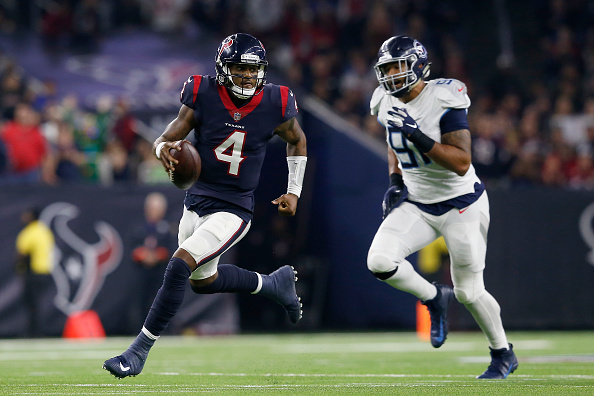 Monday Night, the Houston Texans wanted to honor their late owner Bob McNair, who died last week at age 81. They did him proudly, becoming the first Team in NFL history to start a season 0-3, before going on an eight-game win streak.
Led by a strong passing night from Deshaun Watson that included two touchdown passes to Demaryius Thomas. Lamar Miller 162 yards rushing performance, including the historic 97-yard touchdown scamper. The pass rush was good enough, to shut down the Titans offense outside of a few big plays. Contributing six sacks on Marcus Mariota.  All in all, a pretty decisive 34-17 performance.
The Texans are in a great spot and don't seem to be slowing, down. You could argue, that they are the most underrated club in the AFC, as we head deeper into the playoff race. A lot of the focus has been on teams like Kansas City, Pittsburgh, and New England. Which I get, given all the many years of playoff letdown, where they had great defenses but were missing the quarterback to put it all together.
The Difference Maker
However, Watson certainly has shown the potential that was snuffed out early last season due to the unforeseen injury during a Texans' practice. Playing a much different style of football this season and rather than just being the talented playmaker he was known for last year, chucking the ball all over the joint, he's succeeding as a game manager, winning with superb consistency.
His four fourth-quarter comebacks are tied with Jared Goff for tops in the NFL. With receiving weapons like DeAndre Hopkins, Demaryius Thomas, Keke Coutee, along with a solid tailback in Lamar Miller. The talent pool in Houston is solid enough to succeed with Watson in a playoff scenario in my opinion.
May not be up to the standards of a Steelers or Chiefs outfit, that are loaded to the teeth, with firepower. However, they do have Hopkins, who is as good as any receiver in the League. 31.3 percent of Watson's passes have had his name on them.
The Defense
The identity of the Texans has been their dominating defense, going on for a number of years, some still see J.J. Watt as the face of the franchise, as it stands this season he already has 11.5 sacks. As a unit, they rank eighth along with fifth-best scoring defense. Holding opposing running backs to 74 rushing yards a game.
Their offensive line still has its problems, allowing Watson to be sacked on 37 occasions, NFL's third-highest total. The secondary can still be had, prone to the odd long ball mistake once or twice a game. Once the playoffs are here, with the likes of Tom Brady and Patrick Mahomes, tossing bombs downfield, will it be too much of a problem for the Texans to withstand?
What's Ahead
With three of their last five at home, including games against the Browns, Jets, Eagles, and Jaguars. All four teams on the wrong side of .500, the Texans could very well find themselves with a first-round bye.
They have a chance to keep that incredible win-streak rolling as they face the Cleveland Browns this upcoming Sunday. Cleveland is coming off a win over the Cincinnati Bengals and their former longtime head coach, Hue Jackson, who is now working for the Bengals in an assistant role.
With a relatively easy schedule the rest of the way, and a real chance at the bye. I've become a firm believer in this Texans squad, they've got every ingredient you could ask for in a Super Bowl contender. Talented defense, very solid run game, receivers that can move the chains, then you add in a quarterback that can go out there and win a game for you. Top to bottom, this team is built to finally make a serious run.
Questions and comments?
thescorecrowsports@gmail.com
Follow Us on Twitter @thescorecrow
Follow Us on Reddit at u/TheScorecrow
Follow Dale Money on Twitter @packerd_00
Main Credit Image: [getty src="1073989080″ width="594″ height="396″ tld="com"]