David Lehr | January 6th, 2019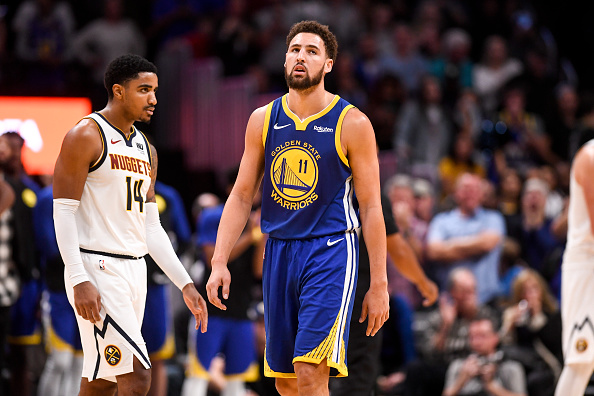 This week, the Golden State Warriors look to get back on the right track end their three-game home skid. This should be pretty easy as far as NBA games go for Golden State, as they enter one of their easiest weeks of the entire season following two very tough games against some top-flight competition.
The Knicks, currently holding the 3rd worst record in the entire NBA at 10-29, are the unfortunate team who has to face the Warriors in Oakland after Golden State has dropped the last three in a row at home. The Warriors understand that people pay to see them perform, and they will have been disappointed with their play as of late so you can bet they will come out with the energy and focus as if they're playing a top tier team. I expect Kevin Durant to take the reigns from Steph Curry early in this one and dominate. The Warriors, who currently have a 91.9% chance of winning according to ESPN's Basketball Power Index, are healthy aside from Shaun Livingston being banged up and, of course, Demarcus Cousins is still out for the foreseeable future.
The Warriors get two days off before facing the tanking Bulls, who have the same record as New York at 10-29. This is another home game for Golden State and should be similar to the Knicks game in that I expect them to come out and put on a show for the fans. Zach LaVine comes in for Chicago averaging 23.5 points per game, and his confidence should be at an all-time high after he scored 31 points, including numerous clutch baskets, in an overtime loss to the Indiana Pacers on Friday. ESPN's Basketball Power Index actually gives the Warriors even higher odds of coming away victorious in this game than against the Knicks, at 92.4%. I believe it's safe to say that should be at 100%, as the Bulls are missing Power Forward Bobby Portis and the recent dysfunction under interim coach Jim Boylen has been well documented.
The Warriors finish the week in Dallas, playing a Mavericks team that has surprised some viewers this year with their level of play. These teams last met on December 22nd in a game that was close throughout but saw Golden State pull off a 120-116 victory. I do expect the Mavericks to put up a solid fight, as rookie sensation Luka Doncic has them in playoff contention at 18-21, and Harrison Barnes still seems to have a little extra juice and motivations every time he plays against his former team. I expect DeAndre Jordan to have a big game, due to both the Warriors struggles against big men this season and Jordan's past days with the Los Angeles Clippers. Warrior-Clipper games always were extra contentious and feisty when LA still had Jordan, and he still has some fire in him stemming from those days. He balled out with 12 points and 23 rebounds in these teams last meetings. This may be a classic "trap game" for the Warriors, but I still would expect them to come out on top, especially if Klay Thompson can continue to return to his All-Star form.
The Warriors have been facing an abnormal amount of criticism recently considering they are coming off back-to-back championships, but that's what happens when your fans are used to seeing excellence every night. While I wouldn't sleep on Dallas, the Warriors clearly have a huge advantage in all three games they play this week, and it would be surprising if they lost a single one.
Questions and comments?
thescorecrowsports@gmail.com
Follow Us on Twitter @thescorecrow
Follow Us on Reddit at TheScorecrow
Follow David on Twitter @BayAreaSports Main Credit Image: [getty src="1052723002″ width="594″ height="396″ tld="co.uk"]