Pranav Ramasubramanian | October 2nd, 2018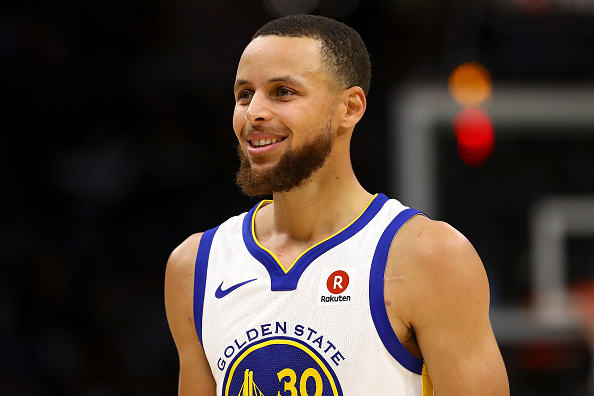 Well, I guess it's a foregone conclusion that the Golden State Warriors will win the title. No sense in watching the NBA this year. As long as they get past LeBron and the Lakers they should demolish whoever comes from the East. Right?
Recap of Last Season
Two-time defending NBA Champions should probably give you all the information you need to know about the Golden State Warriors and how they outplay the league yearly. It looked as if they were coasting a little too much last year in the regular season, but injuries to Draymond Green, Kevin Durant, Stephen Curry, and Klay Thompson knocked this team into the No.2 seed and they didn't win 60 games as usual. Curry was out for first six games of the playoffs recovering from a Grade 2 MCL Sprain.
Stephen Curry Update: pic.twitter.com/5JuI4wpSLY

— Warriors PR (@WarriorsPR) April 14, 2018
The Warriors finished off the San Antonio Spurs and then got Curry back to demolish the New Orleans Pelicans in five setting up an epic Western Conference Finals duel with the Houston Rockets. The Houston Rockets had the perfect defensive personnel and was all-in on defense and the offense seemed to be clicking on all cylinders as their three-point shooting stretched out the floor, but the Warriors looked like they had the series won after Game three. Andre Iguodala's injury changed the whole series as the Rockets stole games four and five. Leading the series 3-2, they also lost a key piece in Chris Paul, who anchored their offense and the Warriors took advantage in Games six and seven even though they still had to come back from double-digit deficits, they still won the series to reach the NBA Finals for the fourth straight year. The Cleveland Cavaliers vs Golden State Warriors NBA Finals was not very exciting since Kyrie Irving left for Boston the previous year. Kevin Durant took home NBA Finals MVP, but it seemed as if the Warriors never played 48 minutes of pure basketball which proved that playing at full-strength for 24 minutes seems to be enough for them to be unbeatable right now.
Offense
Ever since Kevin Durant has been on the Warriors the offense has been legendary. Now they are adding one of the best big men in the game, DeMarcus Cousins, who averaged a double-double last year when he was healthy with 25 and 12, but he won't be ready to play until January or February because of his Achilles injury. The Splash Brothers, Stephen Curry and Klay Thompson, have turned the Warriors into a three-point shooting team that is impossible to defend as they were an NBA-best 38.3% from three last year and have been great from three ever since Coach Steve Kerr changed the schemes for them.
https://www.youtube.com/watch?v=gZv4H1G3fDM
The Warriors also lead the NBA in most points per game with 112.8 and they will continue that trend this season. Draymond Green does a great job facilitating the offense. He can't score like Curry, Durant, or Thompson so Green sets up his teammates for good looks by exposing gaps in opposing defenses. He led the team in assists with 7.3 helping the Warriors lead the NBA in assists with 28.6. Coach Kerr has set up a system where they all share the ball to get good looks. The Curry-Durant pick-and-roll has been the Warriors' deadliest weapon as it has produced instant offense and left other teams scratching their heads on defense.
Defense
The Golden State Warriors were third in defense last year as they seemed to be lazier than they usually are with a defensive rating of 104.2. They may have been experiencing some mental fatigue after winning a championship in 2017, but they did pick it up in the playoffs when they needed to.
One Team, One Stat: The @warriors defense allowed 3.7 fewer points per 100 possessions in the #NBAPlayoffs (100.5) than it did in the @NBA regular season (104.2).https://t.co/hEoUfweDY7 pic.twitter.com/WhK92Pesos

— NBA.com/Stats (@nbastats) September 26, 2018
The Warriors should have a solid defense as long as they put in the effort because they have the players. The defensive anchor is Draymond Green getting it done with his physicality and raw effort. Green managed 7.6 rebounds, 1.3 blocks, and 1.4 steals stepping up when he needed to.
Draymond Green blocks Anthony Davis, which leads to a Swaggy P 3! pic.twitter.com/5FnyL4FFuM

— Sports Notes (@TheSportsNotes) May 2, 2018
Klay Thompson deserves a lot of credit on defense as well. He usually draws the assignments of the best players in the league like Russell Westbrook or James Harden and makes them take tough shots while chasing them around all game with speed, strength, and stamina. An unexpected arrival on defense was Kevin Durant, who used his long arms to help him while guarding the post as he showed last season with his 1.8 blocks while grabbing 6.4 defensive rebounds. Even the rookie Jordan Bell played solid defense when given the opportunity last season and did a good job on LeBron James last season in the NBA Finals showing that he has great things ahead of him with 65 blocks. Veterans like Livingston and Iguodala are only getting older and Bell's playing time should be increased because of the losses of Zaza Pachulia and JaVale McGee and while Cousins will be out for a while.
https://www.youtube.com/watch?v=W9UXnlVRXqk
Bench
Quinn Cook filled in admirably for Stephen Curry when he was injured and was able to become an elite shooter. He can knock it down from anywhere and is a good distributor, who can find teammates and run the offense. Even though his stats weren't that impressive averaging 9.5 points and 2.7 assists, the Warriors liked the sample size from him and signed him to a 2-year deal to have some fresh legs off the bench. The veterans, Andre Iguodala and Shaun Livingston, should keep the bench consistent and under control, as Iguodala is savvy and can make big plays on offense and defense while giving Green and Curry a needed break by running the offense. Livingston plays solid defense and his size helps him to elevate over players for easy jumpers when needed most. These two players accepting their role off the bench is extremely vital for this team's success. David West decided to retire, which is a minor setback for the bench unit because of his abilities to set solid screens and open up the floor with his perimeter shooting. They will try to replace him with the signing of Jonas Jerebko and get him to play the same role. The rest of the bench consists of guys who don't seem consistent enough to make substantial contributions to the team just yet but expect DeMarcus Cousins to come off the bench when he starts playing again.
Prediction
The Golden State Warriors will face mental fatigue more than ever this season, but they have the talent to overcome it. If Stephen Curry, Klay Thompson, Kevin Durant, and Draymond Green stay healthy the Warriors will definitely win upwards to 60 games. The Rockets digressed with the losses of Luc Mbah a Moute and Trevor Ariza so the Warriors should reclaim #1 in the West if Cousins can be even 50% after his Achilles injury last year. The Warriors always have one of Green, Durant, Thompson or Curry on the floor at all times so they won't lean heavily on the bench, but Iguodala and Livingston are there to clean up any execution errors. The Warriors are trying to implement younger players like Quinn Cook so look for them to be as energetic as ever on the offensive end. The Warriors will three-peat as the DeMarcus Cousins signing was the nail in the coffin and as long as they are clicking come playoff time, the Warriors will show they are just light years ahead of everyone.
Questions and comments?
thescorecrowsports@gmail.com
Follow Us on Twitter @thescorecrow
Follow Us on Reddit at u/TheScorecrow
Follow Pranav on Twitter @PranavRama1
Main Credit Image: [getty src="970185978″ width="594″ height="396″ tld="com"]