Oscar Rzodkiewicz | August 2nd, 2018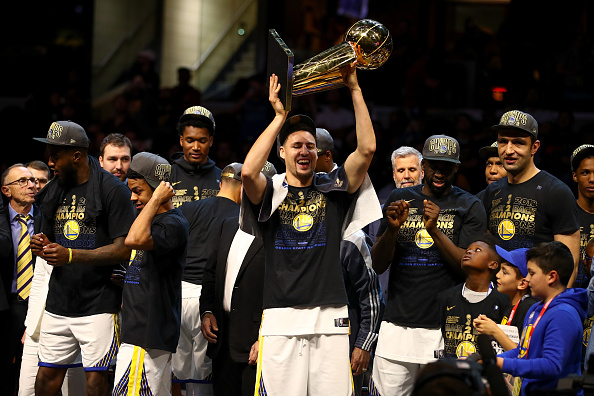 Coming off back-to-back NBA Titles, the bar for the Golden State Warriors remains as high as years past after the addition of former Pelicans big man DeMarcus Cousins on a cheap $5.3 million deal. Cousins joins the most dominant team in basketball over the last four seasons, and after a successful offseason, the Warriors look ready to add a third straight NBA Finals win to the history books.
Offseason grade: A
Undoubtedly, Cousins' deal made waves throughout the NBA media realm, and the deal appears to be a steal for the four-time All-Star that averaged 25.2 points, 12.9 rebounds, and 5.4 assists before rupturing his achilles last season. However, with the one-year deal coinciding with Klay Thompson's contract expiring next season, the Warriors will either have to make a choice between the two stars or talk down the price of both.
In reality, it's tough to knock anything about the Warriors' offseason. The Bay Area squad lost a few minor contributors in Javale McGee and Nick Young, but the addition of Cousins, veteran forward Jonas Jerebko, and late first-round selection Jacob Evans out of Cincinnati supplements those losses. As expected, Golden State secured Kevin Durant for another 1+1 deal, leaving a player option open for next summer if the situation goes awry or he changes his plans. With Steph Curry, Draymond Green, and Thompson by his side, it seems Durant and company are poised to stick together at least in the short-term.
The Warriors have proved time and again their ability to utilize role players to their fullest extent behind a star-studded starting lineup, and this season will likely become no exception. While the Warriors hold the second-highest payroll in the NBA, forcing a hefty $44.7 million in luxury tax payments, they also hold the keys to dominating the league again this season, and if there really is a price on winning, the Warriors have shown they aren't afraid to pay up.
Projected Depth Chart:
PG: Steph Curry/Shaun Livingston/Quinn Cook
SG: Klay Thompson/Jacob Evans/Patrick McCaw (RFA)
SF: Kevin Durant/Andre Iguodala
PF: Draymond Green/Kevon Looney/Jonas Jerebko
C: Demarcus Cousins/Jordan Bell/Damian Jones
Projected Finish: NBA Champions
The team that appeared in four straight NBA Finals, winning three, adding a fifth All-Star to the lineup? Despite being one game away from elimination at the hands of the Houston Rockets in the 2018 postseason, it seems unlikely that any other team can match up against the Warriors with the addition of Cousins. The most likely setback to another championship run could come from locker room dysfunction at the hands of Cousins, but the best way to keep chemistry high is to win games, and the Warriors have unquestionably mastered that category.
Questions and comments?
thescorecrowsports@gmail.com
Follow Us on Twitter @thescorecrow
Follow Us on Reddit at u/TheScorecrow
Follow Oscar Rzodkiewicz on Twitter @ORzodkiewicz
Main Credit Image: [getty src="970195402″ width="594″ height="396″ tld="com"]