Filip Canda | January 3rd, 2019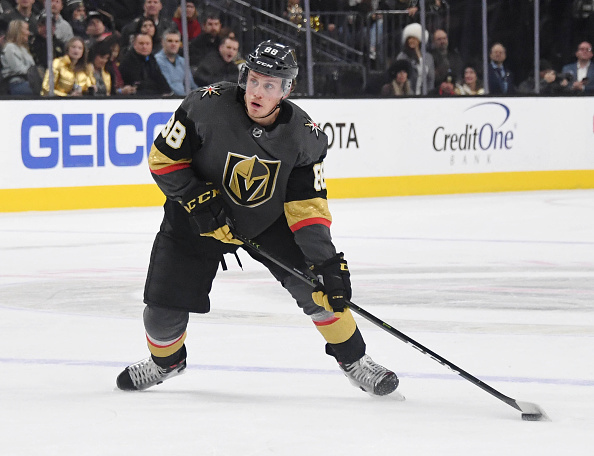 The Vegas Golden Knights came in rocking into their inaugural NHL season, in which they won the Pacific division. Then in the playoffs, they easily made it through to the Stanley Cup finals. On their way to the Cup finals, the Golden Knights lost just three games during the playoffs. The Cinderella story came to an end with a 4-1 win for the Washington Capitals in those Stanley Cup finals last June.
Vegas knew what should they expect going to their sophomore year. It was heavy pressure on their shoulders with so many expectations. Those great fans in T-Mobile Arena in Vegas wanted a repeat of such a season, over and over again. But it seemed like a classic example of a one-year wonder.
Far away from being a one-season wonder
The Golden Knights gained just 15 points in their 18 openings games of the year and that was dreadful. Surely it seemed like the fairytale is over, but critics have been proven wrong, again. Vegas is currently with 52 points near the top of their division, eight points over the last non-playoff berth currently occupied by Vancouver with 44 points.
In their last 25 games, they found just one team around the league hotter than them, and that's the unstoppable force of the Tampa Bay Lightning, who can't seem to be bothered to lose one point in 15 games… Within this same sequence of the last 25 games played in the NHL, Vegas possesses the best defense in the NHL, with just 61 goals allowed.
It has been 23 games since defenseman Nate Schmidt returned to the Golden Knights' lineup after fulfilling his 20-game suspension from the beginning of the 2018-2019 NHL season. His return proved to be golden. The very first game played with Schmidt back in the lineup was a 6-3 win in Edmonton, next game was a 2-7 trashing in Calgary. That loss was just one of four when Vegas hasn't picked up at least a point since Schmidt's return from the ban.
In his 23 games played, the Minnesota-born defenseman recorded three goals and ten assists for 13 points in total, alongside being +12 in +/- category. Meanwhile, the Golden Knights had three shutouts and most of the games they really held their opponents at bay offensively. Is Nate Schmidt having such an impact on the Golden Knights or is it just coincidence? Well, you can judge according to the numbers, which never lie and one thing is more than clear here – his return helped Golden Knights' defense a lot. And I mean A LOT.
Schmidt's impact on his Vegas team
It was tough for Nate Schmidt to watch his team struggle so much upon the start of the season and he could not provide help to them even if he wished to. Nate Schmidt spent most of his "free" time in Europe, far away from hockey, far away from Sin City. He opted to spend that time in Austria, where his family has its roots.
Schmidt clearly made up his mind and came back stronger than ever at the very right time for Vegas. He injected himself as a leader and the season literally began on that night, when the Golden Knights won in Edmonton in November. Ever since they are once again the heavyweights in the NHL.
The Cinderella story is allowed to continue and huge credit goes to Nate Schmidt. It was hard to see for the 27-year-old defenseman when his former team, Washington Capitals, lifted the Stanley Cup in front of his eyes, but without giving credit to him. Then he had to swallow another tough pill, a 20-game suspension. Whether it is his ability or the ability of the whole Golden Knights team to overcome adversity, it is something to be truly admired.
Questions and comments?
thescorecrowsports@gmail.com
Follow Us on Twitter @thescorecrow
Follow Us on Reddit at u/TheScorecrow
Follow Filip Canda on Twitter @Phiil7
Main Credit Image: [getty src="1088950700″ width="594″ height="456″ tld="com"]