Kody Clawson | October 1st, 2018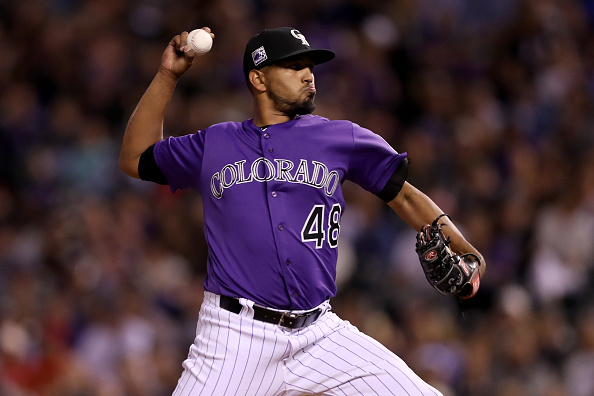 Baseball is weird, which is why it can be so much fun. Today, there will be not one, but two tiebreaker games for division titles! That's right, we have TWO Game 163s on tap today. And speaking of on tap, one of those will be the Colorado Rockies traveling to Los Angeles to face the Dodgers, because there are no ties in baseball. Unless you're Bud Selig at the 2002 All-Star Game, but I digress.
The Los Angeles Dodgers vs. The Colorado Rockies
The Pitching Matchup
While most people will probably be paying attention to the star-studded batting lineups of both teams, my eyes will be on the potentially excellent pitching duel between the Rockies' German Marquez and the Dodgers' Walker Buehler.
German Marquez has exploded onto the scene in his second full season with the Rockies. At 23, he has developed an arsenal that many believe make him the best pitcher on the ball club. While Kyle Freeland leads the team in ERA at 2.85, Marquez's 3.76 is no slouch of a number either. His peripherals seem to indicate he might even be better than Freeland, though, with a 3.34 FIP and a 3.11 xFIP (as opposed to Freeland's 3.67 and 4.22 in those areas, respectively). With a 27.8% strikeout rate and a 6.9% walk rate, his stuff is deadly enough that, for a one-game playoff like this, the Rockies may have their best man going in the right place at the right time.
Walker Buehler, meanwhile, feels like a name generator from my childhood. Half Chuck Norris, half Matthew Broderick, all awesome! The rookie has been lights out in his first full season with the Dodgers. Buehler was fourth this season for the Dodgers in innings at 130.2, yet he finished second on the team in pitching WAR (per Fangraphs) at 3.2. His 28.6% strikeout rate and 6.6% walk rate are also super impressive and have helped him to a 2.76 ERA, a 2.99 FIP, and a 3.08 xFIP.
The Lineups
The lineups will be stacked, but don't sleep on the pitching matchup. There are four Dodgers hitters who have at least 10 plate appearances against Marquez. Cody Bellinger, Justin Turner, Joc Pederson, and Yasiel Puig are a combined 8-45. But four of those hits have been home runs.
The four hitters on the Rockies who have faced Buehler the most are Charlie Blackmon, Ian Desmond, DJ LeMahieu, and Trevor Story. They are a combined 12-53 but with only two home runs and 12 strikeouts.
What to Watch For
At this point, with the young hurlers in this game, I'd expect anything from a pitching duel to a home run derby. There may be a bit of nervousness. There may be a free and easy attitude. The first inning could set the tone for the whole game. In the end, I see the young guys coming through and giving us a classic pitcher's duel with Buehler out-dueling Marquez and the Dodgers coming away with a 2-1 victory.
Questions and comments?
thescorecrowsports@gmail.com
Follow Us on Twitter @thescorecrow
Follow Us on Reddit at u/TheScorecrow
Follow Kody Clawson on Twitter @KodyClawson
Main Credit Image: [getty src="1041457658″ width="594″ height="396″ tld="com"]