Matt Woolsey | September 13th, 2018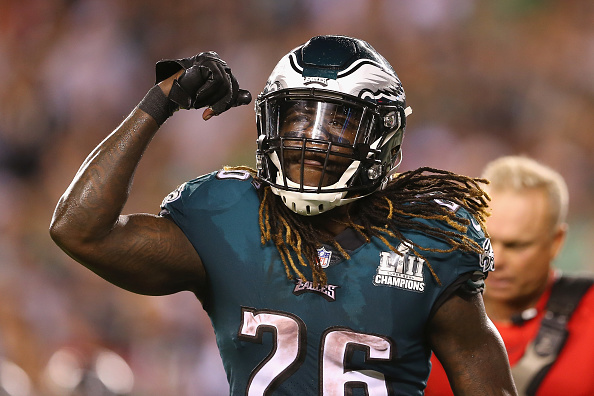 Week 1 is now in the books and with that, we can start to find trends. But first a little Greek mythology lesson. Have you ever heard of the Cerberus? It's a three-headed dog that guards the gates of Hades.
The Eagles' Cerberus
The Eagles have a Cerberus of there own, Darren Sproles (40% Offensive Snaps) Jay Ajayi (40% Offensive Snaps) and Corey Clement (18% Offensive Snaps). Ajayi had the best game, 15 rushes, 62 yards, and two touchdowns for 18.2 fantasy points.
Now it took a minute for Ajayi to get going last Thursday, even I was tweeting about it.
https://twitter.com/AresgodFF/status/1037878494322216961
So I ended up eating crow a bit in the second half, but I do have concerns that he will have dud games. The Eagles are going to continue with this three-headed monster and Ajayi did not receive any targets in the passing game, but Sproles did. I fear that with the limited time on the field and not being involved in the passing game, could Ajayi get game scripted out? Personally, I would take this big game that he had and try to move him for another player.
The Unachievable Efficiency
Remember when I wrote an article saying to temper your expectations on Deshaun Watson? I need to tell you to temper your expectations for Patrick Mahomes as well. This may go without saying, but some people see the stats and believe that to be the norm. In the Watson article, I explained how his touchdown for every 10.74 passing attempts is an efficiency level that he could not keep. Not when quarterbacks like Aaron Rodgers and Tom Brady can never keep that level of efficiency.
On Sunday Mahomes had a touchdown for every 6.75 passing attempts. I'm not saying he won't be a good quarterback this season, but he obviously will not have four touchdowns every game and he will not throw one for every seven passing attempts.
I would also like to point out that the Chiefs will have to play the Broncos twice, the Rams, and Jaguars. We also have to remember this is the first time Mahomes will be playing for the season as the starter. There are bound to be some crappy games.
The Lost Ross
John Ross ended the 2017 fantasy season on a negative note. I mean, literally, he had negative points at the end of the season. After looking good in training camp, the fantasy community was expecting big things from Ross. He was a late-round draft pick with high upside and in Week 1 he even got a touchdown. Yep, one touchdown on a three-yard catch, one of only two targets. Ross was fifth in targets for the Bengals playing a terrible Colts' defense. He was always considered a boom or bust play, but I was expecting more catches for more than three yards. I will need to see more than two targets from Ross to have faith in playing him this season.
It's Only Week 1
Exactly. This is only Week 1 and some of these storylines may not be the true story all season long, but there are things we need to watch out for. Will Ross become more involved? How far back down to earth will Mahomes fall? And can Ajayi get game scripted out of the game plan if the Eagles fall behind?
Questions and comments?
thescorecrowsports@gmail.com
Follow Us on Twitter @thescorecrow
Follow Us on Reddit at u/TheScorecrow
Follow Matt Woolsey on Twitter @AresgodFF
Main Credit Image: [getty src="1028190394″ width="594″ height="396″ tld="com"]