Growing, former linebacker Darius Fleming had his mind on a sport. But it was not football.
"I actually thought I was going to be a professional bowler at a young age," Fleming said. "I grew up in a bowling alley, my mom and dad were both big time bowlers, they were pretty competitive bowlers and I got into the sport early and realized I had some good ability there."
Not only was the future Super Bowl champion knocking down pins, but he also tended horses and was involved in the rodeo.
"My aunt picked me up every weekend and started that just to be keep me out of trouble," Fleming said.  "I was growing up in Chicago so there were a lot of distractions and things that you could get into that put you really off track so it was my job go to the barn and then at the age of seven, I started riding and did that for about six years competing events where you could win money, it was pretty cool I love horses to this day and plan on getting some of my own actually very soon."
It was not until late in his academic career that he strapped on the shoulder pads.
"I got into the football thing in high school, I was really just trying it out like guys pretty much do," Fleming said. "Trying it out, I realized I had some ability there as well."
Fleming at that time was thinking about transferring to a school that had a better bowling team. But his football coach persuaded him to stay.
"He pulled me aside and told me that I had a future in football," Fleming said. "At that moment I did not know what he was speaking of until the end of my sophomore year when I got my first scholarship from Illinois then they kind of started to flow in after that so I started listening to what my coach was saying and that's kind of how the whole story began."
Fleming fell in love with the University of Notre Dame very early on and always knew in the back of his mind that he was going to dawn the blue and gold.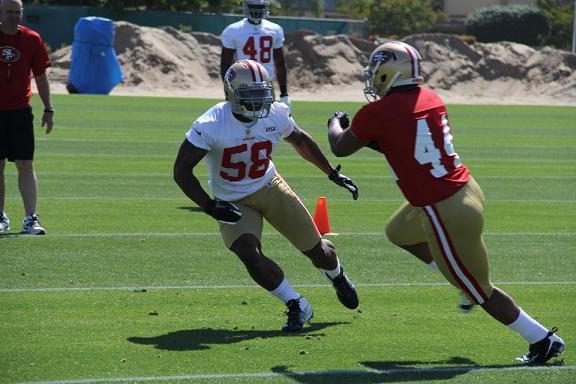 Just a few years later, the once aspiring bowler was drafted to the NFL by the San Francisco 49ers.
"It was crazy, I wasn't trying to watch the Draft that day, I was antsy and didn't know what was gonna happen to me," Fleming said. "That day was awesome man and a lot of hard work put into that, a lot of people sacrificing time and things for me to get to that moment to play at the highest level is pretty cool."
Fleming tore his ACL in his rookie season and a year after, suffered the same injury to his knee.
The 49ers subsequently released Fleming and just a few days after, got a phone call from the New England Patriots.
"I didn't really know if I was going to get that opportunity to play again," Fleming said. "My agent actually called me and told me that the [Houston] Texans and the Patriots were interested in working me out and seeing what my abilities were at the moment so I had to make a decision on which team I was going to workout for."
The Patriots put Fleming through tests the linebacker claimed were similar to that of the Draft process.
"They put me through a combine thing pretty much," Fleming said. "It was tough but had trained well in the offseason, and they offered me a contract pretty quickly and the whole thing it went down was pretty shocking to me, I never thought it would be as smooth as it was."
2014 became quite the ride for the Illinois native. In the AFC Championship game against the Indianapolis Colts, Fleming recovered a Josh Cribbs muffed punt aiding the Patriots in getting back to the Super Bowl.
"I'll be the first to admit that my hands are pretty terrible [trying to catch a ball] that's why I play defense," Fleming laughed. "I was just doing my job and went straight up to [Cribbs], he was calling a fair catch and the ball comes and I'm just glad it bounced in my favor."
Fleming could not describe in detail what he was feeling knowing he was going to the Super Bowl.
"It's something that I don't think you can explain," Fleming said. "In my rookie season playing with guys like Brandon Jacobs and Randy Moss that are surefire hall of famers who talk about how guys that had been playing for 10-12 years that never make it to the playoffs so to have an opportunity like that is something you definitely don't take for granted."
Fleming did not see the interception Malcolm Butler made to seal the game, but still had a memorable moment with cornerback Daxton Swanson.
"My buddy next to me I think it was Dax Swanson was like, 'Hey he intercepted it,'" Fleming said. "My initial reaction when he said that, I think I told him, 'Shut up, shut up he didn't intercept the ball,'  And then when I saw, we all just kind of looked at each other, freaked out I don't exactly what was said or done we all just kind of blacked out at that moment."
Just like that, the confetti fell and Fleming was on the field with hat, t-shirt and family.
"It honestly took awhile for it to sink in," Fleming said. "Especially me being in the position was in just to be lucky to have the opportunity and to see the confetti falling, it's hard to really think of again because you think of all the hard times, it was crazy."
Fleming was with the Patriots for another season where like the muffed punt, was caught again at the right place at the right time.
Fleming witnessed a three-car pile up happen in front of him while driving and immediately sprung into action.
"I heard some screeching and then a hard stop was made about three cars ahead of me," Fleming said. "A [big rig] was trying to take a right turn when the cars behind him didn't react soon enough and they ran into each other. I noticed the lady in front of me was trying to get out of her doors, then the passenger doors, so I jumped out of my car and noticed her car had smoke coming from inside of it and she was panicking."
He saved the women's life out of a burning and played with 22 stitches in his leg throughout the 2015 postseason.
The best part about New England during Fleming's time there. The camaraderie.
"Just being around a group of guys that understand how tough it is to make it to this league," Fleming said. "They all know what goes into practice everyday and you just enjoy being around guys like that because we all worked super hard everyday and know how to be rewarded on the field and it makes it kind of fun."