Teachers Nicole Higgins, Sara Koester, and Renee Wertz have 72 fourth-grade students that will be missing the traditional field trip to Patriot Place.
"This trip is their culmination for their time in elementary school and it makes me sad that they won't have that," Higgins told Prime Time Sports Talk. "All they do for assignments is write about football. Any kind of narrative, it was about football."
For an assignment on persuasion, girls in the class got involved with their passion for the sport as well.
"When we came to that [subject], the girls in my class wrote about why girls should be able to play football," Higgins said. "It has just been the theme throughout the whole year."
Even outside the classroom, these students just cannot get enough of football.
"At recess, there are multiple football games happening," Higgins said with a laugh. "Sometimes the girls play with the girls, the guys with the guys, sometimes altogether."
Their love for football is what makes this situation even sadder and disappointing for Higgins. Especially since all of them also love the New England Patriots.
The Stoneham teacher sees it as a great opportunity for the kids to learn in a fun environment.
"There's definitely an academic component to it and the people that work at Patriot Place are amazing," Higgins said. "Every year, the kids do different STEM activities and they have a chance to tour the Hall of Fame there. There's also different challenges they have to do like how to make helmets safer. So they look at each helmet, how they were made, what kind of material might help to make it safer for the players."
One of the students who will be missing the trip this year sent a letter addressed to Robert Kraft and the Patriots explaining why football and his team are so important to them.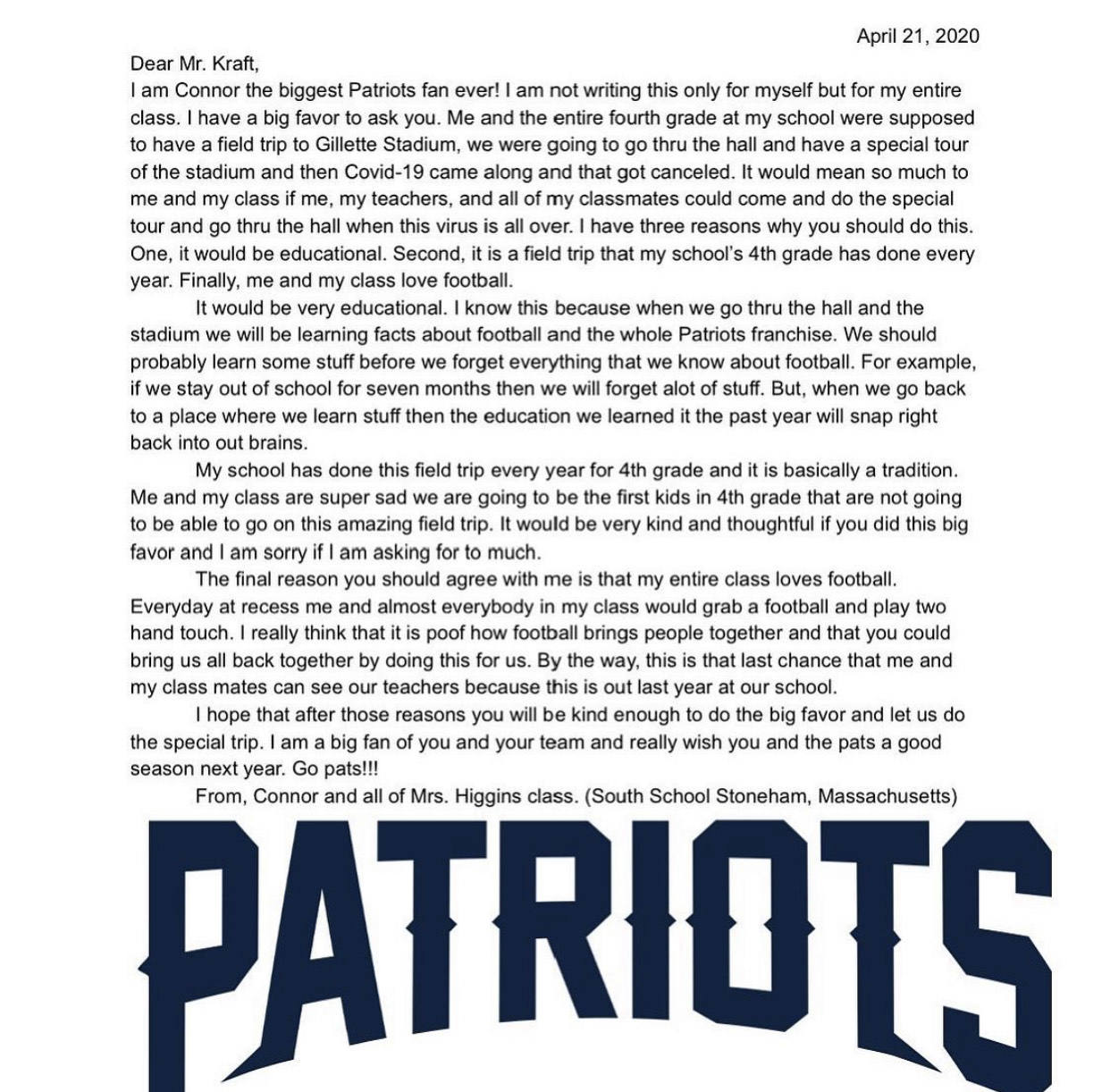 Higgins is still holding onto hope that she can bring the kids through the legacy-filled halls of Patriot Place.
"Ideally, I'd hope that we get to have that field trip with them anyways," Higgins said. "Obviously it would take a little more planning because we're not in school and it wouldn't be the same type of trip. But, if there was some way that we can still do something like that with this group, that would be amazing."
While a gathering at this time at Patriot Place may not be possible for a few months, Higgins hopes that Kraft and or his players see the letter and reply to the kids.
"Any kind of shoutout, particularly to the kids because they missed it and they didn't get to go," Higgins said. "Just to lift their spirits and let them know that they are heard."