Brewers History
In 1969, Major League Baseball went through another expansion. Four teams were added to MLB, with two being added to the National League and two to the American League. The expansion teams were awarded to Montreal (NL), San Diego (NL), Kansas City (AL), and Seattle (AL). Three of these cities still have MLB teams today, but the Seattle expansion team of 1969 (Seattle Pilots) only lasted one season. The Pilots were relocated to Milwaukee in 1970, and they became the Milwaukee Brewers.
The Brewers have had long gaps of failure, and small spurts of success. The team has made only seven playoff appearances since joining the league in 1969. Furthermore, after making it to the 1982 World Series, the Brewers have yet to return to one. In fact, after their 1982 World Series appearance, the Brewers failed to make the playoffs for 25 consecutive seasons. During that playoff drought, the Brewers changed leagues, joining the National League when the American League was awarded another expansion team in 1998 (Tampa Bay Devil Rays).
Since 2000
After joining the National League, fortunes slowly began changing for the Brewers. Five of the Brewers' seven franchise playoff appearances have occurred since the start of the millennium. The team has also produced nine seasons of .500 ball or better since 2000. During that time, especially after 2008, the Brewers produced an influx of well-known talent. Two Brewers (Ryan Braun in 2011 and Christian Yelich in 2018) won the National League Most Valuable Player Award. Yelich, Braun, Prince Fielder, and Carlos Lee all won Silver Slugger Awards. Carlos Gomez and Lorenzo Cain each earned Gold Glove Awards. Despite not making it back to the World Series, the Brewers have certainly produced well-known stars, but let's take a look at five lesser-known hidden gems.
The 1993 Major League Baseball Draft is best remembered for the Mariners selecting Alex Rodriguez with the first overall pick. Later in the first round, the Milwaukee Brewers would have four picks, and the team used their first on pitcher D'Amico. He made his Major League debut for the Brewers in 1996. Unfortunately, injuries derailed him throughout his time with the Brewers. He spent the entirety of the 1998 season and most of the 1999 season on the sidelines with shoulder issues. After departing from the Brewers in 2001, injuries and inconsistencies continued to derail D'Amico, and by 2004, he was out of baseball.
After pitching a combined one game in 1998 and 1999, D'Amico was finally able to find some form in 2000. It was easily D'Amico's best season, as he set career-highs in wins, ERA, strikeouts, WHIP, WAR, and quality starts. His 162.1 innings pitched were enough to qualify for the NL ERA title. D'Amico finished third in the league in that category (2.66), behind future Hall of Famer Randy Johnson and six-time All-Star Kevin Brown. Sadly, the 2000 season was D'Amico's only real career highlight. Because of his relatively short career and his many injuries, D'Amico's 2000 campaign can often be overlooked.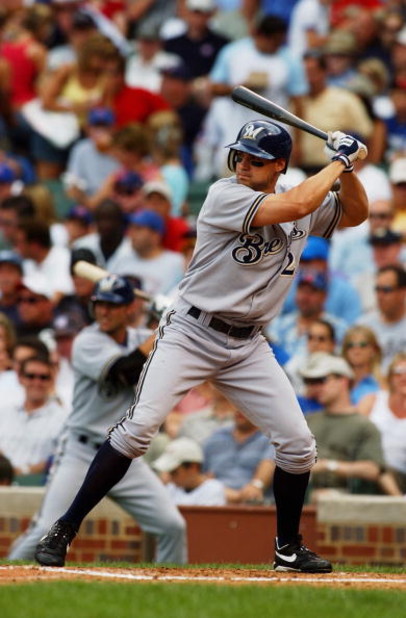 Podsednik also struggled with injuries during both his Minor League and Major League careers. After being drafted in 1994 by the Texas Rangers, Podsednik did not make his Major League debut until 2001 with the Seattle Mariners. Podsednik, despite missing time, quickly became known for his aggressive baserunning. He finished his career with seven seasons of 30 or more stolen bases. Podsednik's most memorable performances came in 2005 with the Chicago White Sox. In the Postseason, Podsednik stole six bases and hit .286, but his walk-off home run in Game 2 of the 2005 World Series put him in the history books. Podsednik's home run came after he hit no home runs during the regular season, making the feat all the more memorable.
Despite his memorable performances with the White Sox, Podsednik got his first big break with the Brewers. Offensively, his 2003 season in Milwaukee may have been his best. He set career-highs in games played (matched in 2004), runs scored, hits, doubles, triples, batting average, on-base percentage, slugging percentage, and wins above replacement. Although his best baserunning season came in 2004 (70 stolen bases in 83 attempts), Podsednik still stole 43 bases in 53 attempts in 2003. Podsednik wound up as the runner-up for the National League Rookie of the Year Award. He finished behind 2003 World Series champion Dontrelle Willis, and just ahead of future Cy Young winner Brandon Webb.
During the 2003 off-season, slugger Richie Sexson was traded by the Brewers to the Diamondbacks. Arizona received Sexson and pitcher Shane Nance. The Brewers received a haul which included future All-Star pitcher Chris Capuano, World Series champions Junior Spivey and current Brewers manager Craig Counsell, catcher Chad Moeller, and pitcher Jorge De La Rosa. Also included in the deal was first baseman Lyle Overbay, who quickly became a fan favorite in Milwaukee.
Despite spending a large portion of his career with the Diamondbacks and Blue Jays, some may argue Overbay's best years came with the Brewers. Unfortunately, the Brewers finished in last place in 2004, so it may be easy to overlook Overbay's breakout season. Overbay finished the season setting career-highs in several categories, including games played, plate appearances, runs scored, walks, intentional walks, and on-base percentage. Overbay hit .301 with 16 home runs and 87 runs-batted-in and led all of MLB with 53 doubles (also a career-high). Despite the new influx of talent and Overbay's breakout season, the Brewers finished in last place in the NL Central.
Things improved for the Brewers in 2005, and they were welcomed with even more new talent. Podsednik was traded to the White Sox for Carlos Lee, who was the Brewers lone representative in the 2005 MLB All-Star Game. Future All-Stars Prince Fielder, J.J. Hardy, and Nelson Cruz all made their MLB debuts for the Brewers that season. With much to be excited about, the Brewers managed to finish with a record of 81-81. This was their first season of .500 ball since 1992.
At the back end of the bullpen was Turnbow, who was claimed off waivers from the Angels after the 2004 season. Turnbow earned the closer role for the Brewers in 2005 and delivered in a big way. He appeared in 69 games and saved 39 of them in 43 chances, finishing the season with a 1.74 ERA, 1.08 WHIP, and a 247 ERA+. Turnbow struck out 64 batters in 67.1 innings pitched and finished with a 2.9 WAR.
Oddly, Turnbow was not an All-Star in 2005 but was in 2006. The 2006 season, however, began Turnbow's downward spiral. At the time of the 2006 All-Star Game, Turnbow's ERA was up to 4.74. He was removed from the closer role and finished the season with a ballooned 6.87 ERA. Unfortunately, Turnbow lost all of his command for the remainder of his career, and his quick fall from grace makes this 2005 season easy to forget.
From 2005 to 2017, the Brewers produced six winning seasons. After a small rough patch from 2015 to 2016, the Brewers came back strong in 2017 but missed returning to the playoffs by one game. The Brewers finished ten games above .500 despite limited production from star outfielder Ryan Braun. Instead, the Brewers were led by a group of lesser-known players. Pitchers Zach Davies and Chase Anderson delivered, with Davies winning 17 games and Anderson finishing with a 2.74 ERA. Jimmy Nelson nearly finished the season with 200 strikeouts, just missing the mark with 199. Corey Knebel, Josh Hader, Anthony Swarzak, and Jared Hughes enjoyed productive seasons out of the bullpen. The Brewers led the National League with 224 home runs and 128 stolen bases; seven players hit 15 or more home runs, and seven stole 10 or more bases.
Four players combined for half of the Brewers 224 home runs, one of them being outfielder Domingo Santana. That season, Santana set career-highs in multiple categories: games played, at-bats, plate appearances, runs scored, hits, doubles, home runs, runs-batted-in, stolen bases, walks, batting average, on-base percentage, and slugging percentage. Out of those categories, Santana led the Brewers in three of them. He tied catcher Manny Pina with 2.6 wins above replacement (WAR). The arrivals of Christian Yelich and Lorenzo Cain in 2018 shifted Santana to the bench for that season. As a result, his 2017 breakout season is often forgotten, as Santana basically became an afterthought just one season later. Santana would later leave the Brewers for Seattle and Cleveland. Unfortunately, he never regained his 2017 form.
Check us out on our socials:
Twitter: @PTSTNews and @TalkPrimeTime
Facebook Page: Prime Time Sports Talk
Join our Facebook Group: Prime Time Sports Talk
Instagram: @ptsportstalk
Follow Matt Meffe on Twitter @mmeffe2
Main Image Credit: Embed from Getty Images