Lamarr Fields | April 13th, 2019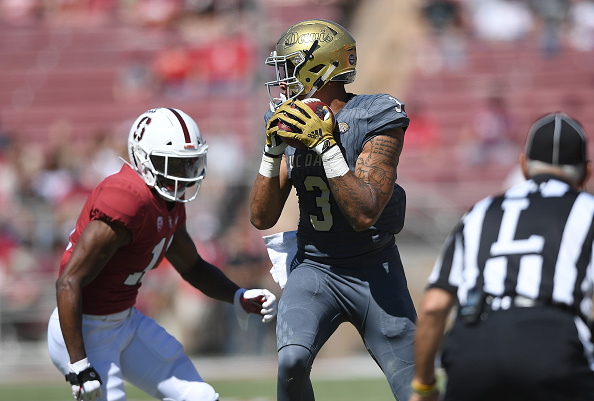 The NFL Draft is just under two weeks away, time for teams to improve their rosters. Everybody knows the high profile draft prospects i will take a look at sleepers on the offensive side of the ball.
Tyree Jackson, QB (Buffalo)  6'7″  250 LBs
Tyree Jackson is a raw player at the quarterback position. At  6'7 and 250 pound and an arm that will make you say wow. At his size, he is an outstanding athlete, Jackson can run and change direction very well. Last season at Buffalo Jackson threw for 3.131 yards, 28 touchdowns, and 12 interceptions. Although those stats are not bad, he only completed 55.8 percent of his passes. The Buffalo star is inaccurate at times, will need to overhaul his mechanics at the NFL level.
I can see Jackson getting drafted in the middle to late rounds. If Jackson can go to the right team that will work and develops him, he could be an outstanding quarterback in two to three years.
Wes Hills, RB (Slippery Rock) 6'0″ 209 LBs
Wes Hills is a small prospect with great size and strength. He is a physical runner that sees the cut back lanes well. Last season at Slippery Rock he ran for 1.714 yards, 17 touchdowns, on 7.0 yards per rush. Those are high numbers, but it was against low-level talent. But none the less the numbers are impressive. Along with his rushing attributes, Hills catches the ball clean out the backfield. He will need to work on his blocking at the next level to be successful.
I can see Hills getting drafted in the later rounds; i think he could be an excellent addition to a team looking for a running back late in the draft. Hills would be perfect in a zone blocking scheme with his running vision.
Lil' Jordan Humphrey, WR (Texas) 6'4″ 210 LBs
Humphrey is a very talented player; he has excellent size and length to play the receiver position at the NFL level. At Texas last season, Humphrey caught 86 passes for 1,176 yards and nine touchdowns.  With his size and reach, he is open even when he is covered. Another thing Humphrey brings is the ability to return kickoffs. Humphrey lacks speed; he ran a 4.7 at the combine not very fast for a receiver. With his size, he will be hard for cornerbacks to bring down once he makes the catch.
Although not very fast, Humphrey could be a nice red zone target at the NFL with his ability to box out defenders an make contested catches. I see him a big slow receiver with the ability to make that tough third down covered catches. I can see him getting drafted in the mid to late rounds.
Keelan Doss, WR (UC Davis) 6'2″ 211 LBs
Keelan Doss has nice size and outstanding hands. Doss is not all that fast, but he has exceptional ball skills when the ball is in the air. The UC Davis star is good at making adjustments to catch the ball in mid-air. Last season, Doss caught 118 balls, for 1,345 yards and nine touchdowns. Although not very fast he manages to get open.
Doss will probably be drafted in the later rounds and I feel he could be a steal if he gets selected to the right team.
Jace Sternberger, TE (Texas A&M) 6'5″ 251 LBs
Jace Sternberger is an outstanding route runner, gets in and out of his breaks fast. He is a sure-handed tight end that can get yards after the contact. Last season at Texas A&M Jace, caught 48 passes for 832 yards on 17.3 yards per catch. Along with those nice stats, he added ten touchdowns. Sterenberger is not a very good blocker, he will need to get a little bit stronger at the next level to hold his blocking.
Sternberger is not that fast but makes up for fit with his route running. I can see him getting drafted in the mid rounds. He will make a team better with his receiving ability.
Questions and comments?
thescorecrowsports@gmail.com
Follow Us on Twitter @thescorecrow
Follow Us on Reddit at u/TheScorecrow
Follow Us on Facebook at The Scorecrow
Follow Us on Instagram at The Scorecrow
Follow Lamarr Fields on Twitter @Raiderway83
Main Credit Image: [getty src="1038252692″ width="594″ height="401″ tld="com"]