Matt O'Halloran | March 19th, 2019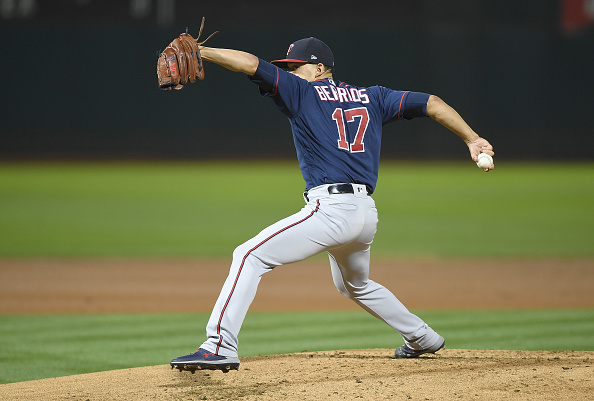 If you asked 100 MLB fans who the Cy-Young winners will be this year, a good amount will give you some combination of Chris Sale, Blake Snell, Justin Verlander, Jacob deGrom, or Max Scherzer. All of those players have a solid chance at taking home the award, but let's take a look at five candidates who could surprise some people this year.
5) Jose Berrios
Berrios has posted an ERA just south of 4 in each of his first two seasons as a starter. With some more development, the 24-year-old has the potential to make a huge leap in his third full season. He relies on his 94 MPH 4-seam-fastball the most along with his devastating sinker and sweeping curveball. He is also not afraid to throw the occasional changeup. Despite topping out at about 96 MPH, Berrios' fastball is his best weapon when he can locate it right and often blows away hitters when thrown high. Berrios did rank 67th in the MLB in walk rate last year, but he is untouchable when on.
Finishing third in the Cy-Young voting in 2016, Hendricks has always been a Cy Young caliber pitcher. Despite posting a 3.07 ERA and 1.1 WHIP over five seasons, Hendricks is not thought of when the best pitchers when the NL discussion comes up. His 3.44 ERA last year was the highest in his career, but he had a 2.65 ERA in the final three months of the season after a rough start. The Cubs starter mainly relies on his sinker, and he ranked 88th in the MLB in K% last season and ranked 5th in ground ball outs. He is not the flashiest pitcher in the world, but he consistently gets the job done and is undoubtedly capable of winning the Cy Young.
Foltynewicz is set to return at the end of April due to injury, but he should still have enough time to qualify for the Cy Young. Foltynewicz has always had insane potential, but it took him until last year to unlock it. After posting a 5.71 ERA in 2015, a 4.31 ERA in 2016, and a 4.79 ERA in 2017, Foltynewicz posted a 2.83 ERA in his 2018 campaign. He was voted to his first all-star game and finished eighth in Cy Young voting. Similarly to Hendricks, Foltynewicz generates a lot of ground ball outs with his unbelievable sinker. His fastball is usually in the mid-to-high 90's and throwing the slider more often was a big factor in his turnaround last season. His curveball generates a lot of fly balls which can get him in trouble, but if he can manage that and stay healthy then he could definitely win a Cy Young
Clevinger has put up a 1.2 and 1.1 WHIP in the two full seasons he has been a starter, but Corey Kluber and Trevor Bauer get most of the attention in Cleveland, making Clevinger a dark horse. Last season, at exactly 200 innings, he started 32 games and had a 3.02 ERA, 145 ERA +, 3.52 FIP, and 0.9 HR/9. He has an above average fastball velocity-wise and can put hitters away with a biting curveball. His sweeping slider is used to generate more fly ball outs, and his hard changeup is thrown to generate more ground ball outs. Batters hit just .222 against Clevinger last season, which ranked 27th in the MLB. There is nothing that is eye-popping about Clevinger, but similarly to Hendricks, he gets the outs and has great numbers.
Lucchesi is one of a million rising stars in San Diego and is an option for opening day starter along with rookie Chris Paddack. Lucchesi is entering his sophomore season, and his stats for the 2018 season, on the surface, are underwhelming. In 130.0 innings, he put up a 4.08 ERA, 4.31 FIP, and opposing batters hit .254 against him last season. However, the 25-year-old had a very promising start to the 2018 campaign before a DL stint in May. From March 30th to May 14th of 2018, Lucchesi tossed 47.1 innings and put up a 3.23 ERA, 1.23 WHIP, and 3.62 xFIP. From his next start on June 20th to the end of the season, Lucchesi did not perform as well. He threw 82.2 innings and put up a 4.57 ERA and 1.33 WHIP. If Lucchesi can stay healthy throughout the 2019 campaign, then he could surprise a lot of people.
Questions and comments?
thescorecrowsports@gmail.com
Follow Us on Twitter @thescorecrow
Follow Us on Reddit at u/TheScorecrow
Follow Us on Facebook at The Scorecrow
Follow Us on Instagram at The Scorecrow
Follow Matt O'Halloran on Twitter @PrimeChavis
Main Credit Image: [getty src="1043213518″ width="594″ height="401″ tld="com"]