Coach Treal | November 15th, 2018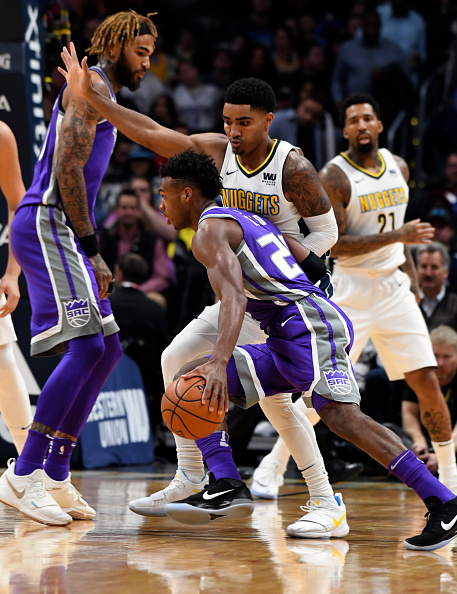 It's still very early in the NBA season to get carried away with a team but the Sacramento Kings are off to the most surprising 8-6 start of any NBA team I can remember. After Monday night's win over the San Antonio Spurs, a lot more people are starting to take notice. The Kings have not seen the playoffs since the 2005-06 season, when they were eliminated in the first round. But this season looks and feels different, even though it is still too early to tell.
However, if the playoffs started today, they would be the eighth seed which is a victory within itself because not many analysts, myself included, had them over .500 at this point in the season. The most surprising part about their early season success is the pace at which they are playing. They are ninth in the entire league in scoring, averaging 114 points per game as a team.
With the stellar play of second-year guard De'Aaron Fox, who had his first career triple-double versus the Atlanta Hawks with 31 points, 15 assists, and 10 rebounds, becoming the youngest player ever to put up a 30-point and 15-assist game in the process. Fox is not showing any sign of a sophomore slump this season, as he is averaging  18.7 points, 7.1 assists and 4.5 rebounds a night, as well as increasing his shooting percentages thus far from his rookie season to 49% from the field and 41% from three. The only blemish on his play for me so far in this young season is his shooting from the charity stripe, right now he is at 67% for the year, which is a drop from what he shot during his rookie season. Nevertheless, he has had help this season from two players in particular, with Buddy Hield and Willie Cauley-Stein both improving. Buddy has come into the season averaging close to 19 points per game and seems to have found his niche as a top-level NBA scorer. Cauley-Stein has gotten better every season in his career, and this year is no different. He is putting up 16 points and eight rebounds a game, which is solid numbers for the fourth year pro. I would just like to see him have a bigger impact on the defensive end of the floor, as he has not reached an average of a block a game since his rookie season.
The Kings have decided to bring rookie Marvin Bagley III along slowly and he is yet to register a start, but his production considering his 22 minutes per game has been solid. He is averaging 12 points and 6 rebounds, and with increased playing time those numbers could increase. General Manager Vlade Divac has received plenty of criticism during his tenure running this team but, with some of the additions he has made to the roster, he will be hoping that the Kings have finally turned the corner. Even if they can't make the playoffs this season, they will look to build a winning culture. Sacramento received an added boost to the roster with the return of Bogdan Bogdanovic, who had been sidelined with a knee injury, his return makes the Kings a deeper team as we get into the next phase of the season. Even if this team does not stay at this pace, I hope they continue to develop all the young talent that they have and continue to play hard. They have shown this season a level of competitiveness that has been lacking from this organization in recent years. if they do find themselves back in the playoffs, get the cowbells ready because their first game at home will be a great spectacle.
If you don't want to see that then you don't like NBA basketball.
Let us know in the comments below and hit me up on Twitter if you think the Kings have what it takes to end the 13-year playoff drought.
Questions and comments?
thescorecrowsports@gmail.com
Follow Us on Twitter @thescorecrow
Follow Us on Reddit at TheScorecrow
Follow Coach Treal on Twitter @CoachTreal2 Main Credit Image: [getty src="864815842″ width="457″ height="594″ tld="co.uk"]