Pranav Ramasubramanian | August 9th, 2018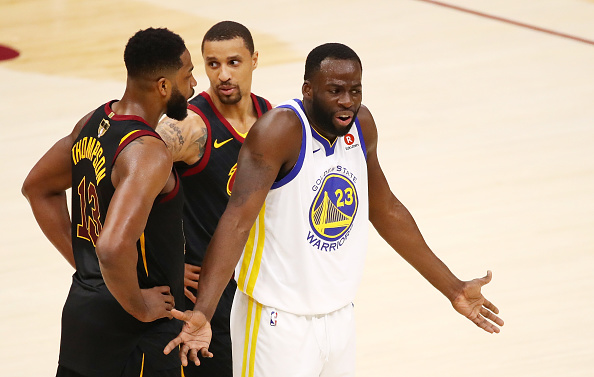 The NBA has turned into a circus lately with all the crazy mobility among players moving to different cities and off the court things that have impacted the league big-time. Draymond Green vs Tristan Thompson is one of the most laughable narratives of the year. Especially with the Golden State Warriors clean sweeping the Cleveland Cavaliers and completely dominating the series the way that they did, you would've thought that it would've put an end to the beef. The recurring problem with Draymond Green is his ability to not let things go and keep the fire ignited. This gets him tons of technical fouls and he even cost the Golden State Warriors a championship in one particular incident with LeBron James that was really just unnecessary and uncalled for. The details of what recently happened are kind of scattered because an official video was unavailable due to it being a no photography event so no one outside who went to the party really knows what happens.
Incident #1
It is Game 1 of the NBA Finals and the Golden State Warriors had stolen the game from the Cleveland Cavaliers after J.R. Smith's dribble out and George Hill's missed free throw, but in the closing seconds, Shaun Livingston attempted a jumper that Tristan took disapproval to as the game was out of hand. He drove his elbow into Livingston's arms while he was shooting. The ref didn't like any part of that and didn't want it to escalate so he ejected Tristan Thompson out of the game with only 2.6 seconds left. In reaction, Draymond Green provoked Tristan Thompson by waving and clapping at him so as Tristan Thompson was walking to the locker room he became so annoyed by Draymond in his face that he took the basketball in his hands and shoved it in Green's face. This led to some pushing and shoving with verbal back and forth until Cavalier players and staff had to separate the two. The warmup press conference is where Draymond Green really screwed up because he said he could meet Tristan anywhere outside to fight or square up anywhere on the streets. Tristan Thompson said what he did was for the team and that he felt like he was the enforcer on the team and not to lose that image so his team could hang tough especially with the Cleveland Cavaliers facing a huge uphill battle. Tristan Thompson escaped a suspension and just got hit with a fine of 25,000 for not leaving the court and delaying the game while Kevin Love also escaped suspension for coming off the bench because he went back to the bench when the scuffle broke out. This fight wasn't taken seriously at the time because the Cleveland Cavaliers had much bigger problems after squandering away a legendary performance from LeBron James in the NBA Finals, who had put up 51 points only to see his team choke in the closing seconds.
Incident #2
The beef between Tristan Thompson and Draymond Green got really serious after the series was over and the Golden State Warriors had completely handed it to the Cleveland Cavaliers to repeat and become 2018 NBA champions, but Draymond Green yet again provoked Tristan Thompson in the silliest way possible. Tristan Thompson extended his hand to Draymond Green to congratulate him on his team's achievement, but Draymond Green brushed him off and said: "We ain't cut the same" to Tristan Thompson that added unneeded fuel to the fire as it was all caught on video. Tristan Thompson already had many other frustrations boiling up as he was caught cheating on his pregnant wife Khloe Kardashian and didn't really need any other problems on the court because he was dealing with a bunch of personal problems. This is when Draymond Green should've stopped and drawn a line because after all, both players are the players that can ignite a fire with their impact and be great emotional leaders to push their team ahead so it shouldn't go beyond basketball. Draymond Green was relentless and at the championship parade continued to run his mouth by saying "We ain't cut from the same cloth" when referring to his incident with Thompson. Tristan Thompson had his revenge planned, but no one really knew if the beef was gonna end till the beginning of the season or it would escalate.
Incident #3
This is where the beef between Draymond Green and Tristan Thompson took a turn for the worst. Draymond Green, after all that he did, tried to apologize to Tristan Thompson, but before this, at some other parties, Draymond Green made some jokes on how Tristan Thompson would become irrelevant without LeBron in Cleveland and also joked about Khloe Kardashian. Draymond Green got sucker punched in a response at a post-ESPY party in Los Angeles at a Delilah nightclub on July 18 that was held for NBA elite and friends hosted by LeBron James. With LeBron and Kevin Durant having to break up the fight from further escalating towards something even uglier. LeBron was so disgusted that he left the party. Nothing else happened that night between them, but it definitely seems as if Tristan Thompson is still mad about the way Draymond Green insinuated towards him and was ready to get vengeance. Conflicting reports have come out saying it was a face mush or a little shove, but it was definitely a sucker punch that Draymond Green didn't expect and it didn't even have an impact on him because Green didn't fall and was still standing, which shows it obviously wasn't done too strongly. Green ran his mouth and for once paid the price, but then again Thompson struggled for a second straight NBA Finals, while Draymond Green became a three-time champion so for now, it looks like Green has the mental edge. Tristan Thompson has the physical edge and winning the fight with Cavalier fans even throwing a parade for the win though Draymond insists none of the reports are true. Some new reports even suggest that Green was the one that punched Tristan Thompson after seeking forgiveness because of a suggestion of a mutual friend, but Tristan Thompson's unwillingness to forgive him and wanting to square up further made the situation take a darker turn as Draymond Green instead slapped him. With original reports of this particular incident seeming to be up in the air as the sources don't seem to be very credible the first time around, one thing is clear, this beef has now extended off the court with no solution in sight, which will make it super enticing to watch when they play each other in the regular season.
Questions and comments?
thescorecrowsports@gmail.com
Follow Us on Twitter @thescorecrow
Follow Us on Reddit at u/TheScorecrow
Follow Pranav on Twitter @PranavRama1
Main Credit Image: [getty src="969191764″ width="594″ height="377″ tld="com"]