With anywhere between five and seven games to go in the NBA season, teams are trying to make their way up the standings to give themselves an opportunity to make the playoffs. In the Western Conference specifically, there is no shortage of intrigue or drama regarding the current standings. Eight teams are separated by just 3.5 games. So, the question is: how will things play out? There's an endless amount of possibilities from a surprise team working their way into the top four and getting home court advantage in the first round to teams falling out of the play in tournament and having their season end in heartbreak. More about the NBA's Play-In Tournament can be found here. Buckle your seatbelts for a wild ride.
4 seed: Phoenix Suns (40-35)
The Phoenix Suns are fourth in the Western Conference and only 1/2 a game ahead of the Los Angeles Clippers, who are currently fifth. The top four seeds in the Eastern and Western Conference earn home court advantage for the first round of the postseason. As superstar Kevin Durant makes his return tonight against the Minnesota Timberwolves from an ankle injury he suffered on March 8, all the Suns are looking for is to gain some chemistry before the first round.
Their remaining schedule is below. As you can see, their final game is against the Clippers on April 9. If both teams continue winning, that last game of the regular season could determine the fourth seed. I believe Phoenix will finish the season 5-2 with both losses coming against the Denver Nuggets. Denver is currently the number one seed in the Western Conference and will finish as the top seed, which will give them home court advantage throughout the Western Conference playoffs.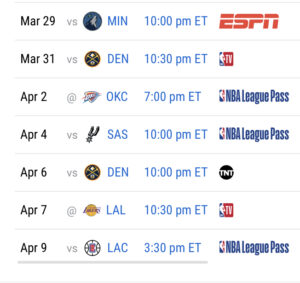 5 seed: Los Angeles Clippers (40-36)
The Los Angeles Clippers are currently the fifth seed in the Western Conference and like the Phoenix Suns, they have dealt with an injury to one of their star players recently. Power forward Paul George suffered a sprained knee on March 21, and the timetable for his return is unknown. They have been one of the biggest question marks all seasons because of their lack of consistency. Their other star Kawhi Leonard has missed quite a few games this season as well. When healthy, they are a very tough team to beat.
As explained earlier, they are fighting to get the number four seed with the Suns. Los Angeles is coming off a win at home against the Chicago Bulls on Sunday, 124-112. Their remaining schedule is not very easy as you can see below. Four of their final six games are on the road. My prediction is for them to finish the regular season 3-3 in their final six games. Will it be good enough to finish fifth? I think they will. There's another team lurking behind them currently, however: the defending NBA champion Golden State Warriors.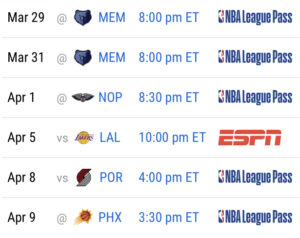 6 seed: Golden State Warriors (40-37)
The Warriors are currently the sixth seed in the Western Conference and have been trending in the right direction. They just won their last game against the New Orleans Pelicans on March 28, 120-109. Their star guard Steph Curry has been playing well all season long, especially at home. He's coming off a 39 point performance against the Pelicans in the victory. However, they have one major flaw standing in their way outside of injuries: they are an ATROCIOUS road team.
Their record outside of the Chase Center (their home arena) is 9-29, which is the fourth worst road record in the entire NBA. At one point this season, they had lost 11 consecutive road games. Unfortunately for them, three of their final five games are on the road as you can see below. In order to win in the postseason, you have to win on the road. However, when they are fully locked in, don't count them out. With that being said, I believe Golden State will find a way to finish 3-2 over their final five games, but it will not be good enough to avoid the play-in tournament.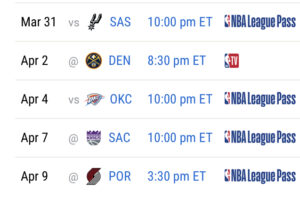 7 seed: Minnesota Timberwolves (39-37)
I like the Minnesota Timberwolves to leapfrog the Warriors and finish inside the top six of the standings, which means they will avoid the play-in tournament. They are currently on a four game winning streak, including a road win against the Sacramento Kings on March 27, 119-115. They missed star shooting guard Anthony Edwards after he was out for two weeks with a foot injury. He has averaged 25 points per game this year and has become a rising star in the NBA.
I believe they will continue their winning ways finishing 5-1 down the stretch to lock up the sixth seed. Their schedule is found below. In addition, their two other best players, Rudy Gobert and Karl Anthony Towns each held up their end of the bargain in Edwards' absence. Look for Minnesota to be a tough out in the Western Conference playoffs.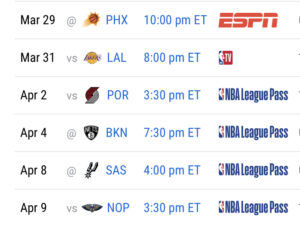 8 seed: New Orleans Pelicans (38-38)
The New Orleans Pelicans have been up and down as of late and if there's one team I can see falling out of the playoff picture altogether, it's unfortunately them. Their remaining schedule is BRUTAL as they face teams that are either already in the postseason or teams fighting to get into the play-in tournament. They are also missing their biggest star in Zion Williamson. Williamson suffered a hamstring injury against the Philadelphia 76ers on January 2 and he's going to be sidelined for at least another two weeks. I believe they will be left out of the postseason and will be lucky to win three of their final six games. Who do I think will overtake them? You're about to find out…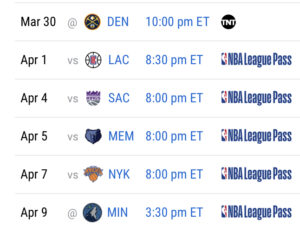 9 seed: Los Angeles Lakers (37-38)
Only one word can be used to describe the Los Angeles Lakers season: unpredictable. Since the trade deadline when they acquired a lot of young, talented pieces in point guard D'Angelo Russell, shooting guard Malik Beasley and power forward Rui Hachimura, they have stayed afloat in the playoff race as they are currently in ninth. LeBron James went down with a foot injury he suffered against the Dallas Mavericks on February 28 and the season looked to be over. However, thanks to the play of the players I previously mentioned, the Lakers went 8-5 in LeBron's absence. James made his return this past Sunday against the Chicago Bulls. Oh, and there's one guy I forgot to mention: Anthony Davis. Davis is finally close to 100% as he himself has dealt with a foot injury for over a month and although he has missed some games, he has played reasonably well when he's available.
Other than health, the biggest question mark with the Lakers is their determination and effort to want to make the postseason. They are coming off an extremely disappointing loss to the Bulls on Sunday, 118-108, which snapped LA's three game winning streak. For every step they've taken forward, it seems they take three steps back and can't sustain momentum. They are 1/2 a game behind the Pelicans for the eighth seed, but only 1/2 a game ahead of the Oklahoma City Thunder for the final play-in spot. Looking at their remaining schedule, they have a critical five game road trip starting tonight against the Bulls. There's no margin for error left with LA, so they need to empty the tank and go on a run. I believe over their final six games, they finish 4-2 and get the eighth seed to make the play-in game.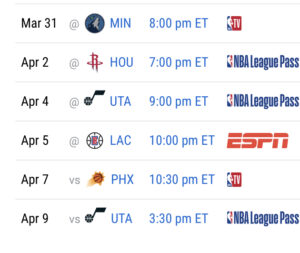 10 seed: Oklahoma City Thunder (37-39)
OKC has been one of the pleasant surprises in the NBA this year. No one really knew what to expect from them and they have played well, especially over the last month. They are currently tenth in the West. Led by Shai-Gildeous Alexander, the Thunder have been playing good basketball going 9-6 in the month of March. However, they are coming off a disappointing loss to the Charlotte Hornets last night, 137-134. Oklahoma City's last six games are a mixed bag with playing three quality playoff teams in the Warriors, Suns and Grizzlies and three teams that are out of playoff contention in the Utah Jazz, Detroit Pistons and Indiana Pacers. I believe OKC will go 3-3 over the last six games and secure the ninth seed.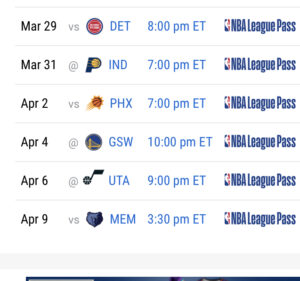 11 seed: Dallas Mavericks (37-39)
Other than the Los Angeles Lakers, no team lurking around the playoff standings has been talked about more than the Dallas Mavericks and for good reason. They made the trade for Kyrie Irving to pair him with Luka Doncic. They have been perhaps the most prolific offensive duo in the NBA during the last month or so. The one downside is that they traded away two of their most important defensive pieces in Spencer Dinwiddie and Dorian Finney-Smith. Those two are on the Brooklyn Nets and have played well since joining them. Dallas is coming off a 127-104 win over the Indiana Pacers and up next on the schedule is the Philadelphia 76ers, tonight on ESPN at 7:30ET. This game begins a short three game East coast road trip, as you can see their remaining schedule.
I believe Dallas will go 4-2 over their last six games and sneak into the tenth seed in the West. The key for them is if they can figure out how to improve defensively.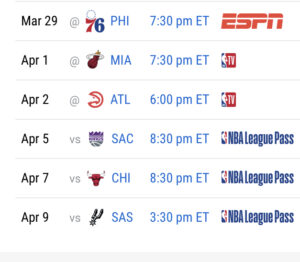 The final month of the NBA's regular season all the way until the last game of the NBA Finals is must see TV. ANYTHING is possible down the stretch, so hold on tight. There are so many possibilities just in the Western Conference alone. It could shape up to be one of the most memorable postseasons in NBA history. Let the fun begin…