Levon Satamian | April 15th, 2019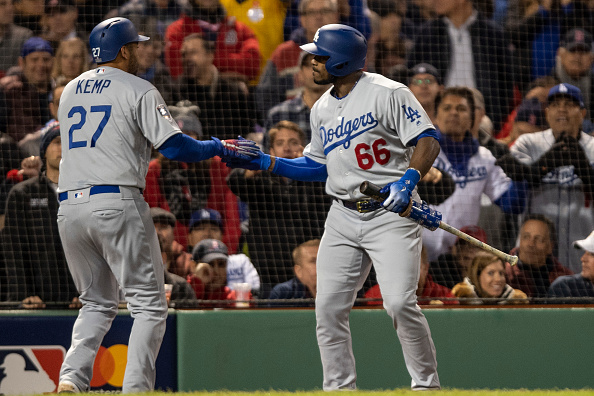 Clayton Kershaw is BACK! Yasiel Puig will be back in LA for the first time since being traded to the Cincinnati Reds, along with Matt Kemp, Kyle Farmer, and Alex Wood.
The Los Angeles Dodgers were able to snap there losing streak on Sunday in the finale of a three-game series against the Milwaukee Brewers. The Cincinnati Reds had a two-game series against the St. Louis Cardinals, in Monterrey, México. The Reds split the two-game series against the Cardinals.
Now, the focus shifts to this series. This series should be a fun one, featuring Yasiel Puig against Clayton Kershaw, Luis Castillo against Cody Bellinger, and Jackie Robinson Day, on Monday. The Dodgers currently have a 9-8 record. The Reds have a record of 5-9. Both teams will look to start a winning streak on Monday. This will be a fun series, to say the least.
The first game will feature Clayton Kershaw vs. Luis Castillo. This will be a great pitching matchup. Kershaw will make his debut on Jackie Robinson Day, as for Castillo, this will his third game of the season. Castillo has been impressive to start off the season, with a record of 1-1, a whopping ERA of 0.92, in 19.2 innings pitched. Kershaw may be a bit rusty to start off the game, but, he will find his rhythm and dominate. Kershaw will be facing two of his former teammates, Yasiel Puig and Matt Kemp. Kershaw vs. Puig will be very entertaining. Will Puig be serious when he is at-bat, or will he be joking around? On top of that, it is Jackie Robinson Day, and at Dodgers Stadium, they will be giving away Jackie Robinson jersey's, so this game is worth the admission. I will be at the game, looking forward to seeing a great pitching matchup, seeing if Puig will homer, if Bellinger will get his 10th home-run of the season, if Justin Turner will get his first home-run of the season, and hopefully watch a dominating performance from Clayton Kershaw. I have the Dodgers winning the first game of this series.
The second game will feature Kenta Maeda vs. Tyler Mahle. Maeda has a record of 2-1, and an ERA of 4.76. Mahle has a record of 0-0, and an ERA of 0.82. Maeda does better at home than he does on the road. I think the Dodgers will come out with a win, as long as Maeda holds his ground. The Reds could win this game. But, I think the Dodgers will take Game 2 of the series as well.
The third game will likely feature Walker Buehler vs. Sonny Gray. The Dodgers have yet to announce the starter for Wednesday's game, but it will probably be Walker Buehler on the mound for LA. Buehler has a record of 1-0, but an ERA of 8.25, in only 12 innings pitched. Gray has a record of 0-2, and an ERA of 2.03. Buehler will get back on track against the Reds, and the Dodgers will win the third game of this series. I think the Dodgers will be able to take at least two of three games against the Reds.
Questions and comments?
thescorecrowsports@gmail.com
Follow Us on Twitter @thescorecrow
Follow Us on Reddit at u/TheScorecrow
Follow Us on Facebook at The Scorecrow
Follow Us on Instagram at The Scorecrow
Follow Levon Satamian on Twitter @TheSportsNotes
Main Credit Image: [getty src="1058807394″ width="594″ height="396″ tld="com"]