Bruce Cagle Jr. | October 23rd, 2018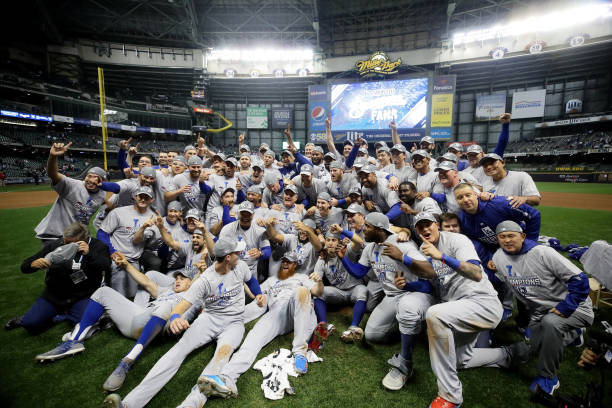 Finally, a series that lived up to the hype. A little closer then I thought it would be, but I have been predicting the Dodgers to make a repeat trip to the Fall Classic. After an intense seven-game fight with the Brewers, the Dodgers will move on to face a well-rested Boston Red Sox club. 
NLDS Recap: 
Many things happened during these seven games, so let's take a look at each game a little closer.
Game 1: Clayton Kershaw takes the mound as expected against Gio Gonzalez. Craig Counsell planned on using Gonzalez for only one turn through the lineup then handing it off to one of his many "out getters", let us say this strategy worked well for Game 1. Manny Machado opened up the NLDS with a rocket into left-center field for a solo bomb in the second inning, the fireworks weren't over in Milwaukee. Brandon Woodruff was the first off the "out getters", except he was the first one to put a run on the board for the Brew Crew after going yard off of Kershaw. Things didn't get better for Kershaw as he allowed another run during the inning, then preceded to allow another three in the third. Kershaw's final line wasn't impressive, 3 IP 5 R 2 K and a home run allowed. Jesus Aguilar added a solo shot later that moved the lead to 6-1. The Dodgers would make it close by scoring four after the seventh inning, grabbing a pair of runs off of Joakim Soria and making the home crowd sweat after tagging Corey Knebel with a run and generating a lot of traffic on the bases. It wasn't enough as the Brew Crew took a 1-0 lead.
Game 2: Unlikely ace, Wade Miley threw a gem in the postseason in Game 2, 5.2 IP 3 H 0 R with a trio of strikeouts. He outdueled Hyun-Jin-Ryu, who didn't have a terrible game himself only allowing a pair of runs over 4.1 innings pitched. Orlando Arcia has had himself an October, he was responsible for one of the runs off of Ryu, via a home run. The crazy part is, that was his third homer this postseason when he only had three in 366 plate appearances this year. The Brewers looked to be on their way to a commanding 2-0 lead in the series when they held a three-run lead going into the seventh inning, but the most unlikely thing happened the Dodgers got four runs off this dominant bullpen past the sixth inning (a rarity for the Brewers bullpen), it helped the Dodgers didn't have to face Josh Hader as he pitched a clean three innings Game 1. Justin Turner continued his postseason heroics as he nailed what proved to be the game-winning two-run shot in the eighth inning. Through two games the Dodgers bullpen looked to be the dominant group as they put up 8.1 IP 2 ER. Take away the aforementioned Hader's three innings and this line would look even worse from the Brewers pen 10.1 IP 9 ER.
Game 3: More aces take the mound, Jhoulys Chacin versus Walker Buehler, and this one ended in a shutout just like you expected when you see these names on the card. Chacin continued his dominant postseason with another 5.1 sparkly innings, without giving up a run while striking out six. He combined with Knebel, Soria, Hader, and Jeremy Jeffress to provide a masterful five-hit, 14 K shutout of the Dodgers. Buehler got touched up in the first inning on an RBI double from Ryan Braun. Arcia continued his power ways, as he hit another home run, this time of a two-run variety. Yasmani Grandal continued to struggle, this time with the bat, going 1-4 with three strikeouts and leaving five men on base.
Game 4: This would prove to be the most important game in the series from what I saw of the NLDS. This marathon was 13 innings and had fans on the edges of their seats with the intense pitching duel they were witnessing. Brian Dozier singled in Braun to open the scoring in the first inning, we wouldn't see another Dodger run until the final play of the night. Gonzalez took the mound again for a single turn through the lineup and faired well again, only allowing the Dozier single for a run. Rich Hill was his opposite and he performed quite well, tossing a strong 5 innings only allowing a single run off a double from Domingo Santana, who himself has been productive with limited exposure this October. Tensions are always higher in October, but when you add potential dirty plays to the mix, things could go bad. Heated exchanges happened but everyone seemed to know the stakes and no one got ejected. It would have proven costly if Machado would have gotten ejected earlier as he wound up scoring the game-winning run, showing off his impressive hustle with 28.5 ft/second, one of his fastest runs all season. Batting in Machado was the dual threat in Cody Bellinger, who earlier made an astounding sliding grab to help keep this game tied. With this extra-inning win, the Dodgers evened it up at two games apiece.
Game 5: The Counsell Carousel continued as Miley started Game 5 for only ONE BATTER! He walked that batter as well, in a strange strategy to get Dave Roberts to expose his hand, Counsell started Miley for one batter then brought Woodruff in for essentially as a starter. Woodruff didn't do poorly as he struck out eight and gave up three earned over 5.1 innings, but the Dodgers had an ace up their sleeve, as they enjoyed watching vintage Kershaw. Striking out nine Brewers over the course of seven very strong innings, the Dodgers used his momentum and continued to thrash the Brewers bullpen. The Dodgers used the small ball technique to generate some offense as they swiped three bags, Machado, Bellinger, and Chris Taylor all chipped in. Dodgers grabbed their first lead in the series 3-2.
Game 6: Do or die time for the Brew Crew, and boy did they respond. Dropping four runs in the opening inning against Ryu, they easily cruised in this game to a victory. Aguilar had himself a game, going three for four with three RBI and was the major catalyst behind this offensive explosion. Wade Miley started his third game of the series but this time he stayed to face more than one batter. He did enough to get the Brewers to their bullpen, as he covered 4.2 innings and gave up only two earned. Knebel, Jeffress, and Corbin Burned slammed the door shut on the Dodgers as they combined for 3.2 innings 0 runs, and striking out 5 of the 14 batters they faced.
Game 7: Buehler grabbed redemption in a big way, going 4.1 innings allowing a single run and striking out seven. He went long enough to give his team the lead and not overextend his bullpen. The only blemish he had, obviously had to come from the NL MVP in Christian Yelich. Yelich sent a fastball deep to right-center for an early 1-0 lead in the first inning, but it wasn't going to last long. Superstar slugger Machado essentially pulled the strings on everybody in the stadium and laid down a sweet bunt for an infield single. Following that, the NLCS MVP in Bellinger sent a ball into orbit off of Brewers super ace Chacin. Knowing in game seven saving runs is as important if not more important you knew you would be seeing Taylor's name pop up in the lineup. Dodgers fans are thanking him after his amazing reaching catch, even though some will argue he took a poor route. Still, the game was within striking distance until Yasiel Puig took the often struggling Jeffress deep for a series-clinching three-run homer. Dodgers end up winning the series 4-3 and will face the Red Sox in their second trip in as many years to the World Series.
Who soared? 
There are many performances you could point to, Kershaw in game five and showing up to grab the final three outs in game seven. Manny Machado with some of his timely hustle plays ( 29.0 ft/sec on his 3-2 bunt) and home runs. Turner with his solid October play again. The one who soared the highest had to be NLCS MVP, Cody Bellinger. He had timely defensive plays in multiple games and huge hits to win or help win a few different games.
Who stunk? 
Yasmani Grandal and Hyun-Jin-Ryu. Grandal had some major issues with passed balls game one, and it affected his playing time during the series as he only started one other game. He was horrid, going 2-11 with six strikeouts all while leaving nine runners on base, they also lost the only two starts he was behind the plate. Ryu started two games for the Dodgers and they didn't go as well as he hoped, totaling 7.1 innings he allowed traffic all day long with 15 total baserunners. He also allowed seven earned runs in those 7.1 innings. Flat out bad.
Strengths: 
Pitching. Pitching. And more pitching. Everyone knows the top names on this staff and bullpen. But what I don't think people realized is that the Dodgers bullpen dominated the once highly touted Brewers bullpen. During this long drawn out series that including four extra innings on top of seven games, the Dodgers threw down a 1.35 ERA from their bullpen.
Weaknesses: 
I can't say none, so if I had to nitpick, I would pick two things. I'd say the age of a few key players, (Beuhler, Bellinger and Max Muncy) could showcase negatively during the World Series. The Red Sox have a monster offense and could give Beuhler fits. Bellinger did win NLCS MVP primarily due to his timely hits, not his quantity of hits. I also think that trend will continue with a savvy pitching staff deployed by Boston. I also don't like some of the bench options from the Dodgers. Grandal, as I mentioned before, should be on the bench for the majority of this series, but I fear he won't provide much when you do see him. Brian Dozier has had an up and down year and hasn't really found that second half surge we expect from him. He is entrenched in a reserve role so it may be hard for him to find a nice groove at the plate.
X-Factor: 
Most people will say, Manny Machado, because he has the most history with the Red Sox. Well, especially the most recent history with all the drama caused this year. But, I will be leaning in a different direction, Justin Turner is my X-factor. It has been said around the clubhouse he is the glue to this team, as he goes so do the Dodgers. He hit a game-winning home run during the run to this World Series, just as he did last year. He mashes the ball when he connects, which is often, and he has amazing plate discipline, the only thing that hindered him this year was a broken hand suffered in spring training.
Prediction: 
I'm still worried about the Red Sox pitching as a whole besides Chris Sale, Craig Kimbrel hasn't been good this postseason, and I'm not sure I can trust David Price in any spot. With those negatives there they still have Mookie Betts, J.D. Martinez, Andrew Benintendi, and so many more lethal bats on this roster. They also have the most wins in the league and dismantled the reigning champs, but my gut and head are still telling me the Dodgers. I think their offense is just as deep as the Red Sox, I may not trust it as much, but I trust pitching over hitting during the World Series anyway. I think the starting staff is deeper as well as the bullpen. I'm taking the Dodgers to take their first title since '88, I'm calling it in six games as well. Gonna be a fun finish to the fantastic 2018 season.
Questions and comments?
thescorecrowsports@gmail.com
Follow Us on Twitter @thescorecrow
Follow Us on Reddit at u/TheScorecrow
Follow Bruce Cagle Jr. on Twitter @BruceCagleJr2
Main Credit Image: "[getty src="1052651272″ width="594″ height="396″ tld="com"]