Carson Babbini | March 7th, 2019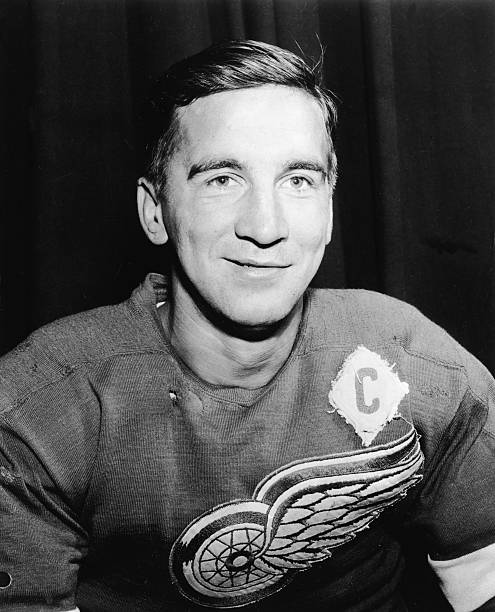 It has been a sad few days in the hockey world as it was announced that Detroit Red Wings great Ted Lindsay passed away Monday at the age of 93. Lindsay won four Stanley Cups with the Red Wings and made a huge impact on and off the ice.
Lindsay was one of the first real stars in the NHL and alongside other stars like Gordie Howe and Sid Abel to form the "Production Line" which turned into one of the most dominant lines in the history of the NHL. Lindsay was one of the toughest players in the history of the league, never truly backing down from anyone. This earned him the nickname "Terrible Ted". After all, Lindsay racked up 1,808 penalty minutes in his illustrious career. But aside from being one of the toughest guys to ever play the game, Lindsay was, as mentioned, an incredible four-time Stanley Cup Champion, a nine-time All-Star, one of those games being the first ever NHL All-Star Game during the 1947-48 season, and won the Art Ross Trophy during the 1949-50 season, scoring 78 points that year while also leading the league with 55 assists.
But it was his achievements off the ice that really made his impact on the NHL. Lindsay was one of the founding members of the NHL Players Association, now more commonly known as the NHLPA, which wasn't easy to do in an era where labor rights were not something that came easily for not just athletes but for some workers in general. He even has an award named after him, the Ted Lindsay Trophy, which goes to the most outstanding player of the NHL regular season, as voted on by the NHLPA.
Ted Lindsay truly was one of the most influential players in the history of the National Hockey League. Not only was he a thrill to watch on the ice, but was also a leader off the ice, and just a caring man. Tributes have come pouring in from many teams and players for Lindsay, and they won't slow down any time soon. Ted Lindsay will be missed by all of the hockey world.
Questions and comments?
Follow us on Twitter @thescorecrow
Follow us on Reddit u/TheScorecrow
Follow Carson Babbini on Twitter @cbabs1120
Main Image Credit:
[getty src="52440212″ width="480″ height="594″ tld="com"]