Givanni Damico | May 24th, 2019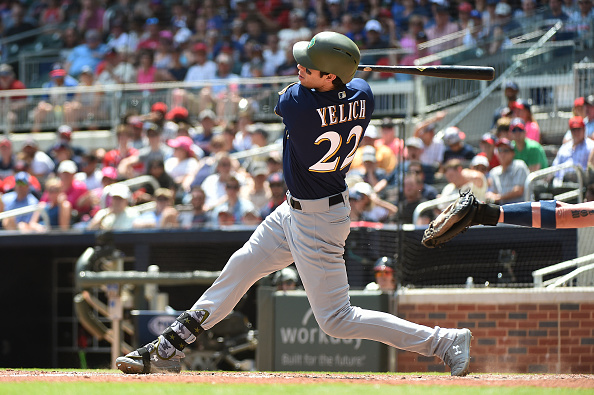 This may seem like a weird player to take a closer look at since he won the National League MVP award last season, but we will look back at 2018 as well as this year to see what changed for Christian Yelich to make himself into the superstar that he is today.
Christian Yelich was never a bad player. He has always had all the tools, but it was just a matter of him putting it all together. In 2017, his last year with the Miami Marlins, Yelich slashed .282/.369/.439 with 18 home runs and 81 RBIs. He also swiped 16 bags. These are great stats, but clearly not good enough for the Marlins who are in the middle of a rebuild. For those who don't know, the Marlins received OF Lewis Brinson, OF Monte Harrison, 2B Isan Diaz, and RHP Jordan Yamamoto in return. At the time, Brinson seemed like he would have a great future in the MLB, but after hitting .197 last season, there was a lot of doubt in that. This year, he is only hitting .197, so it's been a rough start for his young career. The other three guys will take some time to get up to the big leagues, but right now, the trade does not look like it was worth it.
In 2017, Yelich hit the ball hard 35.2% of the time and made medium contact 48.8% of the time. He had a line drive rate of 19.4% and a ground ball rate of 55.4%. Let's compare him to his former teammate, Marcell Ozuna, in the same season. Ozuna hit the ball hard 39.1% of the time and made medium contact 42.7% of the time. Ozuna had a ground ball rate of 47.1% and a line drive rate of 19.3%. Both of these players had average seasons, so the point of this comparison was to show that Yelich did everything at a very average rate in 2017.
2018 was a whole different animal. Sometimes, it's just a change in the environment that a player needs to break out. Maybe Yelich realized that now that he wasn't on a bad team, he could really play for a World Series so he just turned it on. Yelich hit line drives at a higher rate (24.7%), but the key to his success was clearly something else. He brought his hard-hit rate up from 35.2% in 2017 to 47.6% in 2018. Hitting the ball harder equals more power which was the case for Yelich. He doubled his home run total from 2017 by hitting 36 home runs in 2018 while simultaneously bringing his batting average up by 42 points. Yelich actually had a slightly lower contact % in 2018 than he did in 2017 because he was swinging at more pitches outside of the strike zone, but this did not affect his game in any sort of negative way. In fact, his ability to hit balls outside of the strike zone made him much more of a problem for opposing pitchers because they have no idea what to throw him.
Yelich's 2019 has been even more impressive than his 2018 MVP campaign thus far. He already has more than half of the number of home runs that he hit last season in just 44 games. If he keeps the same pace, then he will hit 70 home runs this season. Will he hit 70 home runs? Highly doubtful, but the fact that he is anywhere near this pace after not being recognized as a power hitter until last season is very impressive. He's managed to bring his hard-hit rate up even more, from 47.6% to 55.6% so far this season. He is hitting the ball hard twenty percent more than he was two years ago. That is insane progress. He's also on pace for a career high in stolen bases. His OPS sits at 1.172 after ending last year at an even 1.000 and ending 2017 with a .807 OPS. I'm not sure how sustainable his .408 ISO is (Isolated Power, measures a hitter's raw power, very unreliable stat), but he's shown his ability to be a five-tool player and an MVP. Will he go back-to-back as MVP? I guess it depends on how two of our future deep dive subjects, Josh Bell and Cody Bellinger, perform throughout the rest of 2019.
Check Out The Other Deep Dives: Lucas Giolito | Rafael Devers | Corey Seager | Eduardo Rodriguez | Amed Rosario | Alex Verdugo | Joey Gallo | Mike Soroka
Questions and comments?
thescorecrowsports@gmail.com
Follow Us on Twitter @thescorecrow
Follow Us on Reddit at u/TheScorecrow
Follow Us on Facebook at The Scorecrow
Follow Us on Instagram at The Scorecrow
Follow Givanni Damico on Twitter @giodamico15
Main Image Credit:
[getty src="1150534184″ width="594″ height="395″ tld="com"]