John Lepore | September 28th, 2018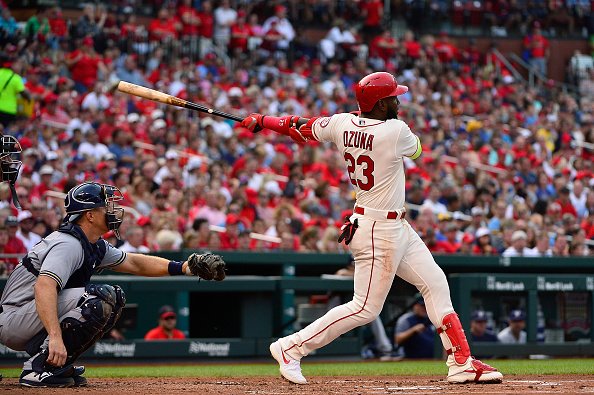 One of the best rivalries in baseball actually means something to both teams going into the final weekend of the season. The Chicago Cubs are trying to avoid having to play a Wild Card game on Tuesday. The St. Louis Cardinals are fighting for their playoff lives. How will this battle unfold?
The series will be played at Wrigley Field which gives the Cubs a distinct advantage. Chicago is 7-9 vs. the Cardinals this season but is 4-3 in the friendly confines of home. The Cubs have a one-game lead over the Brewers for the NL Central while the Cardinals are one game behind the Dodgers for the second wild-card spot. Let's take this game by game to get a view of how the series will play out.
Game One
Adam Wainwright vs. Kyle Hendricks
While Wainwright is nearing the end of the road, he does well at Wrigley. Lifetime he has an 11-2 record with a 3.63 ERA and has only given up 9 HRs in 121.1 IP. Danny Murphy has been a great acquisition for the Cubbies. He also hits the Cardinals' righty well going 8-20 without striking out. Jason Heyward is another player to keep an eye on as he is 7-25 with one HR and five RBI vs. Wainwright. As far as the other hitters in the Cards' lineup? Not so good. Schwarber, Almora, Bryant, and Baez combine for 7-53 with no HRs.
Kyle Hendricks has been very good in the second half of the season going 7-3 with a 2.90 ERA along with only surrendering 5 HRs in 80.2 IP and a 76/11 K/BB rate. Marcell Ozuna hits him well going 7-19 with 2 HRs. Although Hendricks is a righty, Mike Schildt might want to keep Matt Adams on the bench. He is 1-13 in their head-to-head matchups. Paul DeJong won't help either going 2-13 with 5 Ks.
Game Two
Mikolas came back to the States this season after a stint in Japan. He has been a godsend for the Cards pitching to a 2.94 ERA while going 17-4. He has also gone 2-0 with a 2.00 ERA while allowing only 1 HR over 18 IP vs. the Cubs this season. Baez and Rizzo have fared decently going 3-8 each.
Cole Hamels came over to the Cubs at the non-waiver trade deadline in July. He was great in August going 4-0 with a 0.69 ERA. September hasn't been as kind and the long ball has done him in giving up 6 in just 30.1 innings. Ozuna is 8-29 in his career vs. Hamels with 3 HRs. Yadier Molina doesn't do as well only going 6-31 with 5 Ks.
Game Three
Jack Flaherty vs. Mike Montgomery
Flaherty has been the second best pitcher on the Cardinals' staff this year. He has fallen off lately though posting a 4.50 ERA with a 30/15 K/BB rate while going 0-2 in the month of September. He has pitched fairly well against the Cubs this year though going 1-0 with a 0.90 ERA in 2 starts. Although he walked seven in 10 innings in those starts, Chicago was 4-32 with only a solo HR from Willson Contreras in those 10 IP.
Montgomery is Joe Maddon's swiss army knife. The problem here is that he is not good at home. He's posted a 4.99 ERA with an abysmal 29/20 K/BB rate in Wrigley this year. He also doesn't do well vs. the Cardinals. Over 11 innings in his starts he has allowed 17 hits, 6 ER, and has a 6/3 K/BB rate. Ozuna again does well with five hits in 12 ABs. The trio of Molina, DeJong, and Martinez is a combined 13-21 with no Ks vs. Montgomery this year.
Prediction
The Cardinals are the only NL team that the Cubs have a losing record against this season. Even though this series is in Wrigley, the rivalry and serious playoff implications are to be decided. St. Louis should take two out of three from Chicago this weekend. The Redbirds have their best starters lined up and Marcell Ozuna has a good history vs. all of the Cubs' starters. Watch for Ozuna and Carpenter to have a big series. Whether it gets them into the postseason is another question. One that will be answered by the Giants-Dodgers series. The fact that the Giants saved MadBum to pitch tonight vs. the Dodgers tells you all you need to know about these rivalries in baseball but that's another article. As Yogi said, "it ain't over til it's over".
Questions and comments?
thescorecrowsports@gmail.com
Follow Us on Twitter @thescorecrow
Follow Us on Reddit at u/TheScorecrow
Follow John Lepore on Twitter @jball0202
Main Credit Image: [getty src="1019044612″ width="594″ height="395″ tld="com"]