Carson Babbini | February 25th, 2019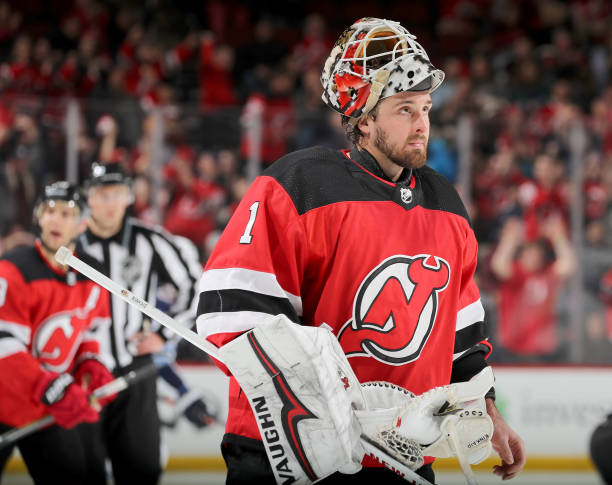 The Columbus Blue Jackets continue to make huge splashes in the trade market as the team announced today that they have acquired goaltender Keith Kinkaid from the New Jersey Devils in exchange for a 2022 fifth round pick. Also today, the Blue Jackets acquired defenseman Adam McQuaid from the New York Rangers in exchange for defenseman Julius Bergman, a 2019 fourth-round pick, and a 2019 seventh round pick.
Kinkaid was signed by the Devils as an undrafted free agent to an entry-level deal on April 18th, 2011. He would play in only one game during the 2012-13 season, but would truly make his presence felt during the 2013-14 season playing in nineteen games, starting in thirteen, obtaining a record of 6-5-4 with a 2.59 goals against average and a .915 save percentage. So far this year, Kinkaid has played in 41 games with a record of 15-18-6 and a 3.36 goals against average and a .891 save percentage. In his career, Kinkaid has played in 151 games, starting in 132 of those, with a 64-55-17 record and a 2.90 goals against average and a .906 save percentage.
McQuaid, on the other hand, was originally drafted by the Blue Jackets in the second round of the 2005 NHL Draft with the 55th overall pick but was traded to the Boston Bruins for a fifth-round pick that was later traded to Dallas, and the Stars selected Jamie Benn. McQuaid is a bruiser defenseman, totaling 652 penalty minutes in his ten year NHL career. McQuaid ended up on the Rangers after nine years with the Bruins by trade, with the Bruins acquiring defenseman Steven Kampfer, a 2019 fourth round pick, and a conditional seventh-round pick in the same draft.
The Blue Jackets continue to win the Trade Deadline with two more acquisitions to help bolster their depth at two key positions. With Sergei Bobrovsky's contract expiring at the end of the season as well, Kinkaid might not just be a rental depth piece but could be quickly thrust into a backup role if Bobrovsky leaves. McQuaid adds some grit to help protect the skill players on that team including Artemi Panarin, and new acquisition Matt Duchene, as well as the other new acquisition Ryan Dzingel. Columbus is ready to win, and they are ready to win now.
Questions and comments?
Follow us on Twitter @thescorecrow
Follow us on Reddit u/TheScorecrow
Follow Carson Babbini on Twitter @cbabs1120
Main Image Credit: