Bruce Cagle Jr. | February 15th, 2019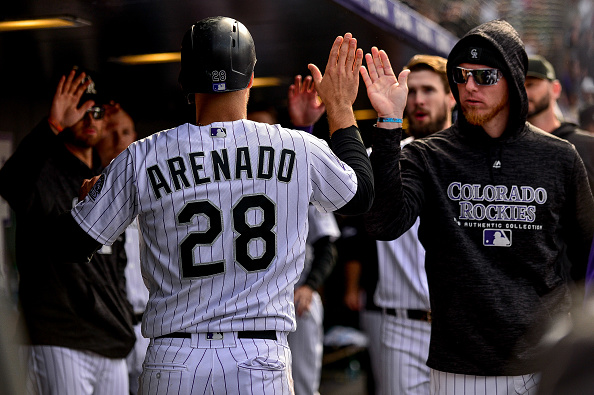 To start our 30 teams in 30 days series of MLB Team Previews, we look at the Colorado Rockies. They've made the playoffs two years in a row and look to make a third. Let's dive into what they gained, what they lost, and how this season will shake out.
RECAP: 91-72 2nd in NL West. #2 NL WildCard.
For the second straight year, the Colorado Rockies found themselves in the playoff picture. This time they beat the Chicago Cubs and advanced to the Divisional Round where they found their season come to an abrupt end at the hands of the red hot Milwaukee Brewers. The strangest part of that series was the fact they couldn't score a run in the final two games. For the upcoming season, they will have to kickstart that offense, which is weird to say, and continue to develop and lean on that young pitching core.
Key Additions:
Daniel Murphy: Age 33 2B (will play 1B) – '18 Stats 328 AB – 12 HR – 40 R – 42 RBI – 3 SB – .299 AVG
Murphy brings consistent contact (87% or higher for the last nine years) with some good power and some durability concerns. The Rockies have come out and said that Murphy will be playing first base for them and I hope this will help keep him on the field for 150 games. If he is able to log a full season of at-bats in 2019, while keeping in mind half of those will be in Coors, he may be able to lead all of the Majors in batting average. With a three year triple slash of .326/.375/.542, while hitting 24.9% line drives and 40.1% flyballs, I think he will adjust to Coors just fine.
Key Departures:
D.J. LeMahieu: Age 30 2B signed with NYY – '18 stats 533 AB – 15 HR – 90 R – 65 RBI – 6 SB .276 AVG
Looks like after seven years D.J. will not be coming back to the Mile High city and joining former Rockie legend, Troy Tulowitzki in New York as he will be joining the Yankees on a 2 year $24 million dollar deal to reportedly be a utility guy around the diamond. What the Rockies will lose is a multiple Gold Glove-winning defender at second. Colorado will move to Garrett Hampson at second base going forward, as it won't be the same caliber defensively, Hampson showed in his few games that he might have the chops to play second.  
Adam Ottavino: Age 33 RP signed with NYY – 77.2 IP – 2.43 ERA – .99 WHIP – 112 SO – 6 SV
A big loss in the bullpen as I think this loss will have the most impact on the Rockies. With his devastating slider, he was able to have multiple years with an ERA under 3. Only one year was his ERA really out of whack and that was in '17 when the long ball came back to bite him. Striking out an impressive 34.6% of batters with that slider, Ottavino will look for a ballpark that suppresses fly balls a little more than Coors did and will obviously feature that nasty slider more and more wherever he goes.
Carlos Gonzalez: Age 33 OF F/A – '18 Stats 463 AB – 16 HR – 71 R – 64 RBI – 5 SB – .276 AVG
Once a prolific power hitter to be feared on the basepaths as well, Cargo no longer carriers the ability to steal an impressive amount of bases. What he will bring is the ability to hit some home runs from the left side and almost everyday at-bats. He will almost always bring at least one DL stint along with him per season, sometimes more. While I agree with the Rockies for letting him go ( I felt they should have never re-signed him at the beginning of last season) it will be odd to see some of the longtime faces at Coors no longer with the team. With Nolan Arenado potentially walking in 2019 the Rockies appear to be on the verge of a new beginning.
Gerardo Parra: Age 31 OF signed minor league deal with SF – '18 Stats 401 AB – 6 HR – 52 R 53 RBI – 11 SB – .284 AVG
After a rough two-year patch where Parra struggled to stay on the field for the Rockies, 2018 was a breath of fresh air as he was able to appear in over 140 games for the first time since 2015. He walked at an impressive clip compared to years prior (7.2%) which helped him steal double-digit bases. Stealing at a success rate of 73% in 2018 while pairing that with age and limited ability to hit the ball hard (bottom 7% in hard-hit percentage) there isn't going to be a huge market for this outfielder. This doesn't take away from the fact he can contribute to a team, you just need to understand what he brings to the table. He feels like an ultimate depth piece to a semi-contender.
Strengths
This is weird to say, the pitching for the Rockies will once again be the focus in 2019, but this time because of how high the expectations are for this young group. Kyle Freeland posted a historic 2.40 ERA at home in 2018 and has many people questioning if he can repeat another above-average season in the rockiest of places to pitch. Another young potential ace is German Marquez. Putting together one of the best second halves of all starters in the MLB, Marquez will enter 2019 as an "all eyes on me" vibe will be hovering around him during spring. Sporting an amazing 2.61 ERA in 93 second half innings, Marquez was able to strikeout 124 batters during that span. It will be interesting to see if he continues to lean on that deadly slider/curve combo he started featuring more in those 93 innings. This doesn't include Jon Gray who was once the top pitching prospect for this team. After being sent down to AAA in a surprising move, Gray responded with his best four starts. Pitching an impressive 29.2 innings with a 1.62 ERA and striking out almost one-quarter of the batters he faced, but then just like his major league career, the road got rough again. In the final 10 starts, Gray gave up four or more earned runs in five of those contests and didn't get through the fifth inning in four of those. With Wade Davis leading the bullpen duties again in '19, one thing you can say is these guys have experience. Look for some bounce backs from Jake McGee and Bryan Shaw and you have a very capable bullpen.
Weaknesses
Offense. Plain and simple. They got shut out the last two games of their season and this isn't something anyone is used to seeing from the Rockies. One reason I think they decided to let D.J. walk was to go after a more offensive veteran that could play second but would be okay transitioning to first base (Murphy), as they also need to get Ian Desmond out of the starting lineup. It shows you something when Murphy signed the same deal that D.J. did with the Yankees. They have the young bats that can actually fill any holes they have on offense, think Tapia, McMahon, Dahl, and someone looming, Brendan Rodgers. So they don't have to get crazy and sign someone super expensive unless they are the sleeper team in the dream sweepstakes for Manny Machado (lol) or Bryce Harper.
Front of the line starter. One thing I have spoken about and have heard in some chats is why don't the Rockies go to make a move for veteran Corey Kluber? They have some sweet offensive pieces down in the minors, also have the need, and Kluber's contract is very team friendly for his overall contributions to a team. Just think of that top four, Kluber, Marquez, Freeland, Gray and now you can get fun with your fifth starter. They would jump from second in the division to battling the Dodgers for the top spot in the West.
Can they re-sign Nolan? This is one of the most important questions for the Colorado Rockies, can they lose two Gold Glovers in the infield and the power bat of Nolan and even slightly be competitive in the league?
Prediction
I think the Rockies will have another decent year, without any more additions I think they will still finish second to a strong Dodger team. I think they are one starter away from being a wrecking ball in the National League. If they were to make a run at the previously mentioned Kluber or going after the unicorn in Thor, that would be something to tune into every time they take the field. They could also use a change in philosophy at some point, they have the youth, the talent, when will they just let them play? That is sometimes the only way to see if they got what it takes. I also am sad to say I think this will be the last year we will see Nolan calling Denver home. Now is the time for the Rockies to make their name known in October. Two years, higher expectations, are they going to run out of air?  
Questions and comments?
thescorecrowsports@gmail.com
Follow Us on Twitter @thescorecrow
Follow Us on Reddit at u/TheScorecrow
Follow Us on Facebook at The Scorecrow
Follow Us on Instagram at The Scorecrow
Follow Bruce Cagle Jr. on Twitter @BruceCagleJr2
Main Credit Image: [getty src="1049162832″ width="594″ height="395″ tld="com"]