Coach Treal | October 6th, 2018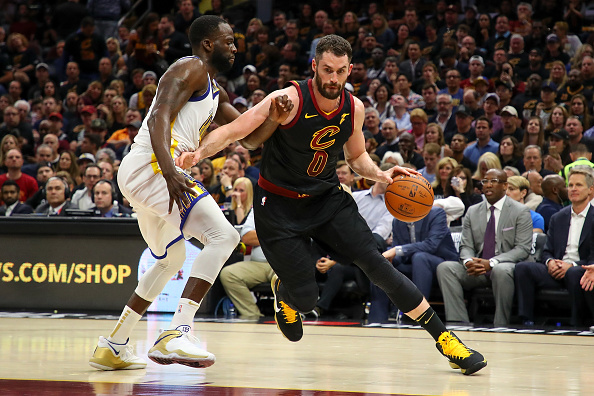 The defending Eastern Conference champions the Cleveland Cavaliers are in store for a different season after four straight trips to the NBA Finals. Unless you have been in outer space since July, the best player on the planet no longer resides in "The Land" during the NBA season. So change is happening one way or another for the Cavs this season but not everyone left with LeBron to LA.
Recap of Last Season
It was an interesting season last year for the Cavs who still found a way to make it back to the NBA Finals for the fourth straight season, but they were swept by the champs the Warriors. The big question all last season was what will LeBron James do going into the summer of 2018 free agency. Well, we found out and, no surprise to me and many people outside of Cleveland, left for the bright lights of Los Angeles and signed with the Lakers. But now that the second LeBron era has come and gone, it's time to turn the page for the Cavs and focus on the season and task at hand. The first order of business for this team was the draft and with the Kyrie trade, they were able to receive the 8th pick in the draft and used that on Alabama guard Collin Sexton. During his lone season in college Sexton made the most of it averaging 19 ppg for the Crimson Tide and leading the team to the NCAA Tournament. They have a solid veteran core returning and have some young players they will look to develop over the course of the season. This season will bring a different look and fill for this team with some players being asked to do things they haven't been asked to do before. The main player to watch this season for the Cavs is Cedi Osman who they are very high on. With so many new faces coming over before the trade deadline this team was never really all on the same page.
Offense
Last season the Cavs averaged close to 111 ppg and ranked 5th in the entire association. The 3-point shot was a big reason why for this team. They attempted 32 shots from the 3-point line per game and connected on 12 and I don't see them moving away from that formula. They may actual increase their attempts with Coach Tyrone Lue looking to spread the floor this season and play with a faster more uptempo pace. The offensive side of the floor for this team will be interesting to watch as I expect Kevin Love to have similar numbers to the stats he posted during his time with the Timberwolves. Last season for Love he ranked in the top 20 of the entire league in 3-point shooting percentage at 41%. But he wasn't the only member of the team knocking down 3s at a high rate as Korver also was there ranked at number 6 in the league at 43%. The Cavs made it a priority this offseason to lock up Love long-term with a 4yr $120-million dollar contract extension. In 59 games last season, Love averaged 17 ppg and 9 rpg. I expect those numbers to increase to somewhere in the neighborhood of 24 ppg and 13 rpg to give this team any hope of being competitive this season. They also resigned Rodney Hood who was brought over midseason from the Jazz, couldn't get a long-term deal done and decided on a one-year qualifying offer. He didn't have the playoff success he would have liked, but Hood was a solid contributor in the 21 games he played averaging close to 11 ppg. They will have an opportunity this season to put some players in different situations and really see what they have moving forward to either build with or move in a deal. The improvement of Cedi Osman will be the biggest key for the team this season. If he is able to show an improvement in his all-around game, that will be a huge factor for Cleveland as they move forward with the next phase of the team.
Defense
This team struggled on the defensive end last season with a defensive rating of 111.9, ranking 29th. Losing a player of LeBron's caliber is going to be a huge mountain to climb on both ends of the floor, especially defense. They do have players who can defend and team defense will be the biggest area where they will need all five guys buying in when on the court. Tristan Thompson played the lowest amount of games since his rookie season playing in 53 games due to various injuries and contributed 6 ppr and 6 rpg. For a player making the salary that Tristan is bringing home he will have to increase those numbers and have an impact on defense for this team to have any chance of staying in games late. George Hill is a solid veteran presence at the guard spot and will be needed to help bring this young group along. Sexton is a player who isn't afraid to guard and takes pride in his defense. Playing under former NBA champion Avery Johnson at Alabama, he was able to learn from one of the toughest players. Cedi is another player who is able to defend multiple positions because of his size and will need to continue his growth on that end of the floor as this team doesn't have many players who can switch effectively on screen and roll plays.
Bench
Early in the season, they have Collin coming off the bench which I think is smart to give him the opportunity to learn how to play the NBA game and learn from a great veteran guard in George Hill. If the season starts to turn and it shows they are in complete rebuild mode, I expect Collin to get a more playing time and start molding the team. I am interested to see what the team does with veteran players like J.R. Smith. Will he get minutes off the bench or will they go with the complete youth movement? They still have scoring and shooters like Kyle Korver who may have contending teams looking to add by the trade deadline. The two former Lakers, Jordan Clarkson and Larry Nance, should be more comfortable this season and show growth from their efforts last year. The Cavaliers will need huge contributions from both this season to make up for what they will be missing on the floor. Another bench player to keep an eye on is David Nwaba who is a tough and a solid team player who will be an added bonus to a team in transition with the motor he brings every game.
Prediction
Last season this team went 50-32 and it has already been well documented who left this summer. The last time something like this happened the Cavs ended up with the #1 pick in the draft. I don't think it will be that bad this time around, but it won't be smooth either. This Cavs team will not be the worst team in the East and could see their record flip-flop from last season. I have them winning between 25-30 games. The problem for them is that the contracts they have will make it difficult to get from under the salary cap to truly start a rebuild again. With the players they have, it will be difficult to find takers for these contracts without taking back a bad deal. J.R. is owed $15.6 Million, Hill is owed $18 Million, and Tristan is due to make $18.5 Million. I think it will take some time for the Cavs this season to even figure out how they want to play and what style will be best for the players they have on the roster. It will also be interesting to see if they attempt a fire sale to move some of the high-priced veterans they have on the roster and go with a complete youth movement and try to get another high lottery pick.
Questions and comments?
thescorecrowsports@gmail.com
Follow Us on Twitter @thescorecrow
Follow Us on Reddit at TheScorecrow
Follow Coach Treal on Twitter @CoachTreal2
Main Credit Image: [getty src="970198060″ width="594″ height="396″ tld="com"]
Advertisement