Givanni Damico | February 24th, 2019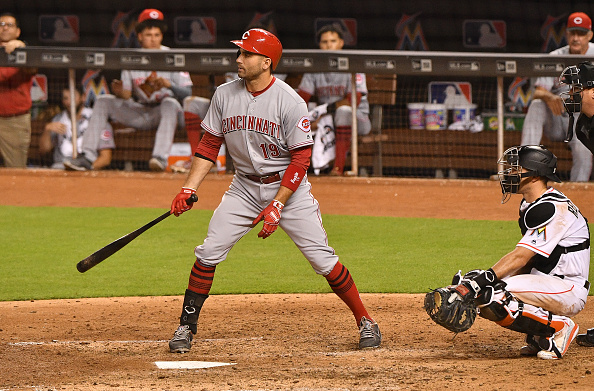 It was another atrocious season for the Reds last year. The Reds have been consistently terrible for the last four seasons, winning between 64-68 games in each of those seasons. The obvious problem last year was starting pitcher.
Recap: 67-95 (Last in NL Central) Missed Playoffs
None of the six guys they had in the rotation had an ERA below 4.30. Luis Castillo was the best, going 10-12 with a 4.30 ERA and striking out nine batters per nine innings. No one in the rotation had a winning record either. Sal Romano was terrible, going 8-11 with a 5.31 ERA in 25 games started. No one was worse though than Homer Bailey. In 20 games started, Bailey went 1-14 with a 6.09 ERA while striking out just six batters per nine and walking three per nine. Thankfully for Reds' fans, Bailey is no longer with the organization. Anthony DeSclafani pitched to a 4.82 ERA and Tyler Mahle to a 4.98 ERA. Matt Harvey was acquired mid-season and actually showed promise at times. He went 7-7 with a 4.50 ERA last year. He, like Bailey, is also no longer with the team. Cody Reed was solid when he started, going 1-3 with a 3.98 ERA. When it comes to the bullpen, there were three very solid pieces in the bullpen. These pieces are Raisel Iglesias, Jared Hughes, and David Hernandez. Iglesias was the closer and went 30/34 in save opportunities. He went 2-5 with a 2.38 ERA, striking out 10 batters per nine and walking three per nine. Jared Hughes was surprisingly the best piece of the bullpen, going 4-3 with a 1.94 ERA, striking out seven batters per nine and walking three. He went 7/11 in save opportunities. Hernandez went 5-2 with a 2.53 ERA. He struck out nine batters per nine and walked 2.5. All three of these guys have been retained. When it comes to batting, the Reds were surprisingly solid for a last-place team. Scooter Gennett broke out last year, slashing .310/.357/.490 with 23 home runs and 92 RBIs. He was one of the best second basemen in the league last year and enters this season still relatively young, at age 28. Eugenio Suarez was probably the best all-around player on the team last season. He hit .283/.366/.526 with 34 home runs and 104 RBIs. He also led the team in WAR at 4.2. He comes into this year in his prime, at age 27. I'm interested to see if last year was a fluke or if he can continue his dominance. No, I didn't forget about Joey Votto. Votto hit .284/.417/.419 with 12 home runs and 67 RBIs. Despite a great on-base percentage and a solid average, Votto had a huge power dip last season after hitting 36 home runs the year before. Votto has always been one of the best in the league at maintaining a high on-base percentage so we will see how regression affects that during the 2019 season. I'm hoping for a power surge and at least 25 home runs for Votto this year. Jose Peraza was an underrated member of this team, hitting .288/.326/.416 with 14 home runs, 53 RBIs, and 23 stolen bases. Peraza is only 24 and manages to fly under the radar. It was a good year for the Reds' with the bats but not on the mound.
Key Additions:
Alex Wood, SP (2018 w/ LAD): 9-7, 3.68 ERA, 135 SO, 40 BB, 1.207 WHIP
The Reds recognized that it was their rotation that cost them many games last season. They made a big move bringing in Alex Wood, who in 2017, went 16-3 with a 2.72 ERA. His stats weren't quite as good last season, but he is still a quality starter being added to a bad rotation. Considering no one on the team had a sub-4.50 ERA last year, a 3.68 ERA is a huge improvement. There's no saying that he pitches to the same level as he did in 2017, or even last year. He could obviously be even worse or better, there's no way to know. Wood isn't your ideal "ace" of the rotation, but he is if you're Cincinnati. Their "best" lefty last year was Tyler Mahle who was very bad. If Wood pitches like 2017, he could easily put this team in a playoff spot, but the NL Central is a tough division. The Reds will be competing with the Cardinals, Brewers, and Cubs all year (sorry Pittsburgh), and they are the underdog of the four.
Tanner Roark, SP (2018 w/ WSH): 9-15, 4.34 ERA, 146 SO, 50 BB, 1.281 WHIP
Roark isn't as good as he was in 2016, but he's still a serviceable middle or back-end of the rotation guy for Cincinnati. His problem was that he wasn't very deceiving with his pitches last year. He allowed nine hits per nine innings pitched, and his breaking stuff didn't always break which was one of the causes of this. He's 32, so he isn't young by any means, but there's still promise for him in this rotation. I think that if he pitches to an ERA sub-4.10 ERA, that is a good season for him as a middle of the rotation guy. Don't expect him to pitch to a sub-3.00 ERA like in 2016, because at this point in his career, it's just unrealistic.
Sonny Gray, SP (2018 w/ NYY): 11-9, 4.90 ERA, 123 SO, 57 BB, 1.496 WHIP
It was 2016 for Gray all over again. In 2016, Gray went 5-11 with a 5.69 ERA and a 1.496 WHIP. As a Yankees fan, I had high hopes for Gray going into 2018. Now, I can safely say that I'm glad he's no longer a part of the rotation. Just because he pitched to a winning record, doesn't mean he was good. He got lit up and at times couldn't find the strike zone. It was a disaster. Don't let my disdain for Gray affect your thinking of him. I'm actually looking forward to seeing Gray in 2019 with the Reds. I think he can turn it around. He's going to have to. He's going to be a top-of-the-rotation guy for the Reds going into 2019, and this is a make or break year for him. As I said earlier, pretty much anyone is an upgrade over who the Reds had last year, and Gray could be a huge upgrade if he pitches as he did in 2015. He's never pitched in the NL before, so I don't know what to expect from him going into the season. A message to Reds' fans: Don't get your hopes up too high.
Matt Kemp, OF (2018 w/ LAD): .290 BA, 21 HR, 85 RBI, .338 OBP, .481 SLG, .818 OPS, 1.1 WAR
Matt Kemp has been good his whole career. I don't really understand why he's bounced around so much over the last four years. He's hit at least .265 in each of those years and his home run totals have hovered between 19-35 (big difference). He's with another new team and there is serious talk that there "is not enough room for him in the Reds' 'crowded outfield'". The man was an all-star who hit nearly .300 with 21 home runs last year. Just because he's older, there's no room in the outfield? Absolutely ridiculous. I am almost positive that he will be an Opening Day starter for the Reds and play the whole year in Cincy. He has hardly declined at all throughout his career and is a very capable player. I think he's a huge pickup for the lineup, providing power and just overall good hitting. Don't let the 1.1 WAR fool you, Kemp was great for the Dodgers last year and will be great again this season.
Yasiel Puig, OF (2018 w/ LAD): .267 BA, 23 HR, 63 RBI, .327 OBP, .494 SLG, .820 OPS, 2.7 WAR
Cincy just took the Dodgers outfield (and Alex Wood) in the trade for Homer Bailey, Jeter Downs, and Josiah Gray, and brought them to Ohio. The luster of Yasiel Puig has worn off since his first two years in the league, but he's still the same player. He had a solid average last year and good power numbers. The outfield was the weakest part of the Reds' outfield last year and the additions of Kemp and Puig have made them a serious contender. I think Puig will be better this year, hitting .270 with between 25-28 home runs. He's definitely a player to be excited about, Reds' fans.
Subtractions:
Billy Hamilton, OF (2018 w/ CIN): .236, 4 HR, 29 RBIs, 34 SB, .299 OBP, .327 SLG, .626 OBP, 0.3 WAR
Not a huge loss for the Reds, as Hamilton elected for free agency and is now apart of the Kansas City Royals. He couldn't get it going with the bat last year and his only redeeming factor was his speed (and his fielding). Scott Schebler will likely play center this year, and he is much more of a threat at the plate and still has decent speed as well.
Strengths:
Infield
This is a very underrated infield, but it's one of the best in the league. At third, they have Eugenio Suarez who hit 34 home runs last year while still maintaining a .283 batting average. He enters 2019 at just 27 years old with room to get even better. I said earlier that I was interested in seeing if last year was a fluke for Suarez but I really don't think it was. At shortstop is Jose Peraza. Peraza hit .288 last year and surprisingly totaled 14 home runs. For someone who's smaller like Peraza and doesn't have a ton of power in his bat, 14 home runs is really good. Even for a shortstop in general, 14 home runs is solid. He also stole 23 bases. At second base is Scooter Gennett, who I said is one of the best second basemen in the league, or at least played like it last year. He hit .310 with 23 home runs last year and has always been a capable hitter. In 2017, he was successful as well hitting .295 with 27 home runs and 97 RBIs. He did that in 123 fewer at-bats too. He is a very scary player to pitch to, not to mention he stands at just 5'9". Then, you have Joey Votto at first. Votto didn't have as much power last year as he had in the past, but I think that was a fluke. I expect more home runs and a very similar average and on-base percentage for Votto in 2019.
Rotation
Yes, I'm serious. This rotation flies under the radar as one of the better rotations in the National League. There is a lot of potential going into 2019, as all three of the new additions have been up-and-down lately. The most important thing to remember is that Gray, Roark, and Wood are all just two or three years removed from good seasons. None of these guys have completely fallen off yet, though Roark might be heading down that route. The Reds also have Luis Castillo who was once a top prospect in the organization, but at age 26, he needs to prove his value. He will probably be a middle of the rotation guy this year and it is make or break for him, coming off of a 4.30 ERA season. He wasn't bad last season, but he hasn't defied expectations. The fifth spot in the rotation is up for grabs, but personally, I'd like to see Michael Lorenzen grab it. Lorenzen hasn't been a regular starter since his rookie year in 2015 when he pitched to a 5.40 ERA, but last year he went 4-2 with a 3.11 ERA out of the bullpen. He actually started three games last year too. He has always walked a lot of guys (four per nine), but he presents something very valuable in NL pitching: hitting ability. In 31 at-bats last year, he hit .290 with four home runs and 10 RBIs. The Reds are planning on using him as a two-way player this year, so I doubt he cracks the rotation, but he will still be appearing on the mound and at the plate. Another guy that I'd like to see get it is Cody Reed. Reed appeared in 17 games last year and went 1-3 with a 3.98 ERA, seven of those games being starts. He struck out nine batters per nine while walking three. The fifth spot is up for grabs, but this rotation is stronger than some believe. Anthony DeScalafani is the most likely to get it at this point.
Weaknesses:
Catcher
I don't think Tucker Barnhart is a bad player, but he isn't an ideal starter in my opinion. He hit .248/.328/.372 with 10 home runs and 46 RBIs. Let me be clear: I don't even consider this a weakness because these are solid numbers for a catcher, especially one who's a good fielder. But I think that this is the weakest part of their lineup. He's backed up by Curt Casali and Kyle Farmer. Both of these guys aren't very good hitters, so this position lacks depth.
Bullpen Depth
Raisel Iglesias is a really good closer and one of my favorites as well. There is no guarantee that Jared Hughes plays half as good as he did last season, the same going for David Hernandez. Both of these guys have had up-and-down careers and are in their early 30s. They could come out and pitch like bums for all we know. Iglesias is the only one in the bullpen who I'm really confident in going into this season. Not to say that Hughes and Hernandez won't be just as good as last year, but if they aren't, Iglesias is really all they got.
Infield Projections:
C – Tucker Barnhart, Curt Casali, Kyle Farmer
1B – Joey Votto
2B – Scooter Gennett, Alex Blandino
3B – Eugenio Suarez, Nick Senzel
SS – Jose Peraza, Blake Trahan
Outfield Projections:
LF – Matt Kemp, Jesse Winker
CF – Scott Schebler, Phillip Ervin
RF – Yasiel Puig
Starting Rotation Projections:
Alex Wood
Sonny Gray
Tanner Roark
Luis Castillo
Anthony DeSclafani
Bullpen Projections:
Wandy Peralta
Zach Duke
Michael Lorenzen
David Hernandez
Amir Garrett
Jared Hughes
Raisel Iglesias
Prediction: 3rd in NL Central, Miss Playoffs (narrowly)
I have a bold prediction that the Reds will win the NL Central this year. This is very, very bold considering this is arguably the most competitive division in baseball. The Brewers, Cubs, and Cardinals will all be in contention for this spot, but the Reds are no longer a joke. The Pirates will likely finish last. I don't think that the Reds will win the division, but I think that it is a possibility. I'm going to be a Reds fan this year (along with my normal loyalties to the Yankees) because I love a good underdog story. I think Suarez and Gennett have good seasons again and lead this team to at the minimum, a winning record. This is an exciting season for Reds' fans!
Check out our other Team Previews | Colorado Rockies | Toronto Blue Jays | Minnesota Twins | Atlanta Braves | Chicago Cubs | Tampa Bay Rays | Arizona Diamondbacks | Miami Marlins
Questions and comments?
thescorecrowsports@gmail.com
Follow Us on Twitter @thescorecrow
Follow Us on Reddit at u/TheScorecrow
Follow Us on Facebook at The Scorecrow
Follow Us on Instagram at The Scorecrow
Follow Givanni Damico on Twitter @giodamico15
Main Credit Image: [getty src="1042462988″ width="594″ height="391″ tld="com"]