Joey Ricotta | March 26th, 2019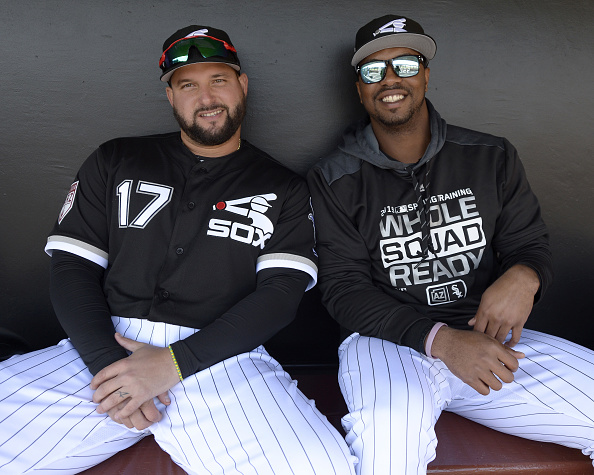 It's Eloy season! White Sox fans were teased and tortured with Manny Machado rumors and speculation all off-season. Management made it sound like they really had a seat at the table. The fact of the matter is they did, but they didn't put the necessary chips down to land Machado. At any rate, there are still a few key young guys to get excited over. What will the 2019 season have in store for the Chicago White Sox?
Last Season: 62-100 4th Place in the AL Central
2018? Not a good year for the White Sox. They finished with the third worst record in all of baseball and tied for the second most runs allowed per game (5.23). Surprisingly, they were third in the AL in Quality Starts with 74. The batters led the majors in strikeouts 1,594 and were fourth worst in runs per game in the AL with 4.05. But there is reason for optimism because the Sox had the youngest batters with an average age of 26.5 and they didn't have Eloy Jimenez.
Key Additions
Key Departures
Catcher Projections
Welington or as many call him "Beef" Castillo, will be catching a significant amount of games for the team on the South Side. The only problem is Beef has never played more than 113 games in a season. He failed to crack 100 games in 2017 with the Baltimore Orioles and didn't even get to 50 games played last season for the White Sox. He's a lifetime .259 hitter and can provide some thump at the position. Even if he only plays 100 to 113 games, he should hit somewhere between 13-20 home runs. His downfall is his receiving. According to statcorner.com, out of catchers that caught at least 3,000 pitches in 2018, Castillo ranked dead last in terms of average +calls per game. Although he hasn't been a good pitch framer, Castillo led the league in caught stealing percentage in 2017 with 48.98%. That number dropped back down to 30% last year. He has a career 33% CS rate, which is still a fairly good number.
To replace Omar Narvaez the Sox signed catcher James McCann to a one-year $2.5 Million deal. McCann is middle of the road when it comes to pitch-framing metrics, but like Castillo, he does a nice job throwing out runners. He nabbed 36% of attempting runners, good enough for 9th in the majors and sits at 37% for his career. He won't add much with the bat, but he usually hits lefties pretty well. The hard part to figure out is why he struggled so much against them last season. He's a career .240 overall hitter, but .261 against lefties. He also has 23 of his career 40 home runs coming against them in almost one-third of the at-bats. He hit only .176 against left-handed pitching in 2018 with a .228 wOBA. That was very low compared to his career wOBA against lefties of .340. Better results this year could be in order for him.
Infield Projections
In December, the Sox made a trade with the Indians to acquire first baseman, Yonder Alonso. Being that Alonso is the brother-in-law of Manny Machado, many thought the trade was made as part of a master plan to lure the free agent superstar. The plan didn't work, but they still have a productive player on their team in Alonso. His defensive ability at the first base position is better than Jose Abreu and he adds a left-handed power bat in the middle of their order. He had a breakout season in 2017 with Oakland and Seattle as he made his first All-Star appearance. Alonso hit a combined 28 home runs and had an OPS of .866. He regressed a little bit last year slashing .250/317/421 with Cleveland, but still had 23 bombs and 83 RBI. His average is down this spring, but he's hitting for power. He has 5 home runs and is slugging .580. The move to Chicago gives him a nice ballpark upgrade. Expect him to smash out close to 30 home runs, if not more.
Jose Abreu has been the White Sox most reliable player for the last 5 years. He made his second All-Star appearance in 2018, the first since his Rookie of the Year campaign in 2014. But by all other accounts, it was the worst year of his career. He dealt with injuries including a hospitalization, was shut down early, and fell just short of 500 at-bats for the season. He also had career lows in almost every offensive category. 22 HR, 78 RBI, .265 BA, 325 OBP, 798 OPS, and a 294 BABIP. According to Fangraphs, he had a hard contact rate of 37.9% which is right around where he usually sits. In fact, it was the second highest rate of his career. That along with his 294 BABIP tells me that he was more unlucky than he was off. This is a contract year for Abreu. It's uncertain if he is part of the Sox future plans, but he is extremely loved in Chicago. As evidenced by him becoming the first Sox player since Frank Thomas to be voted into an All-Star game by fans. With his track record and contract status up in the air, Abreu becomes bounce-back candidate number one. Expect him to switch back and forth with Alonso between first base and designated hitter duties.
Yolmer Sanchez has always played solid when asked to. This season he will be playing second base regularly. He was one of the most valuable White Sox players according to WAR last year, with a 2.6 WAR according to baseball-reference. His solid defense and ability to hit from both sides makes him a nice asset to the team. He'll look to make the most of his increased playing time.
Tim Anderson is a mixed bag of awesome player on the rise and those numbers are still bad. In basically his second full season in the majors, he had the same plate appearances in 2018 as he had in 2017. He increased his home run output by three, hitting the 20 homer mark for the first time in his career, decreased his strikeout rate by 2%, and increased his walk rate by almost a full 3%. The problem is while all of that sounds good, his batting average dropped almost 20 points and neither his strikeout rate nor his walk rate is any good. Even with the improvements, they are still well below league average. Simply put he needs to stop chasing. He had an atrocious O-swing% of 40.3 last year. With all of that said, there's still reason for optimism with him carrying a good glove and being a 20/20 guy.
Yoan Moncada otherwise known as YoYo is transitioning from second base to third base this season. Last year, Moncada's first full season in the majors, he showed why the Sox are so high on him. He has a good glove, speed, power, and can get on-base at a good rate. The problem is the same good eye that allows him to walk and get on base a good amount is the same thing that makes him strike out a lot. He needs to be more aggressive. When he hits the ball, he hits it hard. Evidenced by his nice average exit velocity (90.6 mph), and high BABIP (.344). But he only hit .235 and led the league in strikeouts with 217. He's still young, only 23-years old, so there is room for growth. Especially if he gets more aggressive at the dish and on the base paths.
Playing in a pinch on the infield as utility depth will be Jose Rondon. The Sox might've been tempted by a good spring showing from former 22nd round pick Danny Mendick, but they look to be going with what they know. Rondon plays defense and had a decent spring training himself. Mendick is a player I'm predicting will be called up later in the season if he continues to hit. Former Royals shortstop Alcides Escobar was also signed to a minor league deal, but barring injuries he won't see any big league time.
Outfield Projections
The consensus number one prospect in the White Sox organization is finally going to get his shot. After signing the biggest contract extension a player with no service time ever has, Eloy Jimenez will be starting opening day in left field. The extension was a 6-year $43 million deal with two club options, essentially making it an 8-year deal for $75 million. That's of course if the White Sox choose to pick up the options. He's bound to have some struggles in his first big league season, but Jimenez has all the makings of a superstar. His bat has been big league ready for a while now and his power has the potential to make the Sox contenders for years to come. He's unproven at the big league level and some feel that the contract extension might have been premature, but really the only questions about his game are his fielding ability and speed. (Check out the White Sox prospects article for more.)
Adam Engel doesn't do much with the bat, but he is a very good defensive center fielder. He'll likely play a decent amount against left-handed pitching and will be used to kind of mask some of the flaws of Jimenez. If he's out there, his great range might rob some opportunities for Jimenez to make a mistake.
Splitting time in center with Engel will be a mixture of Leury Garcia and Jon Jay. Garcia is a switch-hitting utility man that will see time on the infield as well. He's consistently hit .270 each of the last two seasons and can swipe some bags. Jon Jay was acquired in free agency on a 1-year $4 million deal. He is a wily veteran that normally puts together good quality at-bats, draws walks, and hits for contact. He has a career .285 batting average and .352 OBP. The best lineup as the roster currently stands would likely include Jay hitting at the top of the order with Moncada hitting in the two hole.
Nicky Delmonico and Brandon Guyer were in camp with hopes of making the roster. Once news broke of the Jimenez deal, Delmonico was optioned to the Charlotte Knights and Guyer was released. And with those two moves, Daniel Palka was ensured a roster spot. Debuting last year and hitting 27 home runs, Palka figures to be in there against some right-handed pitchers. He struggled in the spring and doesn't do much other than slug, but he still could be valuable.
Starting Rotation Projections
Rodon has never thrown more than 165 innings in a season. His health and durability is a major concern. He's dealt with shoulder injuries two years in a row. In 2018 he had a 4.18 ERA, 17.6% K rate, 10.8% BB rate, and 6.8% K-BB rate. Not good. His slider can be a good pitch and has potential. The Ability to locate his fastball has been inconsistent as well as his changeup. It has been unreliable and needs to improve. According to baseball prospectus, Rodon's slider induced a 39.27% Whiff per Swing rate in 2018. Good enough for 24th in the MLB, sandwiched between Verlander and Sonny Gray. But only a 42.61 % Swing rate, a lot of that can likely be attributed to control. If he controls it consistently it will be a good pitch for him in 2019. He has a career 22.2% overall K rate and I would expect him to return back to that level this year.
Reynaldo Lopez is expected to be the second starter in the rotation to get the ball. Lopez has potential but has had mixed results. He dominated in April and September in 2018 but otherwise was pretty bad. His slider is an effective pitch when he is controlling it. Now, the Sox just need to get him to throw it more often. According to Fangraphs, Lopez threw his slider only 18% but had a nice 17% SwStr%. If he throws the slider more and cuts back a little bit on his fastball, he may be able to limit the extreme amount of flyballs he has given up and improve on his 3.91 ERA.
The problem with Lucas Giolito? He's always changing something with his mechanics. Last year he was god awful, giving up the most earned runs in the majors and issuing the most walks in the AL. A 6.13 ERA, 1.47 WHIP, and 6.5 K/9 rate just isn't going to cut it. The only reason why he isn't starting the year off in the minors is because he was once a highly thought of prospect and he was acquired in the Adam Eaton trade with the Nationals. The Sox are hoping some of the new adjustments he has made in the off-season will bring him new life, but at this point, he is looking like the worst player involved in the deal that included Reynaldo Lopez and Dane Dunning.
32-year old Ivan Nova was acquired in the off-season from the Pirates. Rick Renteria and the Sox are hoping he can be an innings eater that will be a good influence on their younger pitchers. A lot of what Nova does just screams average with a career 4.26 ERA. But he has managed to turn in a lengthy career and can still get hitters out effectively, despite his low strikeout numbers and otherwise less flashy style of pitching. His goal will be to keep hitters off balance and induce a lot of soft contact.
Ervin Santana seems to be the guy who will get the ball fifth in the rotation. Although Rick Hahn hinted towards the Sox not needing a fifth starter until April 10th. Also saying Santana is not quite ready coming off of injury and starting preparations for the season late. It sounds like he could get an extended spring training and be left off of the opening day roster to open up room elsewhere. Look for him to be the fifth starter when the team is ready for him to be. Santana only pitched in five games last season with the Twins because of a lingering finger injury. He finished 7th in Cy Young Award voting in 2017, with a 16-8 record, 3.28 ERA, and over 200 innings pitched. So, it's not like he can't be serviceable if he's healthy and able to eat innings.
Earlier this month, Dylan Cease was optioned to the Triple-A Charlotte Knights. There was speculation that he would be sent to Double-A to begin the season for a brief stint before being elevated to Charlotte. The fact that he was sent to Triple-A to begin the season, bodes well for his chance to get a call up to the majors sooner rather than later. He's a highly touted prospect in the White Sox system that had tremendous success last year. White Sox fans should be extremely excited in anticipation of his arrival, although he may be on some sort of innings limit because he's a guy that has already had Tommy John surgery.
Bullpen Projections
With the additions of Alex Colome and Kelvin Herrera, the back end of the Sox pen got a whole lot better. Colome is set to be the team's closer. He has a career 8.30 K per 9 rate, a 3.12 ERA, and 96 saves. Between him and Herrera setting him up, the Sox should be able to lock down a lot of games late. Herrera is a former World Series winner and 2 time All-Star with the Royals. He's closed games and set up games in his career with a 2.82 ERA, 60 saves, and 113 holds. Daryl Van Schouwen of the Chicago Sun-Times reported that Herrera's fastball velocity was down. The Sox are hoping that he is just building back strength and hasn't lost it completely. I would not at all be surprised if one or both of these pitchers are moved closer to the deadline. We've seen how the White Sox have moved other bullpen pieces for prospects in years past. If they aren't contending and these two are pitching well, be on the lookout for potential landing spots.
Nate Jones seems to be always hurt, but the Sox picked up his $4.65 million option, despite playing in only 44 games total the past two seasons. When healthy, Jones averages close to 10 strikeouts per nine and has a career ERA just over 3.00.
Jace Fry is a young left-handed arm the Sox will be relying on a lot. He had a 4.38 ERA last year but pitched much better than that. He had a FIP of 2.67, xFIP of 2.95, and a K rate of 32.7%. He also held left-handed batters to a .143 average against. If he keeps pitching like that his ERA will certainly drop.
Then we have Ryan Burr and Caleb Frare. Frare is a lefty that has a downward tilt to his fastball along with a change. The Sox acquired him from the Yankees for $1.5 million in international bonus pool money. Burr is someone the Sox are high on. He is another guy acquired for international bonus pool money from the D'backs. He struggled in his call up last year, but he's put up really good minor league numbers and has earned his way onto the roster this spring with a 2.61 ERA in 9 appearances.
Manny Banuelos and Dylan Covey were the two pitchers that were fighting Santana for the fifth starter job. Banuelos is out of options. He was expected to make the roster in some fashion as long as he pitched well enough this spring. He had a 4.26 ERA in 6 spring starts. The former top-30 Yankees prospect looks to get his career truly started after pitching poorly and dealing with injuries in years past. Like Banuelos, Covey will be used in a long relief type of role. Mop up duty probably suits him best as he has a career 6.10 ERA, although he had a 2.45 in the spring.
Right-handed pitcher Ian Hamilton got a little taste of the big leagues last season, appearing in 10 games for the White Sox. He's been dealing with some shoulder discomfort that is forcing him to miss the cut for the time being. He's a power arm with a good slider that went through the minors pretty quickly. The Sox are thinking he can be a key man for their bullpen. I'd expect him to get eased into this bullpen mid-April or early May depending on his injury progress.
Juan Minaya, Aaron Bummer, and Carson Fulmer have been sent to the Charlotte Knights to open up the year. All three of them have the potential to get called up at some point this season.
Predictions
73-89 3rd Place in the AL Central
The AL Central is not lining up to be the most competitive division in all of baseball. At least on paper, it isn't. The Indians seem to be content trying to win the division off starting pitching alone. I expect the Twins to be giving them a little push this season, but other than that it doesn't look good. The Sox are still in rebuilding mode and not really concerned with competing this year. With that said, if they get some big breakout years from Moncada, Jimenez, Anderson, Giolito, and Lopez, they could be right in the thick of it. However, that's a lot to ask. I think this team is still a year or two away from really contending. The main thing this season is to see growth from the young players, both at the big league level and in the minors. It will also be interesting to see who else gets called up this year. Everyone loves Vladimir Guerrero Jr. and for good reason, but I believe the Rookie of the Year Award will be heading to Chicago. Even though it's not on the side of town he started on, it's Eloy's season. Jason Benetti will be doing all of the TV play-by-play announcing this year, but as Hawk Harrelson would say, sit back, relax, and strap it down. It's going to be an interesting year of Sox baseball.
Check out our other Team Previews | Colorado Rockies | Toronto Blue Jays | Minnesota Twins | Atlanta Braves | Chicago Cubs | Tampa Bay Rays | Arizona Diamondbacks | Miami Marlins | Cincinnati Reds | Seattle Mariners | Texas Rangers |Los Angeles Dodgers | New York Yankees | Milwaukee Brewers | San Diego Padres | Detroit Tigers | Kansas City Royals | Cleveland Indians | Oakland A's | Philadelphia Phillies | Boston Red Sox | New York Mets | St. Louis Cardinals | Pittsburgh Pirates | Washington Nationals | Houston Astros | Baltimore Orioles | Los Angeles Angels | San Francisco Giants
Questions and comments?
thescorecrowsports@gmail.com
Follow Us on Twitter @thescorecrow
Follow Us on Reddit at u/TheScorecrow
Follow Us on Facebook at The Scorecrow
Follow Us on Instagram at The Scorecrow
Follow Joey Ricotta on Twitter @theriot326
Main Credit Image: [getty src="1132077917″ width="594″ height="475″ tld="com"]