Joey Ricotta | May 3rd, 2019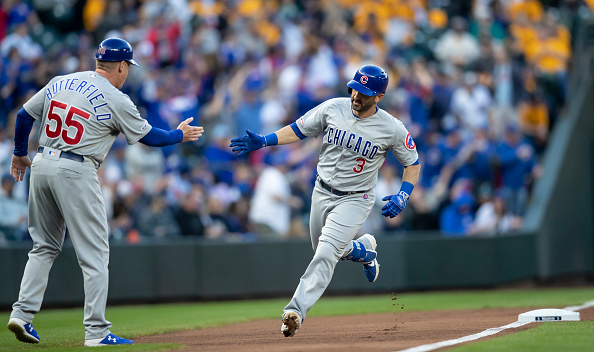 Technically, the MLB season started in March, but I thought it would be a good idea to do a review at the end of April. On March 28, the Chicago Cubs won their opening day game in Texas against the Rangers. Then proceeded to lose their next six games. During those six games, the pitching staff allowed 55 runs. That equals an opposing run per game average of over 9. Brutal. God awful. All hell was about to break loose in Chicago.
The team is terrible. I knew they should've gone after a big name free agent. The starting rotation is too old. The bullpen is a disaster. What was Cubs hierarchy thinking? Why don't they go out and get Craig Kimbrel?
These were the type of comments and questions being shouted by numerous Cubs fans.
That was until they had their home opener against the Pittsburgh Pirates on Monday, April 8. That's when this whole thing seemingly turned around. They beat the Pirates 10-0 in a game where Jon Lester was injured running the bases. He was then placed on the 10-day IL but has since returned and been his normal dominant self. Starting with the three-game series against the Pirates, the Cubs have been rolling, winning six out of the last seven series they've played. The only series they didn't win, they split with the Angels due to weather postponed finale.
Position Players
The bats have been good for the most part the entire time. Javier Baez has picked up right where he left off, setting himself up for MVP contention once again. El Mago has even added a few extra tricks this season. He juked out the first baseman and faked out an umpire into believing he stayed in the baseline (which he actually might have given the 3 feet rule). Then there was the time he literally threw his bat at a baseball for an RBI single. Through 28 games he's hit 10 HR and 24 RBI while slashing .314/352/653 (1.004 OPS). Baez is tied for 6th in the Majors in balls hit 95 MPH+ with 47. If anyone had questioned whether or not he could sustain what he did last year, they can stop asking now.
Willson Contreras and Jason Heyward look to be primed for a huge bounce-back season. Contreras started out on a tear, slashing .301/427/663 with 8 HR and 19 RBI. After struggling mightily at the plate the first two years in Chicago, Heyward has been ascending towards the player the Cubs thought they signed. He hit .270 last season and is hitting .329 with 5 HR so far this season, with a 968 OPS (200 points higher than his career number). Contreras (427) and Heyward (438) both, rank in the top five in National League OBP.
Anthony Rizzo and Kris Bryant got off to slow starts, but are both heating up. Rizzo has hits in 10 of his last 11 games and home runs in three of his last four. While Bryant has home runs in two of his last five and hits in four of those contests.
The contributions from newcomer Daniel Descalso, David Bote, and Ben Zobrist can't go unnoticed. Descalso has played solid defense and fits in nicely with the stick. Bote is probably the most pleasant surprise, looking more and more like an everyday player. But should we really be surprised? After his huge walk-off home runs last year, he did it again just prior to his kid's birth. The "Easter Bote" delivered a walk-off RBI single on April 21 (Easter Sunday) against the D-backs. Not trying to beat a dead horse, but the Cubs have made a habit of winning in fashion this season, especially against the D-backs. Zobrist was in a little bit of a funk but hit the game-winning two-run extra base-hit against the D-backs in this past Sunday's 15-inning thriller. Because of this three-headed monster (Descalso, Bote, and Zobrist), Addison Russell has been reinstated from his suspension and demoted to Triple-A Iowa. There are other factors involved with Russell, but it is uncertain when he will be called back up.
After starting hot, Kyle Schwarber faded out a bit. He has again picked it up, hitting safely in six straight ballgames, including a go-ahead game-winning two-run homer in Seattle on April 30. Schwarber, or as I like to call him, the grown-up version of Bam Bam, has been solid defensively as well. One of the common misconceptions about Schwarber among baseball fans is that he isn't a good fielder. Yes, it started rough for him, but last year he really improved and has held true to it this season. Schwarber leads the team in Rtot (5), which is the number of runs above average he is worth based on the number of plays made.
Pitching Staff
As previously mentioned, the pitching staff got off on the wrong foot. It was bad all throughout, from the starting staff to the bullpen. However, that has all turned around. Since April 8, the Cubs have the best ERA in the big leagues at 2.35. They've held opponents to the fewest amount of home runs (14), and the lowest wOBA (262). The Cubs staff is made up of some veterans not usually known for striking batters out. Since April 8, they've struck out batters at a 26.6% clip, good enough for 4th in the majors.
The biggest surprise of the staff this season? Jose Quintana. Outside of a bad start against the Brewers, and Eduardo Escobar touching him up for two home runs his last time out, Q has been lights out. From April 11-23, he went 3-0 in three starts, pitched 21 innings, striking out 25 batters, and had an ERA of 0.86. Cole Hamels has been solid. Yu Darvish has been serviceable, although he still needs to cut down on walks and work deeper into games. Jon Lester is at normal ace level coming off of the injury he sustained. He has a 1.73 ERA to this point. The one area of concern, he has a 96.1 LOB%, which is well above league average, meaning he is due to regress. Even so, his 3.35 FIP and 3.41 xFIP says he won't regress too much. Kyle Hendricks has been the biggest rotation concern. More on that later.
The bullpen was atrocious to begin the year. They had a combined 45.9% hard contact rate and 8.37 ERA from opening day through April 7. Both of those numbers were second worst in the MLB. Since then, they have the fourth lowest HC rate (31.9%) and an MLB best 2.09 ERA. Joe Maddon has used a best man, best matchup available type of approach to begin the season. Something that may last quite a while, especially with Brandon Morrow being transferred to the 60-day IL.
Something to Consider
Through 28 games played the Cubs are slashing 259/350/458.
The Cubs have considerably better numbers, hitting with runners in scoring position than they did at this point a year ago. They currently are 8th in the MLB with RISP, in wOBA (350), wRC+ (117), and OPS (839). Last year at this point, they had some of the absolute worst numbers in all of baseball. They were bottom six in all of the aforementioned categories. The year they won it all in 2016? They were top 10 in all of those categories. Top ten is still not better than what they are doing this year. In 2016, they had a 338 wOBA, 110 wRC+, and a 792 OPS with RISP, through 28 games. The Cubs started the season 22-6 that year. Now, I'm not saying this team is better than that one, but what I am saying is they are pretty damn good and only getting better.
Take a look at their BABIP numbers with runners in scoring position: .309 (dead in the middle, 15th in MLB) – I actually like to see that. To me, that means they haven't gotten too lucky or unlucky compared to the rest of the league.
Oppo% with RISP: 32.3% (MOST IN THE LEAGUE BY 2.8%) No other team has 30% opposite field usage and no other teams are separated by more than 1.3%. This tells me they are making a conscious effort to use the opposite field more, especially in crucial spots with runners in position to score. If they continue to do this and put the ball in play with regularity, the sky is the limit for this team. Just wait until Kris Bryant starts hitting the ball out of the yard with more regularity.
What's On Deck
One of the greatest rivalries in baseball, and in my opinion all of sports, is renewed Friday. The St. Louis Cardinals come to town to kick off the first of a three-game set and ten-game homestand for the Cubs.
Friday, May 3: 2:20 EST Kyle Hendricks (1-4, 5.33 ERA) gets the ball and will face off against Cardinals hurler Jack Flaherty (3-1, 4.06 ERA)
Hendricks will be looking to get on track. He has really struggled to open up the year, giving up 37 hits in 25.1 IP. If he hits his spots, he should be okay. His FIP, xFIP, and LOB% tell me he's due for positive regression.
Saturday, May 4: 4:05 EST Yu Darvish (2-3 5.02 ERA) vs Michael Wacha (2-0 4.78 ERA)
Sunday, May 5: 7:05 EST Jose Quintana (3-1 3.48 ERA) vs Adam Wainwright (3-2 3.73 ERA)
The Cubs ended their road trip on a 4-game winning streak to improve to 16-12. They are red hot just in time to face the Redbirds. This could be a great momentum swinger in the standings. The Cubs trail the Cardinals by two and a half  games for the division lead. With that said, Let's Go Cubs! Please, beat the heck out of that boring team that plays in that boring city in the state of Missouri. I think this goes without saying, but Kris Bryant probably approves this message.
Questions and comments?
Follow Us on Twitter @thescorecrow
Follow Us on Reddit at u/TheScorecrow
Follow Us on Facebook at The Scorecrow
Follow Us on Instagram at The Scorecrow
Follow Joey Ricotta on Twitter @theriot326
Main Image Credit:  [getty src="1140424153″ width="594″ height="352″ tld="com"]