James Hicks III | January 11th, 2019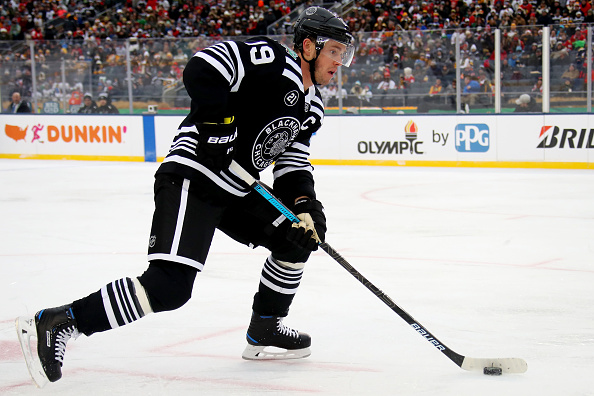 This year has been a rollercoaster ride for the Chicago Blackhawks and their fans. One of those rides that only seem like they belong at Cedar Point, or watching the Dow Jones go up and down. But as of right now, things seem to be on an upward trend. Before we get into that, let's see what happened month by month.
OCTOBER
After a pair of Overtime winners against Ottawa and St. Louis, this team looked different, scoring goals by the bunches. They welcomed in a Toronto Maple Leafs team that to be honest, I expected to blow out my team. Granted the Hawks lost 7-6 in Overtime, but it took just that to beat them. Things were beginning to look good, and the amount of fight that it took to get a point was a sight to see. The Blackhawks would put their fans through 5 crazy overtime games and would be the first team to accomplish that feat. October 18th would a day of hope that Blackhawks fans have been waiting for since December 23rd of 2017. Yes, that would be the first game Corey Crawford returned to the crease. The team would go on to lose 4-1 vs the Arizona Coyotes. The team would end the month of October with a record of 6-3-2.
NOVEMBER
It was a pair of Dismal efforts in losses against Edmonton and Calgary to start the month. And a pretty unfair ejection of Duncan Keith in the game against the Flames. But November 6th, 2018 would change the face of the Blackhawks for a lot of fans. That would be the day head coach Joel Quenneville would be dismissed. It was a kick in the gut to many people including myself, knowing Coach Q was here for 3 Stanley Cup titles and here for 10 years of tenure. But, Stan Bowman said it was time for a change and promoted Jeremy Colliton, who was the coach of the AHL affiliate Rockford IceHogs during the 2017-2018 season. Colliton led the team to a Western Conference final against rival Texas Stars. It would be a rocky start to his tenure as the team would win 2 more games the rest of November. Their record at the end of the month was 9-12-5.
DECEMBER
Believe it or not, the Blackhawks went from November 24th to December 12th without registering a win. The team was absolutely terrible. It was literally deja vu every time this team hit the ice because it only took 5 or so minutes of the first period to be down 2-0. Not to mention they couldn't score the first goal to save their lives. December 12th in a game against the Pittsburgh Penguins, I started to believe things could potentially get better. The team would win their 9th straight over the Pens. After an OT loss against the Winnipeg Jets, the team would welcome in the San Jose Sharks for a great 6 o'clock start as Eddie Olczyk would say. But it wouldn't be a game fans would like to remember. In the first period, Corey Crawford would get run into by one of his teammates, who was pushed by Evander Kane of the Sharks. I'm not about to give my thoughts on the situation, but I will say it was unnecessary. Crawford would leave the game, backup Cam Ward would enter, and things would only get worse. A 7-3 loss and a numb feeling over hearing Crawford would be diagnosed with another concussion did not sit well. With 3 games coming up against very quality opponents, the team would call up Collin Delia from the IceHogs. Goaltending would be fantastic and the Hawks would have their first 3 game winning streak of the season. In other words, www.blackhawks.nhl.com would finally be up and running…. The team would end 2018 on a good note with a 3-2 OTW against the Colorado Avalanche bringing their record to 15-20-6.
JANUARY
New Year, New Hawks? Well maybe. New Years Day was rocking at Notre Dame Stadium with the NHL Winter classic featuring the Boston Bruins and the Chicago Blackhawks. The Hawks lost 5-3 but in a sense the team had me thinking positively again. They would drop a game in Overtime to the New York Islanders but smiled when they saw the Red Hot Pittsburgh Penguins on the schedule. Seems weird to say, but their continued dominance over Sidney Crosby's team would remain intact. Chris Kunitz would finally score a goal as well as Duncan Keith. Was definitely a win the city of Chicago needed after the Bears failed to beat the Eagles in the NFL Playoffs.
WHERE THEY ARE NOW?
Believe it or not, this rollercoaster ride has the Blackhawks within striking distance of the Minnesota Wild and Dallas Stars for a wild card spot. Yes, I realize it's a long shot for this team to make them this year, but their effort and compete level night in and night out is starting to make me believe again. It's hard to say if and when they'll ever pass up other teams in the Central Division. But I'm gonna make a Bold Prediction…. If the team continues to play well as a team and show compete level, they will be in a playoff spot come the middle of March if not sooner. There's no doubt Cam Ward and Collin Delia can potentially get them there, but the team will need to be better defensively.
Questions and comments?
thescorecrowsports@gmail.com
Follow us on Twitter @thescorecrow
Follow us on Reddit u/TheScorecrow
Follow James Hicks III on Twitter @JDHicks88
Main Credit Image: [getty src="1088756380″ width="594″ height="396″ tld="com"]